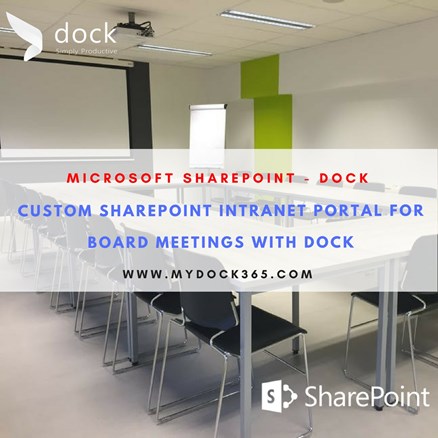 Dock 365 is the best intranet solution for customizing SharePoint sites for your business, whether it's a financial institute to businesses such as medical facilities. We can help your company build an intranet portal by providing a knowledge management document system to smoothly organize content.
With SharePoint and Office 365, Dock has developed a platform to clearly display the needs for any business. Specifically, a new feature has been created for board
With SharePoint and Office 365, Dock has developed a platform to clearly display the needs for any business. Specifically, a new feature has been created for board of director meetings. This includes the information about the meeting such as title, date, time and location as well as meeting documents. The attendees of the meeting and a section for news and announcements.
One of Dock's key features, prior to diving into the Board Meetings section, is the Policies & Procedures section that's now easier for users to navigate and search for documents based on policies that are tagged (knowledge based management feature) to make it faster to find the right documents.
SharePoint intranet portal provides a consistent user experience, helps meet regulatory requirements, connects employees with information and expertise, as well as providing a single, integrated platform. The main challenge is having employees adopt the standard, out-of-the-box SharePoint because learning recent technology software can be challenging for a lot of employees. That's where Dock can help as a solution. We take SharePoint and build a branded platform that your team can recognize and easily navigate the custom intranet developed specifically for your business.
The most important meetings of your business: Board of Directors
The Board Meetings landing page within Dock provides the date, month, time, location of each meeting. This section provides a list of the board of directors that are attending the meeting along with any additional meeting attendees. The News & Announcements can be customized to showcase relevant content such as company blogs or news announcements related to the meeting topics.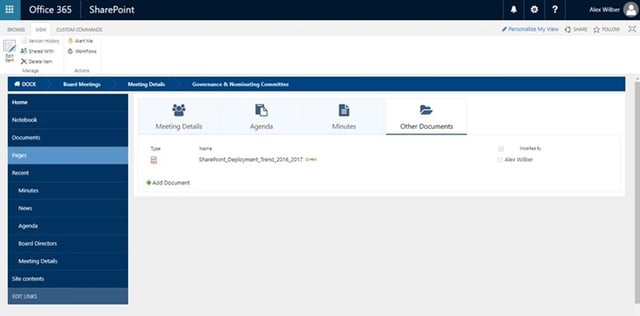 The Board Meeting section provides important documents attached such as PowerPoints, the agenda, an area to take minutes, as well as an additional documents can be uploaded to each meeting date. Users can open it up to a few tabs to include who will attend and they can setup repeating events. It's easy to manage setting up meetings, users don't have to be SharePoint experts. In addition, editing within your company's intranet to save over the old versions of documents, such as your presentations for last minute changes prior to the meeting, just in case you need to refer to an older version.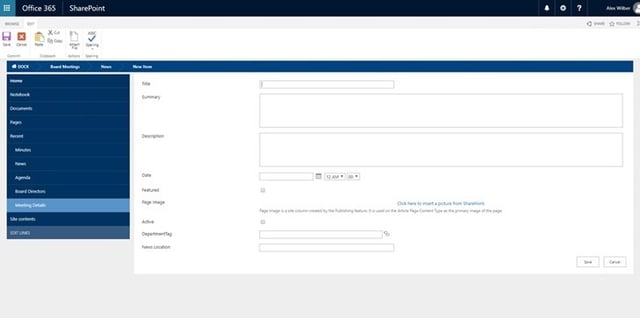 After the meeting, if the meeting results in company-wide announcements, you can click on the Yammer tab and login to communicate with teams or the entire company as needed from a social perspective. Another option is to create a new post in the News & Announcements section by clicking the "+" sign to create additional content that will be automatically published on the homepage of your company intranet. This is a fantastic way to communicate to your company without delaying time sensitive announcements from waiting on future meetings or relying on managers to write out email announcement that could be missed by employees. It's simple as filling out a form and it's automatically published as soon as you hit save.
Visit our page for details about getting started with Dock Board!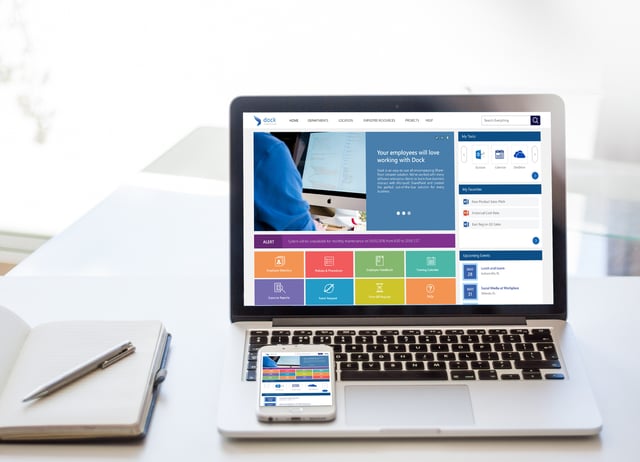 How Dock 365 can help you get started with an intranet portal of your dreams
At Dock, we've been working with enterprise businesses for years to create one-of-a-kind company intranets. We hear every day about the struggles of getting all your employees to adopt the technology. We get it, SharePoint can be confusing and hard to personalize. We spent years learning what businesses need in an intranet portal and created the perfect, out-of-the-box solution: Dock. Organize your board meetings for flawless results through document management system Dock can provide.
She's a multimedia producer to include writing, photography, graphic design and video. She enjoys learning about new technology for business and exploring her city in Jacksonville, Florida.