Contract automation can assist your business's contract lifecycle management strategy by providing a systematized and reliable pathway for your contracts to follow. Route your contracts to the right people at the right time, every time. With a proper contract strategy, you can improve the productivity and efficiency of your company's contracting processes while reducing risk and contract lifecycle times.
A standardized contract lifecycle management process helps to create structure and routine in your contract management while keeping all involved departments on the same page. With a dedicated contract lifecycle management (CLM) system, you can utilize numerous features including automated contract workflows to optimize your CLM initiatives. Contract automation will significantly help you save time, money, and resources while improving internal collaboration and communication. Now, let's discuss in depth how contract automation is such a game changer and why you should implement it into your contract lifecycle management processes to maintain competitiveness.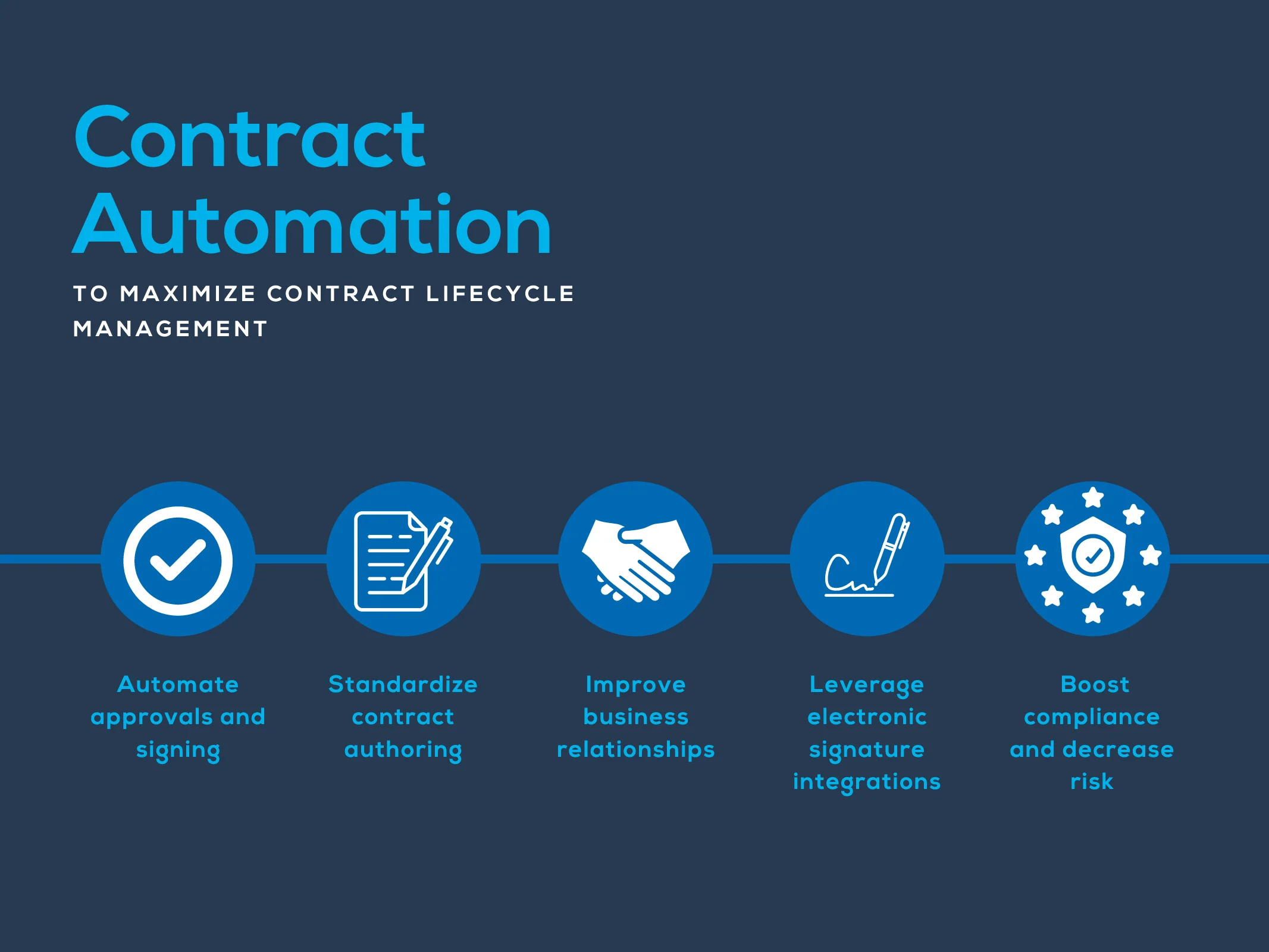 The Disadvantages of Manual Contract Management
Before diving into how contract automation can improve contract lifecycles, it's important to understand how the alternative, manual method of managing your contracts simply isn't best approach to follow. Employing a manual approach towards contract management is the easiest way to lose competitiveness in today's digitally dominated marketplace because it is heavily time and resource consumptive.
Contract lifecycle management is made easy with the help of online, centralized repositories that can store all of your company's contracts within a cloud. However, in manual contracting processes, you would have to rely on shared drives and physical storage to keep all of your contracts. This results in increased risk and scattered storage, meaning you can lose track of important contracts and documents remarkably easily. It depends on your organization's contract volume and the overall complexity of the contracts how much effort and energy must be put into your company's contract management. Without a contract lifecycle management system, you will be required to oversee your contracts manually – meaning tracking contract performance and locating archived documents can cause you to waste valuable time.
When errors occur within a manual contract management system, it can hard to pinpoint exactly where and how the problem arose. Tracking discrepancies and errors in a manual contract management system can be taxing, where you might have to use spreadsheets and email back-and-forth to address certain issues. This is a very decentralized approach to managing your contracts that ultimately leads to an increase in risk.

Where Contract Automation Can Help
Contract automation provides a standardized, resource-efficient, and reliable strategy to managing your company's contracts. Today, several contract lifecycle management (CLM) software solutions exist that offer this exact advanced feature. You can avoid many of the headaches and bottlenecks that come from traditional, manual contract management processes by leveraging a user-friendly and results focused CLM software solution.
Your contract lifecycle management software tools can help your team increase organizational efficiency and improve internal communication. Your software also comes equipped with a centralized contract repository, along with pre-approved contract template and clause libraries so you can easily generate accurate contracts. In this way, you increase efficiency and mitigate risk by having pre-approved legal language readily available for when you build every single contract so you can automatically boost compliance. While contract automation streamlines your contract authoring, it can also streamline your contract negotiations. During contract negotiations, you can enable different settings that allow specific employees to access, review, and edit your contracts, along with redlining capabilities to assist during this stage.
Contract Automation and The Contract Approval and Execution Processes
Approvals are vastly different in a manual contract management process. A contract ready for approval must be sent to specific people in order for it to move onto the next stage in its lifecycle. A manual process means these decisions are oftentimes made over a myriad of communication methods – like phone calls, emails, faxes, and other methods.
Rather than having disjointed communication, contract lifecycle management software helps to centralize and keep all communications in one place. Now when considering a manual contract execution stage, this means physical, pen-to-paper contract signing. Signing and sending documents takes lots of time and can use a lot of resources, and these traditional signing processes are severely outdated and highly inefficient. Why waste company resources on mailing supplies when you could expedite the process and save money too? With contract automation, you can send off contracts for signature in no time, which we'll discuss in further detail below.

Configure rules within your contract lifecycle management (CLM) software to include specific compliant clauses into your contracts when certain conditions are met. With this capability, you can utilize various clause types depending upon the contract type so you can draft complaint documents seamlessly. You can categorize your company's clauses to make for easy storage and easy retrieval, on-demand. With your CLM solution, you reduce the need to use inefficient communication methods that can decrease the efficiency and rather drive operational risk up instead.
Improve Business Relationships
Contract automation can help to improve business relationships by providing a streamlined, efficient contract lifecycle management process. Time-consuming contract management can harm business relationships and reduce the value of your organization's contracting. With the assistance of contract automation, you can reduce the length of contract lifecycles and improve the customer experience with a fast and accurate approach to contract lifecycle management.
All of these factors play a role in improving your organization's reputation so that you can gain the competitive advantage and keep clients coming back. Not only will your clients and vendors love your automated contract management approach, but your internal teams will love it just as much, if not more. Contract automation increases organizational efficiency and productivity because it provides an exact sequence for all of your contracts to follow.
For example, your employees no longer have to worry about sending contracts off for signature using snail mail. Now, they can use electronic signature integrations to receive a signed and fully executed contract within minutes. It's also important to note that the added element of speed, accuracy, and efficiency can reduce workplace stress in increase working satisfaction.
Electronic signature integrations have advanced contract management processes for the majority of today's leading enterprises and businesses. Electronic signature software like DocuSign, Adobe Sign, and Sertifi allow organizations to configure systems so that vendors and clients can sign contracts and associated documents on any device, at any time, no matter the location. With e-signature, you can receive authentic, protected, and repeatable electronic signatures rapidly so that you can send contracts through the remainder of their lifecycles faster than ever.

Streamline Contract Lifecycle Management With Dock
Contract automation plays a major role in the efficiency of a company's contract lifecycle management strategy. Here at Dock 365, we are partnered with Microsoft to help businesses utilize various Microsoft apps and features so that they can reach contract management objectives easier.
The Dock 365 Contract Management System is a Microsoft 365 and SharePoint based software solution that can help you improve your contracting processes. Transition easily to our solution by using your existing Microsoft investment, and we'll help you get started with unlimited system training and user support. Begin to improve your productivity levels, manage risk, and overhaul your contract lifecycle management processes today with us here at Dock 365.
Learn more about our Dock 365 Contract Management System here.
Learn more about Contract Lifecyle Management (CLM) Software here.
For more information, we welcome you to schedule a free demo with us today.
Lindsey Paulk is a Content Writer in Jacksonville, Florida that specializes in digitally communicating all-things contract management.