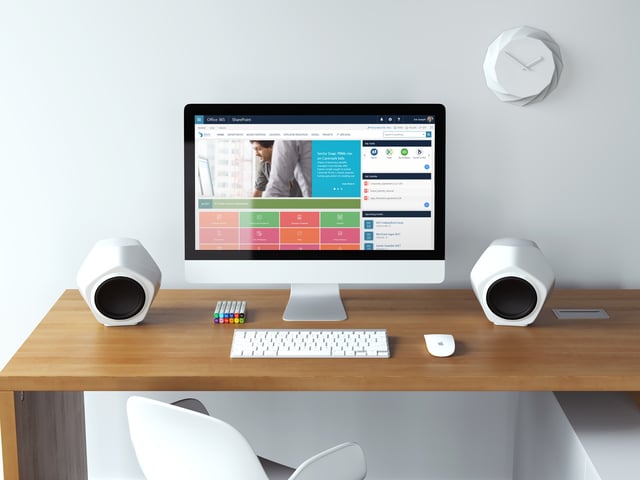 Let's be honest for a moment. Are you secretly frustrated with your current sales process? Let us shine some light on how to improve your sales team experience. You'll be winning with our simple to use customer relationship management (CRM) system to enable your company to organize and optimize its customer relations and sales results.
Introducing SharePoint intranet portal for your sales team's management and CRM processes made easy and saves time with Dock for SharePoint sites. Your business can save valuable time with our SharePoint intranet portal templates as well as saving money with expensive CRM by using Dock. Learn how easy it is for employee adoption of our mobile CRM app to manage field sales force. In addition, you can use Power BI to analyze your sales team's performance with only a few clicks. Your sales teams will also be able to capture team activities and use online collaboration tools for proposals. With Dock, you'll have one place to store all your sales quotes and contracts for easy access.
Let's break this down more. Starting with the Sales Department Dock screen, you can see how simple the navigation is for your sales teams to learn. You'll be able to customize menus and our intranet portal experts will also customize the look to match your company brand.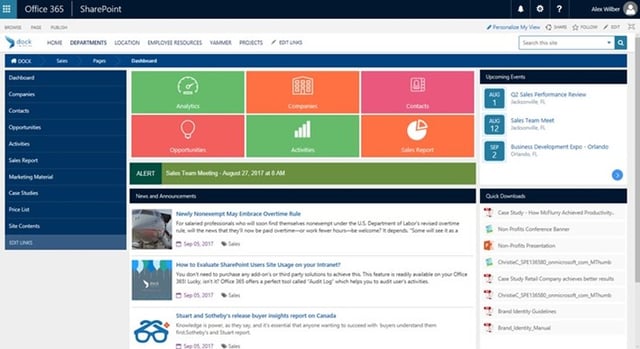 Save money on expensive CRM by managing it within Dock
You must be wondering how exactly does this save money on expensive CRMs by using Dock? It's not only highly effective but also remarkably affordable for small businesses. We heard that question loud and clear. We made sure that the implementation process for Dock is as short and sweet as possible while still allowing all the customization you need. Request a quote to implement your custom SharePoint intranet like you've never seen before.
Easy to use mobile CRM to manage field sales force
Dock with SharePoint and Office 365 works wherever you are. Take your intranet on the go with a beautiful platform that works as well on your phone at the beach as it does on your computer in your office. For example, your business can take advantage of apps such as InstaExpense for your sales team expense reporting from anytime and anywhere in the world. We can build a custom mobile CRM to manage your sales force out in the field quickly at a competitively low price.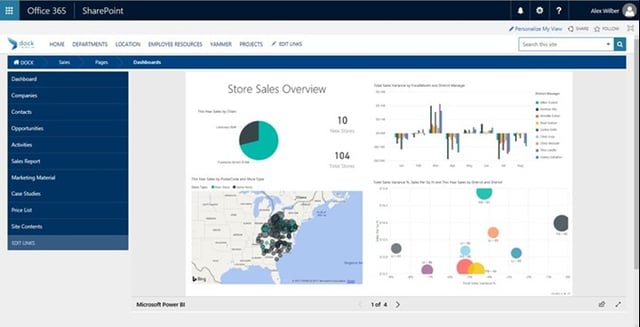 Use PowerBI to analyze the team performance
Power BI dashboards provide a 360-degree view for business users with their most important metrics in one place, updated in real time, and available on all of their devices. With one click, your sales team can review the data within their dashboard using intuitive tools to make finding answers easy. And you can access your data and reports from anywhere with the Power BI Mobile apps, which update automatically with any changes to your data.
Effectively capture team activities and collaboration tools for proposals
Dock's sales portal is a mini-CRM that helps your sales team manage and collaborate on contacts, leads and opportunities. Track every communication from introduction to closure, with Dock's easy-to-use sales portal including a sales-only calendar and document library.
Convenient place to store all your quotes and contracts for easy access
Using SharePoint online, your sales team can access quotes and contracts from any device by accessing the cloud-based employee intranet. The online collaboration tools will allow your sales teams to work on the same documents to increase productivity, which is one of many advantages to your SharePoint intranet portal benefits.
How Dock can improve your sales strategies:
Our SharePoint developers offer over a decade of experience helping businesses create your SharePoint intranet portal templates with adding easy-to-use online collaboration tools for your sales team and more with HR portals, company portals, employee portals and much more for your SharePoint site.
If you're looking for a dedicated information technology portal, you can find more information on our website here. Schedule a demo today to learn more about how Dock can create a custom sales team CRM, offer SharePoint templates, assist with SharePoint app and much more for your businesses at an affordable price.
She's a multimedia producer to include writing, photography, graphic design and video. She enjoys learning about new technology for business and exploring her city in Jacksonville, Florida.