Contract risk management should be a foundational component of every modern business. Today, the majority of businesses are familiar with an immediate need to adapt and change as the business environment is steadily presented with new, unforeseen risks. Most businesses know how to swiftly plan and execute new strategies intended for risk prevention. Many organizations have chosen to extend their enterprise-level organizations on a global scale, and as new opportunities come their way, it's crucial to leverage a comprehensive review and analysis process as well as implement modern risk management tools.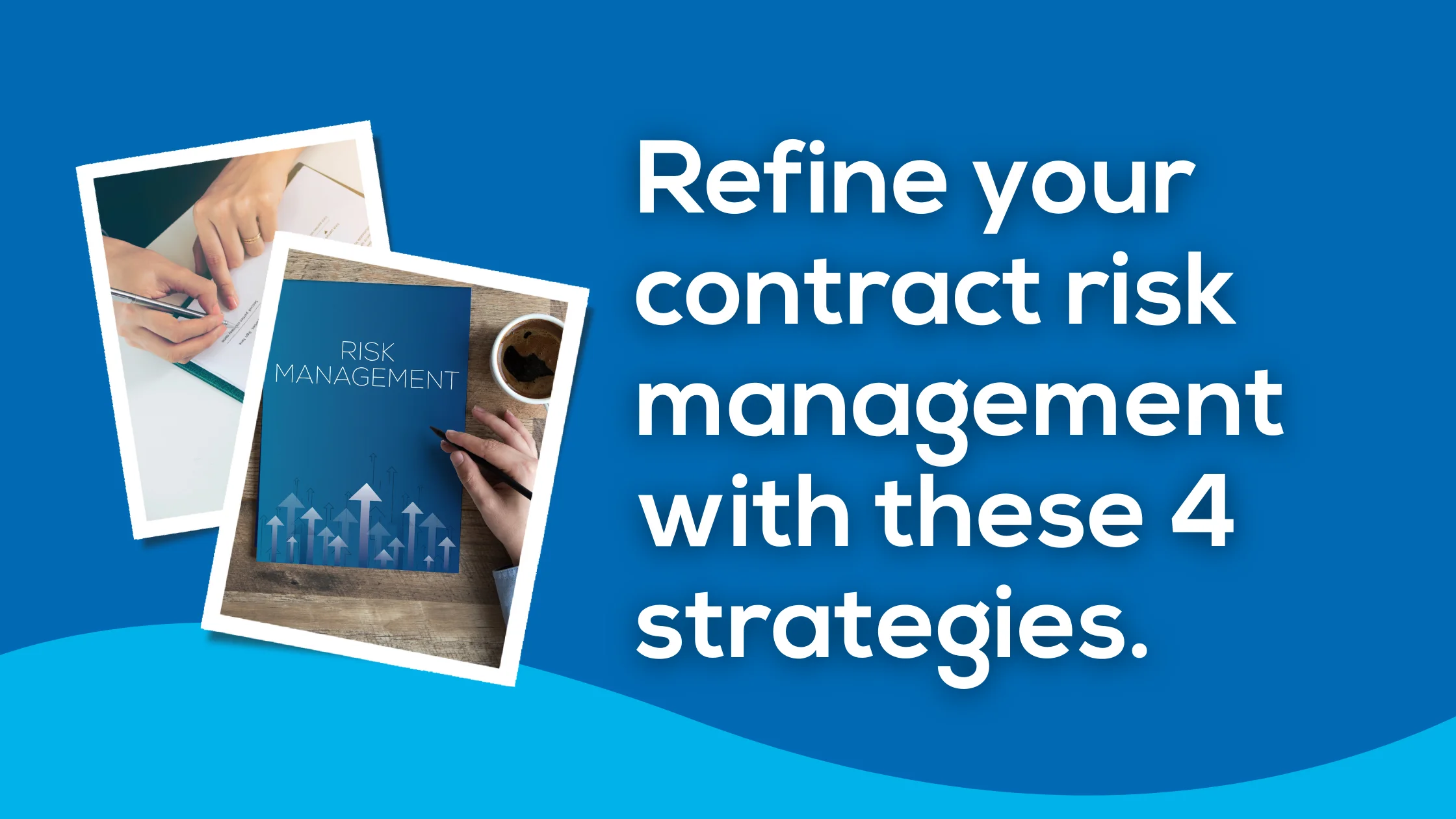 To develop accurate, legally binding agreements, you must establish a protocol dedicated to contract risk management. Contract management and risk management go hand-in-hand, and when they are properly aligned, they can support your organization in reaching several business objectives. As enterprise-level organizations grow and change, so does their organizational structure. In this manner, a vast majority of General Counsels are included in the executive management team largely due to their knowledge regarding risk assessment and risk management.
It's entirely possible to develop an effective risk management strategy for the entire contract lifecycle that produces desired results. A contract risk management strategy should be designed for the purpose of supporting business objectives and identifying areas of potential risk.
So, what are some common challenges you might face when implementing a risk management strategy?
Bottlenecks in contract tracking, version control, and in assessing changes within business operations
Delays in the approval phase, resulting in additional version control inaccuracies and the unintentional acceptance of outdated data
Reductions in transparency and visibility of contractual obligations management, key dates, milestones, and various other responsibilities
Lack of awareness of compliance policies and how they might drive expenses
Now, let's take a more in-depth look at the top four contract risk management strategies that can support your business in all of your contracting activities.
Our Top Recommendations For Risk Management
It's virtually impossible to eliminate all risk found in a given agreement. An appropriate strategy towards contract risk management will include a method that addresses the identification, evaluation, assessment, and mitigation of risk exposure organization wide. The goal of your contract risk management strategy is to eliminate as much risk exposure as possible.
Your legal department and team of professionals should focus their efforts on reducing the time, associated expenses, and the intricacy of the potential areas of risk found within the agreement. Their contract risk management strategy should function with the intent to avoid risks that may result in a financial downfall and permanent consequences. In addition, this strategy should identify any risks that have a high likelihood of occurring. The transfer of risk is also a key part of a practical contract risk management strategy. For example, your team might opt for risk-sharing clauses or liability insurance to transfer risks of lower probability. Risk acceptance is another component, where your team selectively accepts certain risks that are not financially practical to risk manage based on agreement terms. And lastly, any other risk should be limited by modulating risk exposure and employing business practices that support a healthy level of contractual risk between parties.
Let's dive right into the top 4 contract risk management strategies.
Prioritize Clause Standardization
Contract terminology and language certainly matter, as they contribute to the professionalism and overall value of your contract authoring. However, the main objective of the final draft of any contract is to develop an agreement that all parties are willing to take part in that is mutually beneficial. To reduce the likelihood of a party violating contract terms and stipulations, it's key to confirm that every party is willing to adhere to all components of the agreement. To do so, including standardized, compliant clauses is a must. When drafting new legal agreements, having a comprehensive library of compliant, approved clauses can support your team in accurately building contracts free of confusing or unclear wording. With your clause library, you cut down on the risk of accidentally including outdated, unapproved contract language. Your clause library can support a wide variety of agreement types, and while the words of each clause will vary in structure and terms according to the subject of each agreement (think the complexity, scope, etc.), you should design a clause library that includes the following:
Disclaimers and indemnifications
Jurisdictions, damages (in the context of a breach of contract), dispute resolution
Confidentiality terms and exclusions
Other terms and rules concerning contract compliance and regulations should include standardized, legal language that are found in your clause library. With contract management software, you can easily design a comprehensive library of accurate, legally approved, and compliant clauses. In addition, you can build and leverage a contract template library to support your team's contract assembly procedures. In this manner, you can automate processes, increase efficiency, and maximize workplace productivity by already having some "pieces" of the "contract puzzle" completed. You'll ensure business standards are followed while managing risk and ensuring contract compliance.
Design a Collaborative, Extensive Contract Review Process
In the contract drafting stage and during contract negotiations, it's necessary to conduct intensive contract reviews. This supports your risk management strategy by identifying contract risks very early in the contract's lifespan. We suggest including consistently scheduled contract reviews and improvements to the legal terminology found within your contract clauses. In addition, you should aim to clearly define the methods used to reduce, transfer, and accept contract risk in the event that risk cannot be avoided.
A contract review must assess the entirety of a given agreement. The responsibilities involved in a contract review can be distributed evenly amongst your contract reviewers. Take a look at the following categories to gain an understanding of the responsibilities involved in the contract review process:
Official legal review pre- and post-approval and signing/execution
Reviews of qualification for internal auditing
Technical accuracy and operational effectiveness (for small- and medium-sized enterprises)
Leveraging a contract lifecycle management (CLM) solution to support your contract review process makes for an excellent addition to your contract risk management strategy. In this way, you'll dramatically increase contract visibility and transparency into versioning, commenting, redlining, and other reviewing activities. Every activity pertaining to contract reviews, approvals, and negotiations are digitally captured and timestamped for you to analyze at your convenience.
Develop a Meticulous Compliance Structure
Your contract risk management strategy should include an exhaustive compliance structure that ensures adherence to contractual terms and additional regulatory policies. Without an appropriate understanding of laws, policies, and other standards requiring your company's adherence, you run the risk of taking on extra risks unnecessarily.
Compliance policies are well-defined, and they require an expert-level of attention to detail. While some compliance standards are inclusive of data security and confidentiality terms, they exist for regulatory concerns in most scenarios, and in others, for the good of your own business.
How can I ensure contract compliance and build this structure?
Well, you can start by first utilizing a cloud secure, digital contract repository to store and management all of your legal agreements and contracts. Once the repository has been established, you can create goals and KPIs. After these steps have been completed, you'll want to distribute responsibilities appropriately based on agreement terms and then plan for compliance audits during the lifespan of the contract at-hand. We also suggest configuring automated alerts to remind you of contracted obligations, allowing you and your team to maintain a proactive approach to your contracts.
With the Dock 365 Contract Management System, you can ensure a boost in compliance spanning all of the aforementioned elements in your compliance structure. In addition, you can centralize every contract and associated documentation in a robust repository, leverage automated notifications, design and distribute custom reports, oversee audit trails, and increase contract security with a cloud infrastructure and role-based user permissions features.
Implement Modern Technology to Support The Contract Lifecycle
Both contract management and risk management require an eye for fine detail and an intense amount of effort. To support these processes, we suggest employing technology by way of contract lifecycle management (CLM) software. These solutions empower teams with contract clause and template libraries, automated contract drafting, and integrations with other business solutions and electronic signature providers.
Your cloud secure contract lifecycle management solution can support you with powerful version control features, collaboration portals, and a secure environment for task and obligations management. Due to cloud technology, your employees can access contracts on-the-go in a protected and reliable digital platform. Generating reports and assessing contract performance, statues, and data figures is also made possible (and not to mention, extraordinarily simple) with a CLM solution. Data analytics and reporting are fundamental to identifying delays and where obstacles stand in the way of contract approvals.
Manage Contract Risks Today With Dock 365
Dock 365 offers an end-to-end contract lifecycle management platform that supports you throughout every stage of the contract lifecycle. From vendor onboarding to contract performance assessments, your approach to contract lifecycle becomes more streamlined than ever before with an all-in-one, cloud centralized solution. If you wish to increase the productivity of your contract management while generating results and eliminating risks, then look no further than Dock 365.
Ready to learn more about our Dock 365 Contract Management System? Click here.
Interested in Contract Lifecyle Management (CLM) Software? Click here.
Schedule a free demo with us today for an interactive overview of our Contract Management System.
Lindsey Paulk is a Content Writer in Jacksonville, Florida that specializes in digitally communicating all-things contract management.