Does the prospect of a new job excite you? But the very thought of onboarding kills the vibe! Did you wait for days just to get the login credentials for your work account or were you hovering from one PC to another while your workstation was being setup. You are not alone nearly, 4% of employees leave their new job after a disastrous first day and 33% decide to quit within first 30 days. There have been scores of employees who have been victims of unstructured employee onboarding programs.
And not just employees, it costs huge money to organizations as well. Based on a recent survey by Panopto Workplace Knowledge and Productivity Report, on an average a cost of $4.5 million is incurred due to inefficient onboarding.
What's the solution?
You can't blame humans they tend to forget, get sick or may have a busy schedule. Thus, save time and money by automating your onboarding process with SharePoint based employee onboarding feature in Dock.
Efficient employee onboarding is vital for better employee engagement and retention. In fact, organizations with standard onboarding process experienced 54% greater new hire productivity and 50% greater new hire retention.
Things to focus
While onboarding a new employee, the HR team needs to
Get the paperwork completed

Familiarize him/her with the company's policies

Provide intensive training before starting regular work

Set up the login account

Allocate best technology, online tools and resources to perform his/her job

Acquaint the new hire with team to develop a good relationship with other team members

Inform the employees through e-mails about the new employee
Easy Employee Onboarding with Dock
With so many tasks to complete, it's imperative to have a structured and well-organized onboarding process that will enable the HR team as well the new employee to manage and track tasks and easily become an integral part of the workforce. Dock offers an efficient and intuitive onboarding program.
Below shown is Dock' employee onboarding dashboard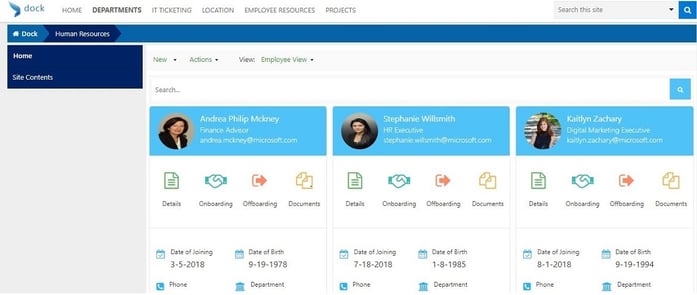 Track and Manage Tasks
Unorganized onboarding process lacks the capability to track and manage tasks, but Dock offers enhanced capabilities when it comes to task management. As you can see in the below image, once you click the user profile, a clean task management section can be seen wherein you can
Add new task

See who has been assigned the task

What is the due date, priority, task status, e

tc.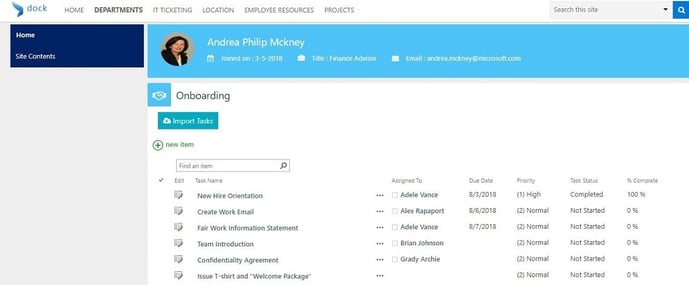 Documents and Notes
Employee onboarding is not a one-day task it is an ongoing process and with Documents section, HR team can easily maintain all the employee documents and records efficiently as depicted below.

Users can add important information to the notes as shown in the screenshot below.

Learn more about Dock's Employee Onboarding feature with a quick demo!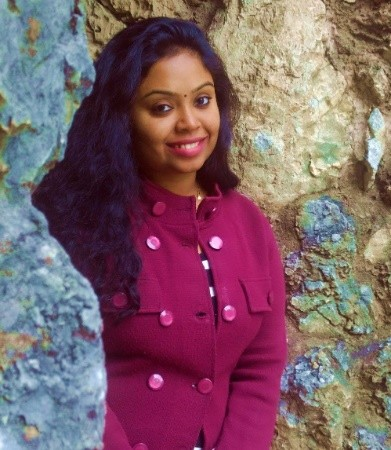 She comes with 4 years of experience in content management and have worked with brands from the US and UK. An enthusiastic content crafter, she loves travelling and learning about new Microsoft Technologies.