Workflow automation is a feature offered by contract management software that can greatly increase efficiency and productivity while maximizing results. During the contract lifecycle, a contract will travel through various steps, being handled by many different people. It can prove to be difficult to communicate and signal to who and to where the contract is supposed to go next. Simplifying the who, the where, and the action for the contract's next steps is where workflow automation sweeps in and saves the day.
Automated workflows can aid in this process by introducing a different type of visibility and accountability while simultaneously having an organized path that notifies various parties of the contract's location and status. Today, artificial intelligence (AI) is merged into contract management software to provide and to maximize solutions in your contract management process.
Workflow Automation Defined
Workflow automation is the ability of contract management software to systematize, control, and direct the contract lifecycle rather than be manually driven by an in-house contract manager.
By automating workflows, your company can create and execute contracts with speed, enhance the negotiations process, improve communication, and collect data for later analysis.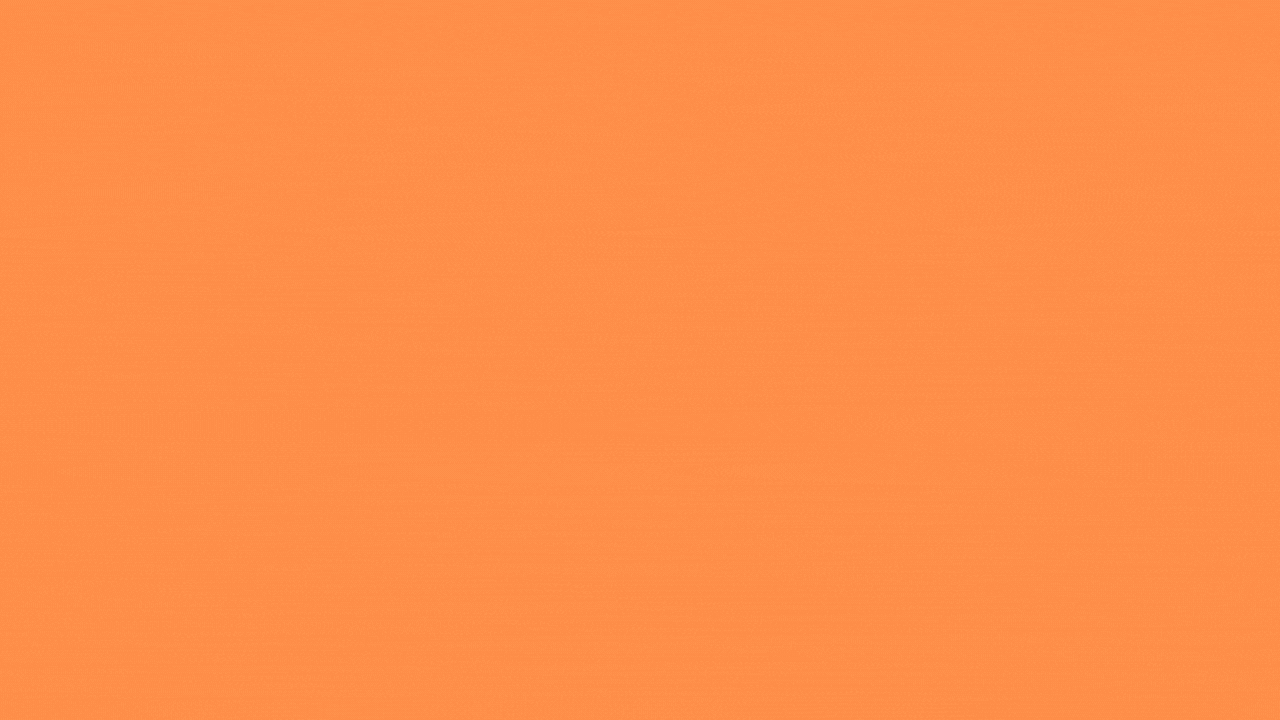 When creating contracts and contract-related documents, there will likely be several revisions and reviews of the documents, passing through multiple people/parties during a contract's lifecycle. Without templates and pre-approved clauses, manually developing such documents is incredibly time-consuming and laborious – especially when working with complicated contracts heavily-laden in legal language.
With standardization of templates, a pre-approved clause library, and clear delineations between what language to use and not to use, your company can work in best practice and be in alignment with the goal of excellent document creation. Without these different aspects, your company increases risk because of a lack of standardization. With workflow automation, you can automate your contract creation process seamlessly.

Here at Dock 365, our  Contract Management System can automate the assembly of various documents, contracts, and agreements through customizable data fields, a pre-approved clause library, and templates. In this way, contract management software helps assimilate document types from your company's customized templates and pre-approved clause library to later be tracked as the document is reiterated through various versions and drafts. Contract management software is also useful for enabling audit trails and for accessing approval ratings.
Streamline the Signature Process
The  Dock 365 Contract Management System utilizes the Sertifi eSignature solution. Geography can play a role in creating difficulty for the effective collection of mandatory signatures when signees are located far and wide.
Previously, the manual method of gathering signatures was time-inefficient, paper-wasting, and often delayed due to required notarization. With the invention of electronic signature, signees can sign a contract or related document any place, any time. A digital signature mathematically verifies that digital documents are authentic. In this way, a signee is guaranteed that signature dates are true and that the document was not interfered with when using an e-signature.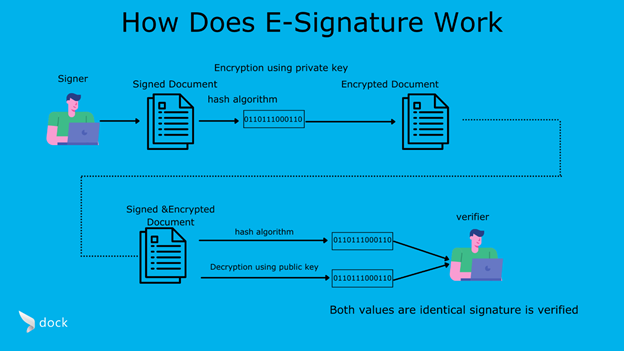 Effectively Track Contracts
Contract tracking is a necessary action to take when examining where a contract is within its lifecycle. This is important so that contract managers can communicate to other parties important information pertaining to the contract. You can effectively track some of the most important KPIs such as the three below: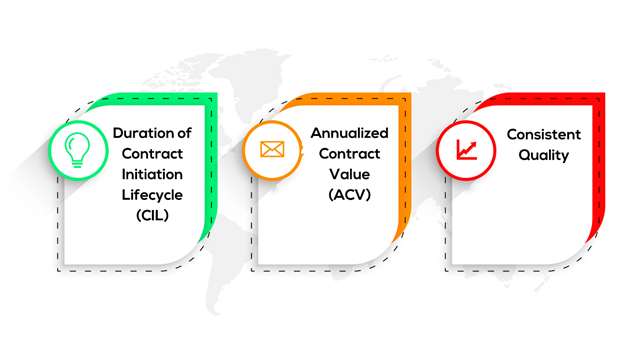 You must have a well-designed contract tracking method when working with a high volume of contracts – especially if the contracts are particularly detailed, intricate, or complex. The previous method of manual contract tracking is only bound for increased risk. Without a centralized and organized contract tracking and filing approach, your contracts are bound to fail, have issues with compliance, or encounter pitfalls in version control. If you currently utilize spreadsheets, physical documents, emails, and filing folders among other sources, you might be able to organize a specific volume of contracts – however, you will not receive automated notifications and tracking alerts to keep you in the know of critical contract dates. Create decisiveness and clarity with clear auditing trails, increased speed, and stability in schedules by implementing our leading contract management software – the  Dock 365 Contract Management System (CMS).
Our  Dock 365 Contract Management System is fully equipped to track contracts in an organized and pointed manner.
Features of our CMS include:
flexible automated workflows (with automated handoffs),
automated notifications and reminders,
a centralized contract repository,
obligation tracking tools,
a pre-approved clause library,
a vendor portal,
integrated eSignature solutions,
collaboration tools,
a customizable contract intake system,
and secure cloud storage.
Take control of each step in the contract management process by using our CMS to help automate and streamline your current process.
Improve Productivity and Time-Efficiency
With automated workflows, you decrease the potential for time-consuming bottlenecks you might encounter during a contract's lifecycle.
In terms of how legal departments are impacted during contract management, they typically oversee several repetitive tasks that take long amounts of time. Introducing automation can increase time-efficiency in this department especially by eliminating the need to manually perform such tasks. In this way, you can allocate and redirect your business resources to the places that matter most.
Mitigate Risk While Expanding Collaborative Efforts
During both the negotiation and approval steps, you can improve communication via workflow automation. Integrating various features like redlining, "@" mentions, email integration, and several others into a centralized place can create an easy and efficient platform for multiple people or parties to collaborate.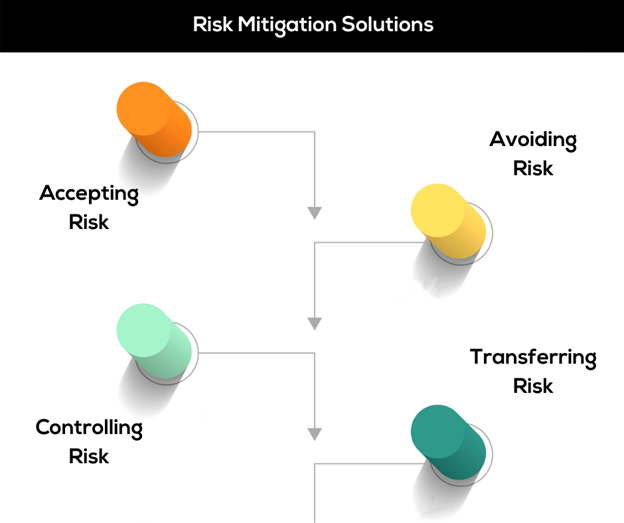 In this way, navigating through these parts of the contract lifecycle automation can be significantly streamlined and much faster. Cross-department communication and collaboration is much improved during the contract management process with automated workflows. When considering risk mitigation, risk decreases due to the technology's ability to offer real-time versions of the document, including its latest changes and iterations.
Conduct Analysis for Future Decision-Making
Current and searchable contract data is readily available when you adopt contract management software with workflow automation capabilities.
By analyzing contract data, you can set up your business for success by accumulating reports, identifying risk, and finding areas for improvement within your process.
You can search for contracts based on their relationship to one another (i.e., parent-child contracts) and conduct advanced searches with customizable and saved filters in our  Dock 365 Contract Management System. By having the data and analytics at your fingertips, you can make necessary decisions to produce optimal outcomes in your contract management process.
Conclusion
Contract management software with automated workflows can open up opportunities to save time and improve the quality of contract lifecycles with a user-friendly, collaborative software interface.
Improve business dealings, increase contract compliance, reduce bottlenecks and turnaround times, enhance risk mitigation efforts, and completely overhaul contract management team productivity for the better with automated contract workflows. Take your contract management process to the next level by automating workflows so that every step of the contract lifecycle automation is as efficient, productive, and as collaboration friendly as possible. Ready to get started today? Reach out to us to learn more about our  Dock 365 Contract Management System.
Lindsey Paulk is a Content Writer in Jacksonville, Florida that specializes in digitally communicating all-things contract management.