At some point, every business has to deal with creating and managing contracts. Contract life cycle management, or CLM, isn't exactly the most riveting part of the sales process. However, it is important to do and do well for your company to succeed. Your organization needs to be making sure that you're staying on top of your contracts, updating them, and administering them effectively. With that said, let's take a look at CLM system and why it's so important.
What is Contract Life Cycle Management?
Contract life cycle management is the process of tracking and managing a contract throughout its life span. This includes monitoring its performance, compliance, and other important factors that determine how successful a contract is. CLM is generally implemented through the use of automated contract management systems. While you can perform contract life cycle management manually, this can be a time consuming process that could ultimately end up wasting too much of your time to benefit your business. A CMS is a great tool for simplifying the CLM process. It can help you better serve your customers and maintain compliance with regulatory bodies and the terms of the contract.
Why is Contract Life Cycle Management Important?
While you can opt-out of contract life cycle management, we don't recommend it. Implementing CLM - more specifically CLM software - allows you comprehensive control over your contract management process. They allow you to effectively manage your contracts and sidestep many of the issues that come with poor contract management.
The Costs of Poor Contract Life Cycle Management
Failure to enforce contract terms - This is a big one. If you're not properly managing your contracts, then you risk either party not delivering what was promised. Something that causes the time you spent negotiating the contract to be wasted.
Inadequate delivery - Poor CLM system can lead to deadlines sneaking up on your team. You may find situations where you're either delivering projects late or failing to meet the deadline entirely.
Wasted time - Without proper contract organization, you risk having your team waste a large amount of time. This includes time spent searching for contracts, looking through notes, and analyzing contract data.
Errors - Human error is inevitable. Without something to hold your team accountable, mistakes will enter the implementation of your contracts. CLM can help you regulate your process and eliminate human error.
Inability to be proactive - If you're not on top of your contracts, then you're likely always reactive to deadlines and changes. You miss out on being able to examine the process for ways to boost revenue and cut costs.
The Benefits of Effective Contract Life Cycle Management
Maintain compliance - Compliance is a major factor in Contract Life Cycle Management. CLM software can help you maintain contract compliance so you can avoid having to pay any government fees or litigation.
Save money - There are a lot of ways that you can waste money with poor contract management. Contract life cycle management software can help you avoid these and find ways you can cut costs.
Eliminate human error - Human error is one of the biggest roadblocks to effective contract management. CLM system allows you to get rid of this by automating many of the more mundane processes.
Save time - CLM software makes it so you don't have to spend a ton of time searching for contracts. Most contract management systems offer a built-in search feature that can drastically cut down on the time spent looking for specific contracts.
Cut down on delays - The more errors enter the contract management process, the more a contract gets delayed. By helping you eliminate errors, you can keep a project from getting delayed and implement it much sooner.
Contract Life Cycle Management Steps
As we're sure you're aware, there are multiple steps to the contract life cycle management process. While some steps require more attention than others, they're all important parts of it. By using CLM software, you can ensure that these steps go off smoothly and without issue. That said, let's take a look at each step and how a contract management system can help with it.
Template Authoring
The first step in the process is to come up with the templates for contracts that your company will be using. This is a pretty standard process. One issue that can come up in this process is that templates can get lost at times. With contract life cycle management software, you can easily store templates within your company's contract template library. This allows users to easily find and access these without wasting too much time. You can set it up so only specific users can edit/move these templates to ensure their security.
Contract Creation
This is a pretty self-explanatory process. This is the act of taking a contract template and modifying it to meet your current needs. Without CLM software, this can be a time-consuming process as you manually enter information and change the template. With CLM software, this process becomes a breeze. Automated workflows make it so that fields of the template can auto-populate based on certain conditions. This makes it so you don't have to enter as much information and can save time on the contract creation process.
Contract Review
Measure twice, cut once. This is an important rule for businesses to live by. That's why the contract review step is highly important. Without using CLM software, contracts can get lost and the review can get delayed if reviewers aren't organized and on top of their game. By using CLM software, you can have workflows set up that automatically notify people when a contract needs to be reviewed so the contract process flow smoothly.
Contract Approval
A major part of getting contracts approved is that they get to the right people in a fast enough amount of time. By not using CLM software, you risk the process getting slowed down. Using CLM software, you can build automatic contract process flows that assign contracts to where they need to go throughout the process. As opposed to having contracts be sent manually, contracts at this stage will be automatically sent to the right people so they can approve it.
Contract Execution
The world is constantly on the move, and you should be doing your best to keep up with it. Contract execution should be quick and mobile. By using CLM software, you can set up workflows that make it easy to execute a contract. E-signature integration makes it so that contracts don't have to be printed out or faxed. They can just be sent over email, signed, and returned to your company within minutes - saving everyone time and money.
Contract Performance
Contract life cycle management doesn't end with both parties adding their signature to the contract. You need to review and manage the performance of the contract throughout its execution. This includes checking performance, evaluating how it is performing against expectations, reviewing spending, and more. You also need to be watching the contract's performance so you can manage compliance. CLM software makes it easy to check on the progress of a contract. It will automatically gather all of the relevant data and compile it into reports that allow you to visualize the performance of your contracts.
Contract Expiration
You need to know when a contract will expire so you can decide whether you want to let it expire or renew. This is important to decide early as some contracts come with built-in auto-renewal clauses which can cost your company money. CLM software will send the relevant people notifications when a contract is about to expire. This way, you can know exactly when you need to be reviewing contracts so you can ensure you're making informed contractual decisions.
How to Improve Contract Life Cycle Management
Probably the best way to improve your company's contract life cycle management is to use CLM software. CLM software - more specifically a contract management system - is a proven solution for making contract management easy. How proven? Well, companies that practice effective CLM with a CMS can see up to a 9% increase in revenue each year. With how much you stand to gain from using a contract management system, you can't afford not to invest in one.
How a Contract Management System Can Help
While we've made it clear that a contract management system can help your company, let's take a look at the specific ways that it does so.
Centralized contract repository
An optimal digital contract management software solution will provide you a cloud-based, centralized contract repository. The contract repository is essential to securely managing, storing, and searching your digital contracts. Previous contract management methods utilized physical storage and files for contracts and related documents – a method with high potential for contract and data loss, misplacement, and tampering.
We highly recommend leveraging a SharePoint-based contract repository. With SharePoint, you will increase organization, visibility, and productivity within your contract management processes.
Template and clause libraries
With the preapproved template and clause libraries, not only do you cultivate a more efficient and accurate environment for building contracts, but you also cultivate a more secure and protected one. Creating a digital contract can be a very time-consuming and intricate step within the contract lifecycle management process.
Automation
This is a big thing for contract management. Many contract management systems come with workflows that automate a lot of the daily mundane contract tasks. Custom workflow templates help move your contracts smoothly through their life cycle without any issues or hiccups.
Digital contract management software offers your business the ability to create flexible and customizable automated contract workflows that guide every single step within a contract's lifecycle. These contract process flows send a digital contract and associated documents through a predesigned series of steps that notify select people of what action to take before the contract moves to the next step. These workflows can be applied to a single contract, a group of contracts, or even a group of clauses within your cloud-based repository.
Notifications
A lost contract means potential issues with deadlines or compliance. By using a contract management system, users in your system will receive notifications at different points in the contract's life cycle. This includes when someone needs to review a contract, when something needs approved, or when a contract is about to expire.
E-Signature
One of the major benefits of using a CMS for CLM is that it can help you save time and paper. A contract management system with E-signature integration makes it easy to scan documents and have them signed digitally. This makes the process of finalizing a project much simpler and faster as you don't have to print out or send any papers that could get lost.
Reporting
A major part of clm contract lifecycle management is knowing what is going on with your contracts at all times. It can be difficult to track everything manually. That's why a CMS that tracks and sorts all of your information into reports is key. This allows you to see the progress of all of your contracts and make informed decisions quickly and decisively.
Content Search
Contracts getting lost can be a nightmare for your organization. You need to know where everything is so you can access your contracts quickly. Time spent looking through document libraries is time wasted. That's why a contract management system with content search capability is a great tool for finding contracts quickly and effectively.
Streamlined contract intake and requests
The contract intake and request step is very important to the rest of the contract's lifecycle. By developing a standardized contract intake and request process, you will greatly benefit your contract management system. Email-based contract intake and request is very inefficient and increases risk.
User-friendly and accessible dashboards
With a well-designed digital contract management dashboard, you can and analyze reports and data in real-time so you can stay up to date on every single detail. You can measure the progress of contract lifecycles and assess where changes need to be made, allowing you to develop a better contract management process overall.
Version tracking
Every single change to each document is notated and stored within digital contract management software. In this way, you can collaborate effectively and know who made changes to which document, and at what exact times the changes were applied. Version tracking is an additional way to mitigate risk because it safeguards against losing or duplicating data.
Conclusion
Contract life cycle management isn't a fun process, but it is a necessary one. Your company should consider adopting a contract management system so you can make CLM contract lifecycle management easy. If you are interested in learning more about contract life cycle management, or you're interested in adopting a CMS, fill out the demo form to the right. We'd love to have a conversation with you about how a CMS can benefit your business.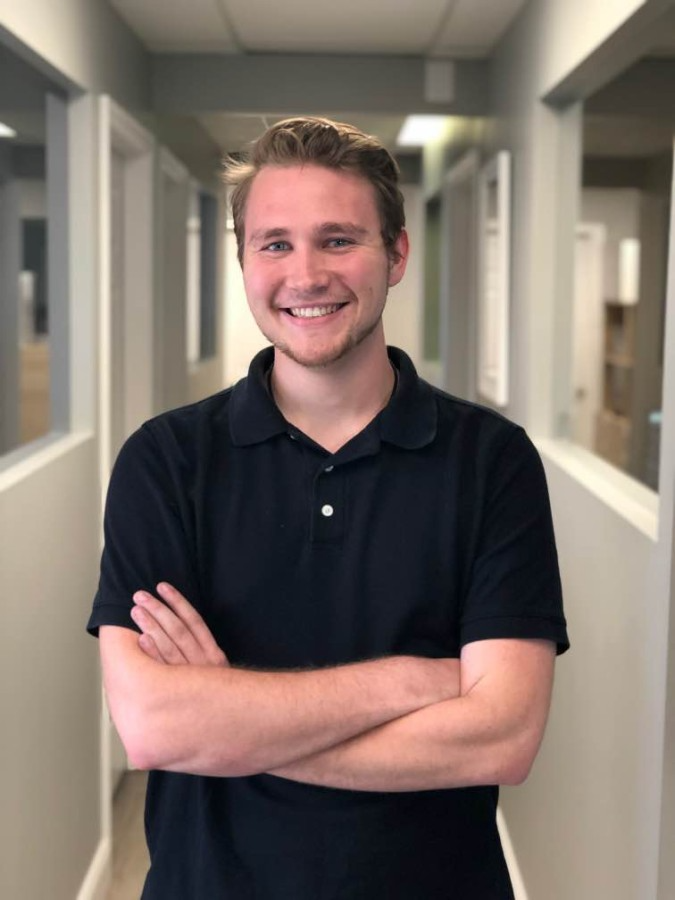 Quentin Russell is a Content Specialist with knowledge of Content Marketing and Social Media Marketing.