In any organization, contracts play a critical role in overseeing key business operations, deals and partnerships, supplier and vendor performance, and so much more. It's important to have well-authored contracts full of compliant legal terminology and preapproved clauses, however, simply generating accurate legal agreements isn't sufficient when it comes to safeguarding against risks. By managing contractual risk effectively, you can reduce the possible consequences associated with such risks and keep all of your contracts protected.
Contract management software has revolutionized contracting processes entirely, and many industry leaders and enterprises leverage software solutions to build efficiency and mitigate risk in their contract management processes. Software can help your organization automate contract lifecycles, save time and money, and most importantly, reduce risks.
Let's go ahead and take a look at some key contract risk management tools below.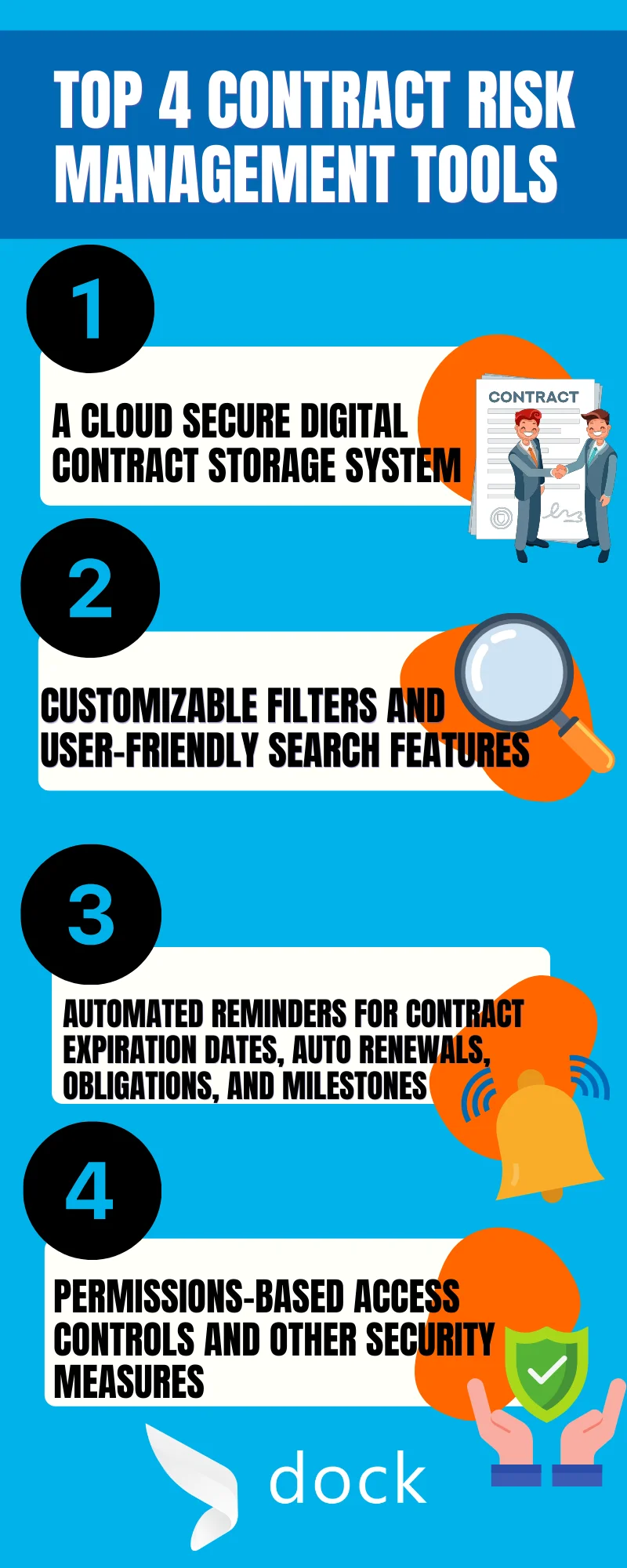 A Cloud Secure Digital Contract Storage System
Mitigating risk start with having a secure place to keep all of your company's contracts. Many organizations today still use outdated contract storage methods by way of filing cabinets, shared drives, spreadsheets, etc. This is an easy way to drive up risk potential and to lose sight of where your contracts are at. A centralized contract repository equipped with cloud security allows you to find key contract details instantly so you keep tabs on obligations, deadlines, and milestones. With your centralized digital storage system for all of your contract data, you can access your documents whenever needed from any digital device. An online storage solution allows your organization to scale and build an organized platform for your agreements to be archived, stored, and managed, making it easy to reference contract details while a contract is active. This will help you gain visibility over your contracts, helping you mitigate risks by keeping obligations and key dates top of mind.
Customizable Filters and User-Friendly Search Features
Storing contracts securely is a great place to start that will assist in mitigating a host of contract-related risks. However, if it's difficult to locate your contracts, then you're leaving a lot on the table in terms of risk mitigation. A text-based search feature is something oftentimes overlooked and is highly underrated in our professional opinion. With a text-based search function, you can find exact contracts with key words and locate your agreements based on terms, locations, or other rules. Locating your contracts with text-based searches and customizable filters helps to manage contract-related risks in several ways. For example, before you begin the process of authoring an agreement, you can use filters and text-based search to evaluate similar past agreements. This can assist you in strategizing which terms and clauses may have led to particular results, as well as help you understand other considerations pertaining to a particular type of contract. In a different scenario, you might find that changes in policies and regulations might necessitate swift action on certain contracts in order to reduce risk. In this way, a quick search can help you pull up exact contracts that are associated with these regulatory changes.

Automated Reminders For Contract Expiration Dates, Auto Renewals, Obligations, and Milestones
Missing key dates and failing to deliver on your contracted obligations can lead to several consequences that are easily avoidable. There are many hidden and obvious risks associated with the mismanagement of your deadlines and obligations. In addition, failure to appropriately oversee the performance of your company contracts can result in missed red flags and unidentified risks that could be mitigated prior to them materializing into actual problems. Because every contract carries exact obligations and due dates, there are well-defined penalties associated when a party fails to meet the obligations and date outlined in the agreement.
By configuring automated reminders, you can keep the right people in-the-loop of contract expiration dates, upcoming auto renewals, obligations, and milestones. This way, you can maintain a proactive approach to contract management throughout your organization, helping to mitigate risk at a larger scale. A simple reminder can simply help you remember something critical, and with such an easy tool, it'd be silly not to make the absolute most of it! Assess the most crucial dates, obligations, tasks, and more that need to stay top-of-mind and enable reminders to trigger at regulated intervals to reduce the risk of avoidable penalties and other problems that will increase costs and risks.
Permissions-Based Access Controls and Other Security Measures
There are more regulatory requirements today than ever before for business to keep data private and confidential. We recommend gaining a comprehensive understanding of your legal obligations and of your obligations to customers, vendors, and suppliers to help reduce risk potential. However, you can also leverage some pretty incredible permissions and security features within your contract management system to mitigate contractual risks.
With permissions-based access controls, you can keep all of your contracts in the right hands at all times. Contracts contain confidential information and often have heavy compliance policies associated with them. This means that you should reduce any advantages that unauthorized users could take within your software, and you can do so by enabling specific rules within your permissions settings. These access control features allow contract managers to select certain individuals that are permitted to view and edit contracts, helping to reduce the risk of a contract falling into the wrong hands. Furthermore, contract management software systems often come with multi-factor authentication to confirm that only authorized users are accessing your company's contracts.
Cloud security helps to protect your organization and its contracts against data breaches. Because businesses are subjected to specified compliance standards regarding sensitive customer information and other confidential data, a data breach can mean an exponential level of contractual risks are presented. For example, the breach of contract data itself presents many risks, and then the inability to have sufficient software protections enabled lead to penalties associated with the breach. We suggest leveraging contract management software that uses data encryption when data is transferred to other data centers and when data is stored. Cloud storage utilizes a myriad of protective measures such as backups and physical security to ensure your data is safe at all times.
Conclusion
Dock offers a cost-efficient and proven approach to managing contracts that uses your existing SharePoint and Microsoft 365 tenants. If you're in the market for a dedicated contract lifecycle management software solution, reach out and we would love to assist you with a complimentary demo of our solution.
Learn more about our Dock 365 Contract Management System here.
Learn more about Contract Lifecyle Management (CLM) Software here.
For more information, we welcome you to schedule a free demo with us today.

Lindsey Paulk is a Content Writer in Jacksonville, Florida that specializes in digitally communicating all-things contract management.