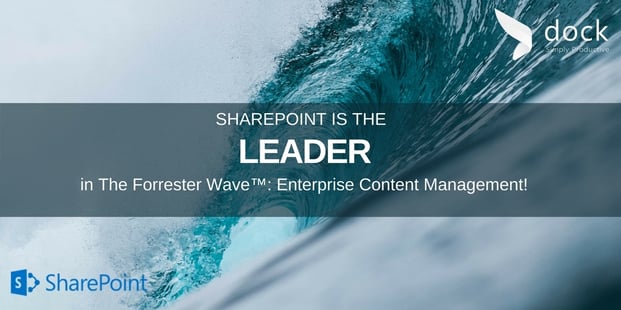 We are extremely delighted to see SharePoint as the Leader in The Forrester Wave Report – Enterprise Content Management - Business Content Services, second quarter of 2017.
With our experience, with the launch of SharePoint 2016 and ongoing advancements in Office 365 features, SharePoint Online has become the best and trusted platform in organizations. This has enabled top-notch organizations to effectively migrate their content to cloud services. Also, the hybrid possibilities have gained trust amongst various industries. Not to forget, the Microsoft FastTrack migration program is also a winning example by providing support for users to migrate their files from their custom data centers/SharePoint On-Prem Instances.
According to Forrester, features like eDiscovery, social graphic and analytics is an important focus for customers. Customers report a high degree of satisfaction with integration capabilities but report issues with usability and the ability to use metadata to restrict access to documents.
Speaking about Business Content Services, it emphasizes on content creation, policy and re-use. With SharePoint Online, there has been drastic changes from content retention archives to collaboration-powered tools along with security and reuse.
Learn More: SharePoint is the Top Content Management Solution
What are the principles for Content Services?
Create

Coordinate

Protect and

Harvest
Create
Your documents must be created, collected and classified properly to get your tasks done.
Coordinate
You can share, coauthor and discuss with your colleagues using metadata, groups, Microsoft Teams, Flow, taxonomy and PowerApps.
Protect
You will be able to reduce risk with information architecture, lifecycle, auditing, eDiscovery and Rights Management.
Harvest
You can now intelligently discover, search, analyze, dispose and reuse content effectively.
End notes of the report:
87% of the surveyed Enterprise Content Management decision makers have planned to continue application deployments in 2017.

The top 2 drivers for Enterprise Content Management systems are: Enhanced compliance and digitization of business procedures.

Lack of expertise/skills, user adoption and varying classification all together makes it to the list of top challenges facing information management programs every year.

33 percent of the surveyed Enterprise Content Management decision makers were actively using smartphones or accessing their ECM applications. 39 percent of the users are planning to move to mobile by 2017-2018 and 28 percent of users have no plans to bring in mobility for their ECM.
Book a
Live demo
Schedule a live demo of Dock 365's Contract Management Software now.
He is a Microsoft Certified Technology Specialist cum Digital Marketing Expert and has experience of 6 years. He loves learning about latest technologies like CRM, collaboration tools, marketing solutions etc.