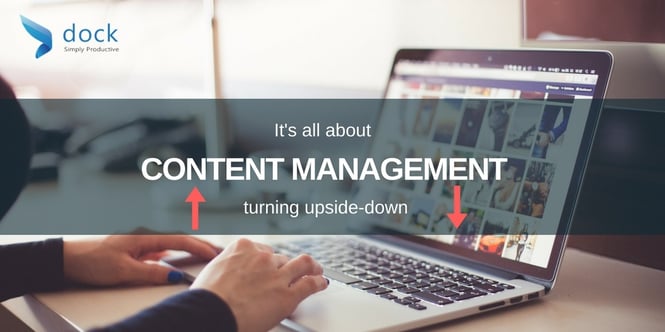 After years of rapid changes in mobile, customers and cloud computing, we are moving towards edge of the second digital revolution where we will witness a lot of changes in content world. Have you read the Forrester Wave report on Enterprise Content Management — Transactional Content Services, Q2 2017? The report depicts that the revolution has already started.
If you're not familiar with enterprise content management systems, they are solutions that help your team to create, organize and route information (like content and documents) through places like your company intranet portal, corporate websites, etc. Organizations look for people-centric solutions that are easy to use to help balance their personal and organizational management needs.
Why do You Need a CMS?
Here are some of the factors that organizations look for when considering CMS:
Extensive pre-built features

Scalability

Increased security

Improved usability

Training availability

User and technical documentation

Knowledge Base Management

Not reliant on employees with an organization

Compliant with standards such as W3C
CMS can help to facilitate the following:
E-Commerce

Knowledge management solution

Enterprise collaboration and document management systems

Business process engineering

Customer support management

Employee or Team Collaboration

Compliance
According to Microsoft, the principles of Content Services are:
Create

Coordinate

Protect

Harvest
Even though the above terms are Microsoft terms, they do correlate with the 8 fundamental forces of disruption which turns enterprise CMS upside-down (this time for real!)
Users demand the ability to separate content capabilities and to consume and purchase content management features in lower quantities rather than buying the entire lot.

Companies demand interchangeability of working of solutions – cloud, server-based and hybrid.

The content and documents must be managed right from the creation stage along with fundamental content management metadata.

The companies require consistent management processes and simple processes for workers to control the daily automated processes.

Creating and sharing content needs to be centralized towards all continuous content stages.

There is an increased need for an information governance strategy that is clear and concise, because information governance can be highly complex and is often contradictory with industry, government and legal requirements.
Redefining privacy and security strategies. This means that the document should have intelligence on what devices it was accessed and by which user.

The metadata driven policies are getting critical for guiding a piece of content right from its creation, archive and finally to its disposition stage. How does it work throughout this lifecycle?
The above points are just some of the ways the industry needs are forcing content management solutions to create new and exciting features. These changes have turned the CMS upside-down with a workplace revolution. This revolution will not only redefine the entire business content world but also how the transactional content gets managed as well.
Interested in implementing a better CMS in your business? Dock is staying ahead of industry changes with a commitment to provide the best technology in enterprise intranet and content. Contact the experts at Dock today to learn how your company can grow with the help of a modern CMS from Dock.
Book a
Live demo
Schedule a live demo of Dock 365's Contract Management Software now.
He is a Microsoft Certified Technology Specialist cum Digital Marketing Expert and has experience of 6 years. He loves learning about latest technologies like CRM, collaboration tools, marketing solutions etc.