Let's face it. SharePoint is not the most user-friendly application. Many people get started using Microsoft SharePoint with high hopes and quickly realize that it's going to take a lot more work that they are prepared for. That's when the Google searches start: how to fix SharePoint, custom SharePoint, SharePoint templates. If that's the path you're following, trust us, you are not alone.
So, that begs the question: how do you de-SharePoint SharePoint. A free ? A paid SharePoint customization? A full-fledged custom business application built on SharePoint?
As SharePoint experts, we'd like to help you find the right path. Let's get started.
Free SharePoint Templates
You might see these called a lot of things: free SharePoint templates, downloadable templates, freemium SharePoint customizations. These are a lot of words to mean the same thing. Think of a SharePoint template as a costume for your current SharePoint environment. It will upgrade the appearance of your SharePoint to make it smoother to use and a little easier on the eyes.
Pros: If you're only looking to make your SharePoint a little prettier or easier to follow for employees that are resisting adoption, this is the path for you. If price is your deciding factor, templates are often inexpensive –sometimes free, like our free templates.
Cons: There isn't any room for customization and improved features. Templates are often considered one-size-fits-all so you're expected to fit into the creator's mold. The cheap nature of these templates often carries over into support as well.
Out-of-the-Box (turnkey) Customized SharePoint
This is a SharePoint customization that you pay for monthly that turns your SharePoint into a totally functional SharePoint intranet, like Dock. It utilizes all the harder-to-access SharePoint features (those exciting features that sold you on SharePoint in the first place) and styles your SharePoint more eloquently.
Pros: This is the most cost effective option. Low monthly rates mean that every business can afford to have the most functional, easy SharePoint intranet option. Due to less involved customization, this option is the fastest way to start using all those features. With Dock, you'll get to pick and choose which features and portals you need to use and pick out colors and branding to make your SharePoint feel like home.
Cons: While Dock and other turnkey intranets are accessible for 99% of businesses, we recognize that some businesses have particularly niche needs in an intranet. These business may not be able to see the value out of an out-of-the-box intranet portal.
Fully Customized SharePoint Intranet
This is the traditional approach to de-SharePointing SharePoint. You pay a SharePoint consulting company, like our parent company Global Infonet, to build you a fully custom SharePoint intranet from the ground up.
Before turnkey solutions and templates were honed, this was the only choice if you wanted to elevate your SharePoint experience. Your consultants will get to know you and your team and understand your needs then they'll start from scratch making you the perfect solution
Pros: In the immortal words of Walt Disney, if you can dream it, you can do it. Customizations and limited only by your imagination and your budget. If you've got one of those businesses with the niche processes that were mentioned above, this is the choice for you.
Cons: Getting a completely custom SharePoint intranet tailor-made for your business processes takes time and money. Rome wasn't built in a day and your custom SharePoint intranet won't be either. While the return on investment on a custom SharePoint intranet it high due to efficiency and productivity increases, the starting costs on a project like this are likely to be high.
Our Verdict
We almost always suggest starting with an out-of-the-box SharePoint solution like Dock. A solution like this give you the best of both worlds: completely customized SharePoint with all the robust features at a lower cost and faster.
Still not sure? Contact the SharePoint experts at Dock and we can help you decide between a template, out-of-the-box or custom solution and get your business on the path to efficiency, no matter which you choose.
Book a
Live demo
Schedule a live demo of Dock 365's Contract Management Software now.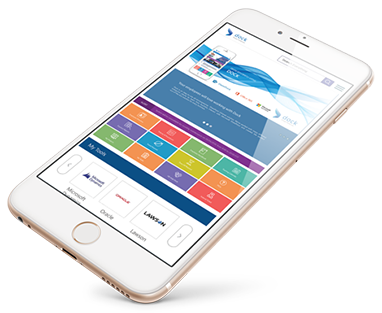 Our Insights. Learn with our Latest Blogs about SharePoint.