Hello everyone! Welcome back to our SharePoint Server 2016 vs. SharePoint Server 2019 Public Preview – Part II blog. If you haven't read our Part I blog, click below to read:
Blog Series - SP Server 2016 vs SP Server 2019 Public Preview – Part I
We will be talking about the classic team sites, communication sites, publishing sites and on how to migrate.
Moving to Modern Team Site
Not all features can be migrated from a classic site to a modern site (We are referring to custom webparts and related features). Apart from that, the site collection admins can upgrade the home page to the latest Modern page experience with a bunch of new webparts (You are going to love this!)
Communication Sites
The communication sites help your users to collaborate and share information amongst themselves. Users can share reports, news, status messages and other information in an easy manner. The requirement of communication sites is same as that of classic publishing sites but has lot of differences. Our advice is not to rely on classic publishing sites anymore and go ahead with communication sites!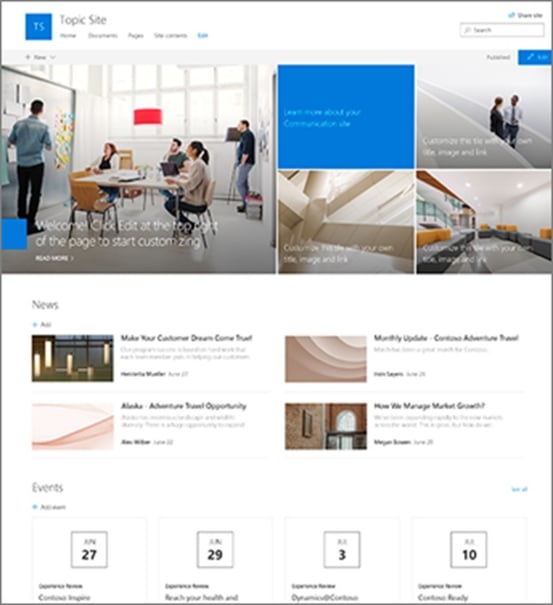 A Communication site
What is the difference between communication site and publishing site?
SharePoint Publishing Sites are used for creating communication and intranet portals. They are more structured and built with the help of master page and site publishing template. Publishing Portal is a site collection; therefore, it also includes sub sites. For creating publishing sites, the publishing features has to be activated. In order to have a full-fledged solution for publishing sites, you might consider looking for deeper development and design customizations for making customized design page layouts and master pages.
Speaking about SharePoint Communication Sites, you don't need to depend on publishing features activation. It doesn't follow master page usage and less structured. Best part of using communication sites is that you can use it without subsites. Also, the modern pages and webparts are used in communications sites which is the future! Compared to classic and publishing sites, there is no more hassle in creating responsive pages (mobile friendly) as it doesn't require coding. You can get started by following 3 templates:
Topic – You can add webparts to share information like news and events.

Showcase – Use photo or images to showcase a product, event or team.

Blank – A canvas for you to build the page from scratch.
Pages & web parts
SharePoint Modern Pages gives you the best, easy method for building mobile responsive pages using modern web parts functionality. The Pages are quite similar to classic pages and publishing pages, however, they are less structured and easy to create. If you aren't able to create a modern page, its likely because your SharePoint administrator has turned off the function in order to do so.
Well, that's it for today. Stay tuned for the Part III of this blog series that covers the difference between classic and modern pages, webparts, moving modern pages and Microsoft Flow.
Book a
Live demo
Schedule a live demo of Dock 365's Contract Management Software now.
He is a Microsoft Certified Technology Specialist cum Digital Marketing Expert and has experience of 6 years. He loves learning about latest technologies like CRM, collaboration tools, marketing solutions etc.