For users who aren't familiar with the SharePoint Modern UI, it's the latest user experience for Office 365 Business. It offers seamless, unified and responsive experience for businesses. Most of the SharePoint intranet portals that are available today are based out of the Classic UI. The current version of SharePoint offers both classic and Modern UI. What if Classic UI support is suspended after the release of SharePoint 2019? We will have to wait and see!
So, what's the difference?
The latest document library and list views in SharePoint Online loads and displays better on mobile devices. What's more important, it's easier to use! You get the same look and feel of OneDrive and can use the command bar instead of ribbon. Also, you can copy and move files using the command bar.
Well, there's more you can achieve:
Adding files as links instead of copying between sites.

Easy to change file information and access previews and more details.

Pinning documents to the top of the document library (Highlighting them).

Easy to sort, group, sort and resize columns. You can quickly create custom views too.
The latest user interface supports navigation, themes, and custom buttons that are available in the current classic experience. However, there are a couple of features that aren't supported in the modern view.
Classic vs. Modern SharePoint
Classic SharePoint Development
The standard way of deploying a classic SharePoint is by developing the custom master page and the page layouts. After building these bases, you'll have a better control over the arrangement of script execution and elements. The issue you might face is when the site becomes updated for latest controls introduced as placeholders via default master page by Microsoft.
The JavaScript injection is done to avoid creating latest master page but still having the provision to modify DPM for altering the site's entire layout.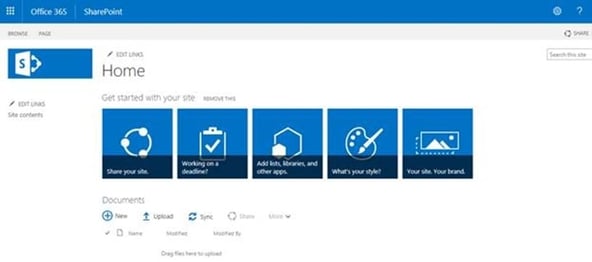 What you should follow:
The Page Layout:
Obviously, you can have your own page layouts designed if they are following the OOB master page placeholders.
Customizations
The display templates provide search result rendering customization. Also, the classic webparts supports JSLink for form or list customizations. However, Modern UI pages do not have a close correspondent for Display templates and JSLink.
Master Page
Microsoft doesn't recommend custom master pages for SharePoint Online due to frequent updates they publish. This will affect the placement and structure of the controls for OOB master pages. This will involve extra efforts to maintain the features when the frequent updates are published.
Modern experience
As of now, the classic SharePoint pages offer Modern user interface for site content page, document library and SharePoint lists. You can switch back to any of these views anytime you want.
The blend of modern and classic views
Microsoft doesn't allow us to recreate a root site with modern experience as of now. When creating home sites, as a default, it will be created in classic experience. However, other site collections can be created using the modern experience. This might lead to confusion for the end users.
Enhancements
There are several third-party solutions available today. This also includes the Office Development PnP (Patterns and Practices group - PnP script) solutions, which can help you create SharePoint sites easily using scripting.
Modern SharePoint Development
The latest addition to the SharePoint framework, it helps you create out-of-the-box responsive sites/site collections easily. The focus is given for its mobile responsive technology. Every modern site is an individual site collection under sites managed path.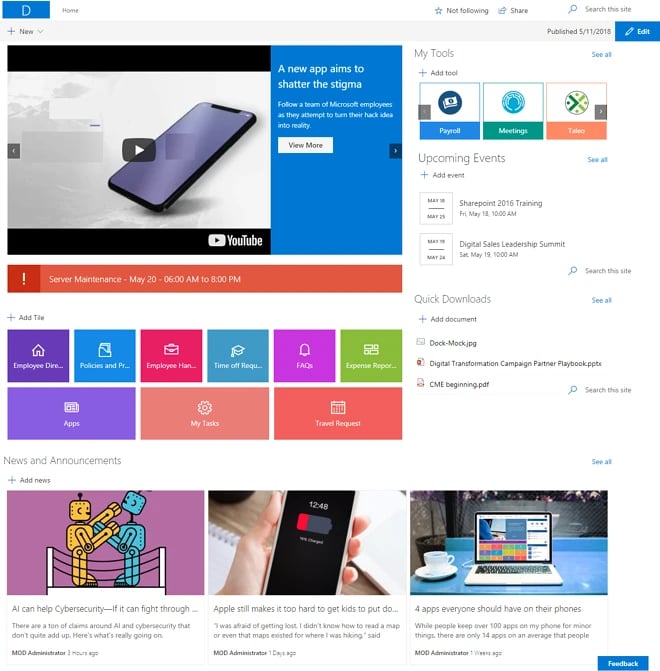 What you should follow:
Responsive Design
You don't need to worry about the responsiveness design anymore. Modern UI comes in-built with it. It supports OOB as well as modern webparts too.
Hub sites
Microsoft SharePoint Hub Sites is available (still in beta mode). We can connect to various site collections and receive data as shared theme, navigation and news roll-up. The search is also available across all the sites in the hub.
Master page and customizations for page layouts
Custom master pages or layouts aren't supported in Modern sites. The OOB page layouts are limited and it can server the purpose.
Customizations
The custom webparts are created as SPFx webparts. The development is done using JavaScript frameworks such as React JS and Angular JS. The SPFx extensions supports Field Customization, Command Sets and Application Customization.
Enhancements
The Office Development PnP is rolling out enhancements for the SharePoint Modern Pages.
Verdict
To our findings, both Modern and Classic Pages have their own pros and cons. For organizations who are building SharePoint intranet portals from scratch, we strongly recommend choosing Modern Pages unless you have heavy custom requirements or workflows to be enabled. We believe that SharePoint Modern sites are the future of Microsoft SharePoint that promotes seamless user experience.
Book a
Live demo
Schedule a live demo of Dock 365's Contract Management Software now.
He is a Microsoft Certified Technology Specialist cum Digital Marketing Expert and has experience of 6 years. He loves learning about latest technologies like CRM, collaboration tools, marketing solutions etc.