For Sales Representatives that are always on-the-go, how do you manage your sales activities on your intranet or CRM? It's challenging, isn't it? How about a SharePoint Intranet Portal in your pocket? I'm talking about the capabilities of SharePoint to take your intranet solution outside of your office while staying informed about company related news, content updates and announcements in any location with an internet connection.
Neither you or your company stands still when you have your SharePoint mobile notifications enabled. It will promote work moving forward. We're seeing an increase of users moving to mobile devices on a global scale to improve managing their activities and daily tasks. So, what's the good news from Microsoft? They recently announced the most awaited notifications update for SharePoint mobile applications for both iOS and Android.
As you know, SharePoint is a pervasive content management service that keeps your team integrated across an overall collaboration experience. It's important to receive timely alerts and notifications related to your tasks when you are away from office.
Let's review the details of the new features released for the SharePoint mobile platform:
Me Tab
Yes! Now we have the Me tab on our SharePoint app! It will help users in delivering the most important items going around us. A one-stop area to find recent files, saved files, news posts and more. You can also use the 'Save for Later' feature to literally save news and files for later.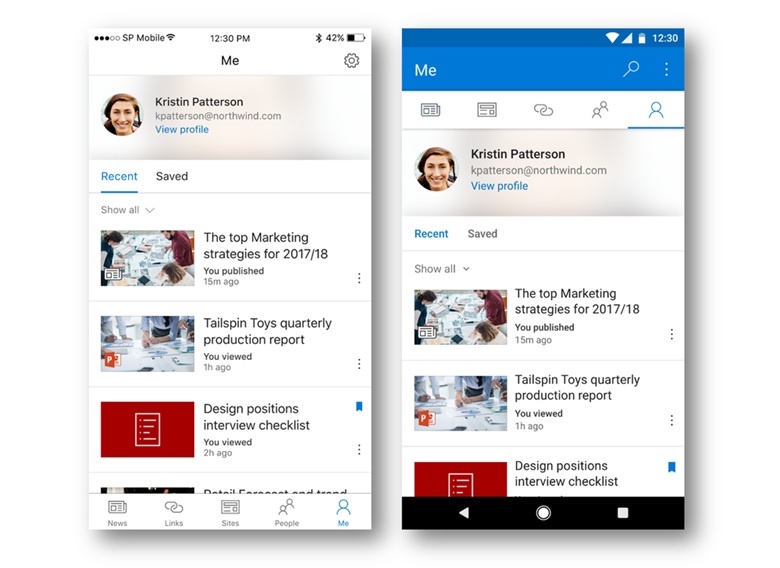 The Me tab as shown above helps you to view recent and saved information. The left image shows the iOS interface and the right image shows the Android interface.
News Feature - Comments
With the latest update, the next time you finish reading a news article on your SharePoint app, you can leave a comment or feedback on the desired articles. In addition, you can reply to other user's comments to keep the engagement going.
It's much easier to drop comment or feedback using the updated SharePoint Mobile App.
Adding and Editing News (For Android)
How easy can this be? Now you can add your own stories right from your Android phone. Simply click on "+ add" symbol from News section on a team site. Type the title of the desired article, body text and yes, and format it. You can also add images or embed documents into the article. Next, click Publish and that's it. Your article is published for all to see! The news story appears across the news service to all your peers as a recent story on SharePoint Online Home in O365.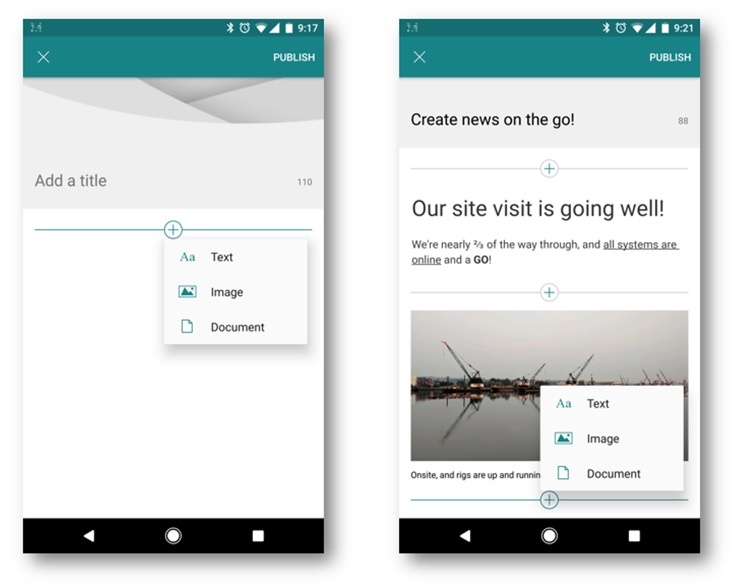 Now we can create/edit / publish news right from your Android phone!
Get Notified when News Articles are Published
When important news is published by one of your peers in your close area of work – the article shows up with the help of Microsoft Graph's intelligence. In addition, when the news is published in a site where you are active in, you get a notification on your mobile phone "from SharePoint" on your phone's notification area, as shown in the image below. When you click on the notification, it opens the SharePoint mobile app to view the news item with all data-rich interactive content for your convenience.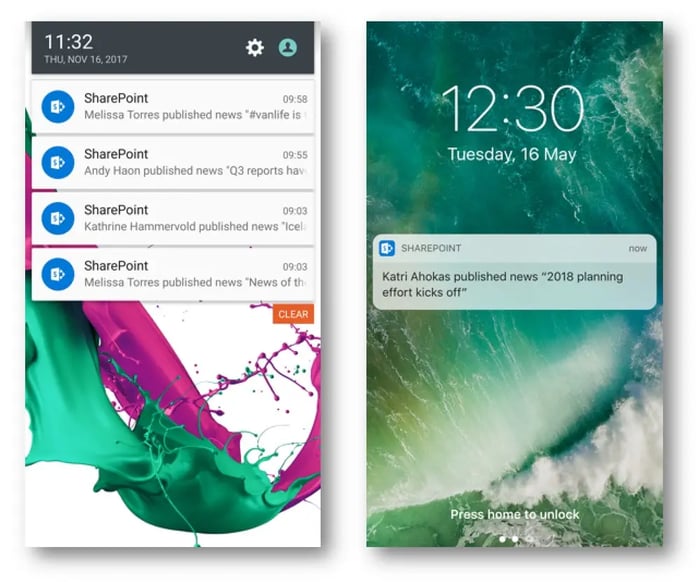 News article notifications appearing on your mobile device. The left image shows how it looks on an Android Phone and on the right how it appears on an Apple device.
Save for Later Feature
The 'Save for Later' feature helps you to save important content to review in the future when it's more convenient for you to do so. This will come in handy when you don't have time at that moment to read news, files or pages. It's more like the Favorite feature in SharePoint and Dock. When you are done checking out the file or news articles, you can easily remove from the saved list.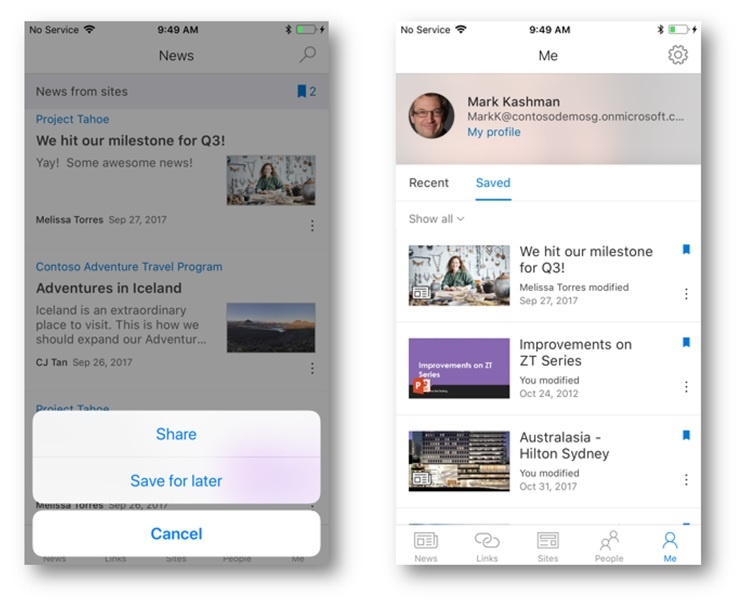 Now users can click on "Save for later" button to view articles/files in the Saved list within the Me tab.
SP Server 2013 & 2016 On-Prem Support (For Android)
Good news for SharePoint On-Prem customers! Access your portal within the firewall using the SharePoint mobile app for Android phones. SharePoint Server 2013 and SharePoint Server 2016 instances can be accessed with the help of FBA and NTLM. The app will help in giving access to all your sites from both On-Prem and online versions.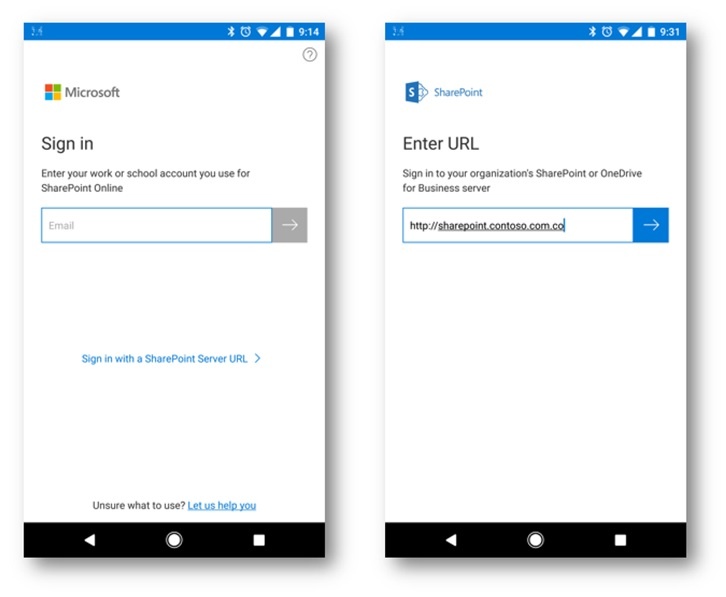 SharePoint App now supports logging in to SharePoint Online and SharePoint Server On-Prem and hybrid configurations.
Book a
Live demo
Schedule a live demo of Dock 365's Contract Management Software now.
He is a Microsoft Certified Technology Specialist cum Digital Marketing Expert and has experience of 6 years. He loves learning about latest technologies like CRM, collaboration tools, marketing solutions etc.