What I am going to share in this blog is something every Sales or an IT person would have gone through.
This is a scenario during our client meetings. When the discussion is about to end and we are almost at the tip of closing the opportunity, questions arise:
We love Dock and SharePoint looks promising for our organization. But how are we going to find out if the system is being used efficiently?
How do we ensure security and integrity of our company information?
How do we do an audit of activities for each user on your SharePoint based solution?
Well most of the companies are hesitant to answer security related queries but Microsoft SharePoint has got the right solutions for the above queries!
I would like to demonstrate on how to conduct an audit on the usage of your SharePoint Intranet Portal/Site.
You don't need to purchase any add-on's or third party solutions to achieve this. This feature is readily available on your Office 365! Lucky, isn't it? Office 365 offers a perfect tool called "Audit Log" which helps you to audit user's activities.
Let's see how it works:
Accessing Audit Logs
There are 2 ways to work on this.
Visit https://protection.office.com or click on the Security & Compliance tile from the Office 365 App (Top Left hand side bar)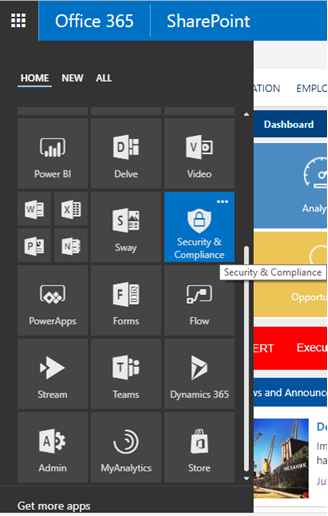 Once you are in Security & Compliance Page, select Search & Investigation and scroll down to Audit Log Search.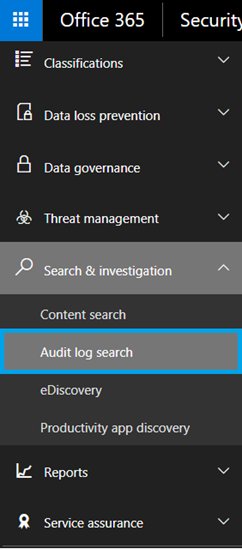 Enabling Audit Log Reporting
As discussed earlier, you have this feature in Office 365, but needs to be enabled before use. If you have recently purchased Office 365 or SharePoint, its recommended to turn on this feature in no time. This way, you will be able to record lots of activities as possible. After enabling the auditing log reporting feature, you will be able to audit all the user activities from now on. Please note that activities done before the enabling date won't be available.
How do you enable the Audit Log Reporting feature?
After clicking on Audit Log Search, you get to the following page: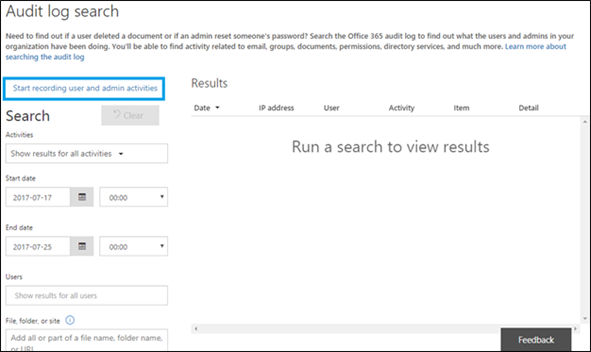 Select "Start recording user and admin activities" link as shown on the image above.
A pop-up appears asking you to Start recording user and admin activities. Select "Turn on".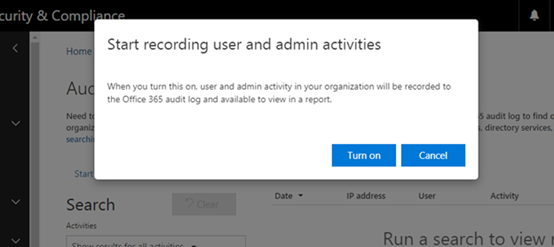 Now the link has changed to the message saying they are preparing the Office 365 audit log and you will be able to search for the activities after few hours.
It is advisable to visit this page after a week, by then you will have lots of activities recorded in the Audit Log Search.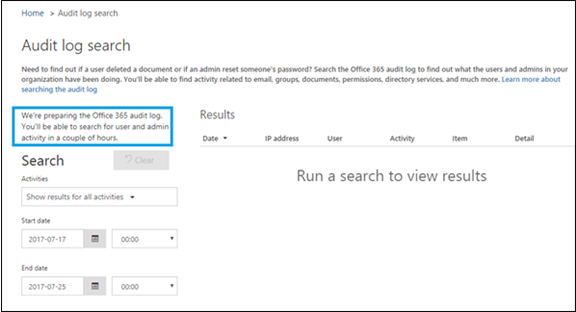 If you try searching for activities right away, you get another notification as seen below: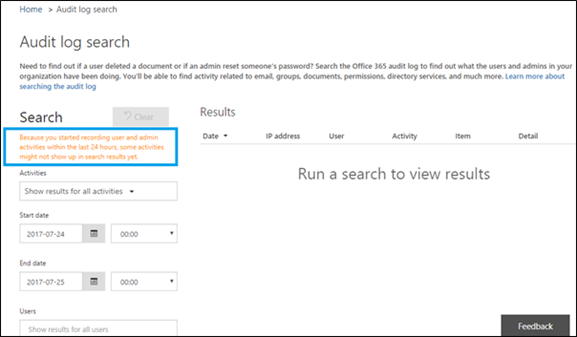 How do you execute the Audit Report?
This is easy to do. You just need to choose the Activities tab and select the required user and the time frame. Hit the Search button. Your results will show on the right-hand side of your screen!
Working on the Audit Report
When the Activities tab is selected, you will be able to choose your desired report from the list. There are lots of SharePoint related actions like downloads, file uploads, file deletions etc. You can also track user activities in Power BI, Outlook and the Admin activities as well.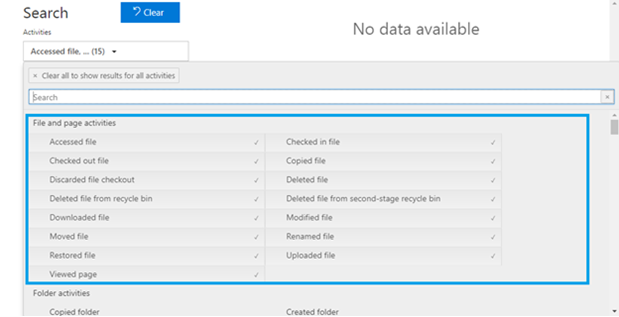 Exporting Audit Report for future reference
You also have the provision to export audit report to Microsoft Excel which helps you to organize, review and later archive for your information.
Isn't it easy? This is our response to Clients or Prospects when they ask about Site/User Evaluation in SharePoint.
Book a
Live demo
Schedule a live demo of Dock 365's Contract Management Software now.
He is a Microsoft Certified Technology Specialist cum Digital Marketing Expert and has experience of 6 years. He loves learning about latest technologies like CRM, collaboration tools, marketing solutions etc.