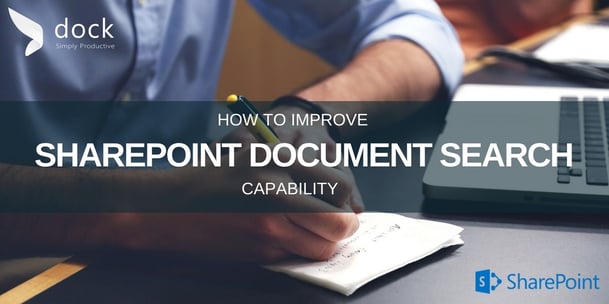 After the release of Microsoft SharePoint 2016, we have been seeing drastic changes to the cloud offers being more cost effective and strong. The most important feature is the search feature in SharePoint. Clubbed with the eDiscovery feature, SharePoint search works perfectly for an organization – more like an internal google search feature.
How can you improve the SharePoint Document Search Capability? Checkout the below tips that can help your team look for information more efficiently:
Verifying Titles which creating new docs from existing docs – You got to be careful when reusing documents. Always check the document properties and ensure that the Title matches with your document content.
Tagging Documents with Metadata – Encourage your colleagues to use tags for their documents. This helps your organization to find information easily using these attributes.
Security – Ensure your content is secured – With the upgrade to Office 365 from your previous SharePoint versions, your files are likely to get exposed in the search feature (Especially in Delve). Make sure that you have defined necessary permissions to the folders/library where your confidential files are saved. Use the library settings that can be seen the advanced settings – which helps you hide the folders from search results.
Adding "Common Value Default" settings to set your default metadata automatically – Ideally use the column value defaults which can be set at the folder level so when you add files to the library, it automatically grabs the metadata feature. However, when you move the files from one library to another, these default values won't get reflected to the latest document. These values are set only if the attribute is blank.
Using Document ID - Document IDs are unique tags that are assigned to files when they are created on the site collection.
Enhancing site navigation and search center – Work on pre-built search queries. This is very powerful but bit daunting for most of the regular users.
Use Search Synonyms – Define search synonyms that is pertaining to your business.
Enhancing OOB navigation –You shouldn't be spending time clicking through each sub sites and libraries to look for content. Best Choice? Explore and expand the out-of-the-box navigation.
What are the search experiences your users require?
Having search verticals helps you to slender search results to the required set of content. For example, you have a Training Portal in your Intranet Site. Ideally, you need to show only videos. So, create a search vertical in the Search Center in SharePoint Online or SharePoint Server.
eDiscovery feature - Electronic discovery, or eDiscovery, is the process of identifying and delivering electronic information that can be used as evidence.
Cross-site publishing - Cross-Site Publishing is a simple publishing is a feature driven method which allows you to create and maintain content in one or several authoring site collections and publish these contents in one or more publishing site collections by using the content Search Web Parts. Please note that cross-site publishing feature is not available for SharePoint hybrid search.
P.S. If you're looking for a simple solution for document migration to SharePoint Online be sure to check out our new software MyGrator.
Book a
Live demo
Schedule a live demo of Dock 365's Contract Management Software now.
He is a Microsoft Certified Technology Specialist cum Digital Marketing Expert and has experience of 6 years. He loves learning about latest technologies like CRM, collaboration tools, marketing solutions etc.