It doesn't matter if your colleagues are working across the office walls or globe. Microsoft plays a great role in facilitating employee collaboration with its flagship products such as Office 365 and Dynamics 365, where SharePoint and OneDrive for Business offers the perfect document management features for its users.
It is critical to have a secure solution to collaborate content with colleagues and third-party contacts (both internal and external contacts of your organization) to boost teamwork and productivity. Gartner Research says that by 2022, 50% of the companies will rely on collaborative document solutions as a standard method for document management. Thanks to Microsoft OneDrive, as it offers a seamless experience, allowing users to share files on any device, anywhere and securing your work from data loss, virus attacks etc.
As a Microsoft Certified Partner, we are delighted to see that Gartner has honored Microsoft as the leader in Magic Quadrant for Content Collaboration Platform. Microsoft has proved its strength in executing and bringing great improvements in its offerings over last year's report. Also, Microsoft is recognized as a Leader in Gartner's Magic Quadrant for Content Services Platform and Content Collaboration Platform.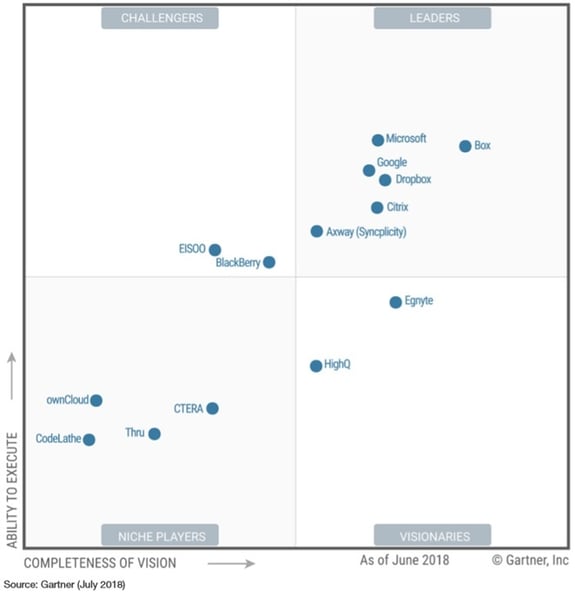 Gartner's Magic Quadrant (July 2018). Microsoft leads followed by Box and Google
Thanks to Gartner for the recognition which ensures OneDrive to provide the best content collaboration features which includes:
Sharing files internally and externally within your organization
With OneDrive, you can easily share files with all users inside or outside your organization. You will be able to find out who has viewed, edited or shared the files and restrict access whenever required.
Accessibility of files
You can quickly get back to recent and shared files from smartphones and other devices. Office 365 comes with intelligent recommendations based on the tasks you work on with your colleagues.
Mobility
Use your smartphones to capture whiteboards, business cards, receipts and other documents without any hassle.
Data Security
Microsoft has over 100 datacenters globally. It is HIPAA compliant and several banks have even moved to Office 365 trusting Microsoft's Cloud Security measures. It follows industry compliance standards and security features such as eDiscovery, Data Loss Prevention and malicious attack recovery.
Integration with Office 365
OneDrive comes along with Office 365 and helps users to seamlessly co-author documents across mobile, browsers and native apps.
As per the reports, Microsoft has over 135 million Office 365 commercial customers who have moved from server-based solutions and other cloud solutions to Microsoft OneDrive. Fortune 500 companies like Textron, MGM Resorts International and others. They have been improving their data requirements, data security and making sure to reduce third-party licensing costs by shifting to OneDrive. Also, companies benefit by leveraging mobility features of using OneDrive with Office 365. For the past year, customers have gone three times high in terms of content storage in OneDrive.
Microsoft OneDrive has been a key solution for Organizations and individual users. OneDrive has transformed collaboration to the next level and we are sure everyone is benefiting from the features offered so far. What's the next best feature coming ahead? Let's wait and see!
Book a
Live demo
Schedule a live demo of Dock 365's Contract Management Software now.
He is a Microsoft Certified Technology Specialist cum Digital Marketing Expert and has experience of 6 years. He loves learning about latest technologies like CRM, collaboration tools, marketing solutions etc.