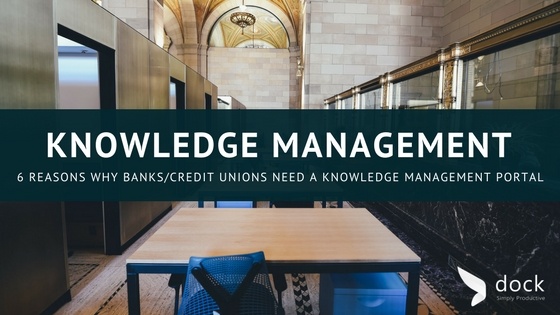 The solid foundation of your SharePoint intranet portal is how your Knowledge Management System (KMS) is setup for success. It's defined as: "the process of creating, sharing, using and managing the knowledge and information of an organization. It refers to a multidisciplinary approach to achieving organizational objectives by making the best use of knowledge."
In combination with your workflow, Dock 365 is a powerful tool in combination with SharePoint and Office 365 products. Dock provides KMS development to match your company's branding so that you can promote a quick employee adoption to new SharePoint online tools. The benefits of managing your work flow has six ways financial institutes can gain from developing one with SharePoint.
Read more: How to Improve Employee Productivity in Your Credit Union
Benefits of a KMS:
Improves coordination, collaboration, and accountability.
Improves the ability to analyze program effectiveness.
Promotes standardized data-collection methodology.
Facilitates timely feedback and approval.
Generates usable reports of individual and aggregate data
Combines multiple forms into one online system.
Streamlines and tracks plan/reporting approval process.
1. How coordination, collaboration and accountability is managed:
With a standard SharePoint intranet portal and Office 365 for cloud-based data system, your employees can coordinate, collaborate and have accountability on projects through accelerated communication workflow systems designed by Dock's development team. Your employees can access the company intranet portal on any device with an Internet connection and communicate organized by teams or departments within your bank or credit union.
2. Analyze program effectiveness and promote data-collection:
When analyzing your intranet KMS program, measure effectiveness by always starting with your evaluation goals, i.e., the reason you undertook the evaluation in the first place. If you are conducting an outcomes-based evaluation, you can categorize data according to the indicators for each outcome. Next, use a basic analysis of quantitative information that can be measured. Review the qualitative information and organize into overlapping categories for labeling the categories or themes. Attempt to find patterns in the data, associations or causes. Collect data for years for effectively analyzing over a longer period.
3. Save time by improving collaboration with timely feedback and approvals:
By creating an online workstation that can be accessed on the cloud through Office 365, your team can eliminate long meetings, which on average tend to take up too much of your employee's time. Whether your teams are working internationally or locally, taking the conversations out of emails and into the team online collaboration tools via Office 365, will improve collaboration in a timely manner. Team communication has never been easier for faster approvals times to get the work processes flowing again.
4. Generate usable reports to aggregated rich financial data:
Financial data aggregators comprise the basis of a responsible approach to finance management and are in the foundation of consumer-empowering products such as Dock. APIs are the infrastructure that developers use to build applications to access content and other services. Financial data aggregators are some of the most interesting elements of financial APIs ecosystem as they drive beneficial insights on customers' financial behavior and enable a data-driven approach to build your financial products.
5. Combines multiple forms into one online system:
Track and update all banking forms in one intranet portal system for organization and accuracy. By using a document management system, your forms are in one location with security in place to sort which teams have access to the forms they require. Dock delivers additional features that enable organizations to better meet compliance demands. Our unique ability to unify your digital assets under one platform can be transformational in better employee productivity and customer satisfaction.
6. Streamline and track plan/reporting for approval process:
Effective workflows can streamline the cost and time required to coordinate common business processes, such as document approval, by managing and tracking the human tasks involved in these processes. Because the approval workflow assigns tasks, sends reminders, tracks participation, and creates a record of the entire process, you can concentrate on performing your work instead of chasing people and managing the logistics of the document approval process.
Book a
Live demo
Schedule a live demo of Dock 365's Contract Management Software now.
She's a multimedia producer to include writing, photography, graphic design and video. She enjoys learning about new technology for business and exploring her city in Jacksonville, Florida.