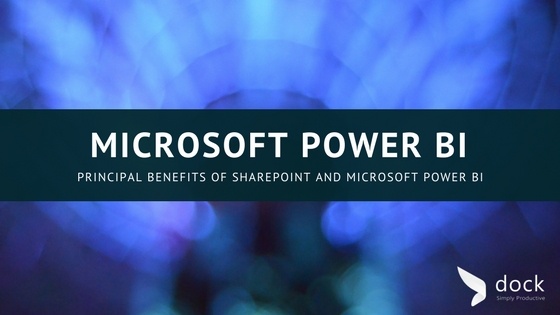 Microsoft Power BI (Business Intelligence) is a cloud-based business analytics service for SharePoint collaboration site users to allow them to quickly analyze data visually in an efficient manner for ease of comprehension. Power BI users are connected to a broad range of data through simple dashboards, interactive reports and visualizations that allow them to understand data faster than using traditional bar and pie charts. It's remarkable for a variety of users such as sales, analysts, business executives, IT and developers.
Data storytelling reviews analytics with complementary visuals and a narrative to combine the language of images and words to tell an overall story about the data. With Power BI, users can produce beautiful reports to publish for their organization to review on the web and on mobile or tablet devices.
"On average, those using data visualization tools report it would take an average of nine hours longer to see patterns, trends and correlations in their company's data without data visualization." – SAP
Power BI transforms your business productivity.
In less than the time it takes to go get a cup of coffee, analysts can quickly go from reviewing data to insights into action by connecting sources, preparing the data with ease and showing results of highly visually pleasing reports. With connections to hundreds of sources that are continuing to grow, Power BI Desktop allows users to draw deep insights for a broad range of scenarios.
For the business users who always need to be in the know, users can view dashboards on the web or mobile phone. In addition, they can receive alerts when the data is updated and then drill down into the nitty gritty details. The data is within reach. IT teams can streamline management of data, attain compliance and keep data secure while they're giving employees access to the insights they need. Development teams can rejuvenate apps with the power of intelligent data. They can embed interactive data visuals and deliver captivating visual reports that looks great and works on any device.
Benefits of implementing Power BI within your organization.
Firstly, your data will become more accessible from integrating with Microsoft tech as well as enhancing non-Microsoft solutions. It connects to 60 common software solutions, which more than likely your employee already uses. It will pull data into a centralized dashboard with Spark, Google Analytics, SAP, Salesforce and Mailchimp for starters. Your data is accessible from your cloud servers and hybrid systems.
Secondly, implementation is simple with very little to no engineering or IT resources needed. Admins can simply create an API key and then plug it into the software, it's especially easier if your business already uses Microsoft platforms.
Thirdly, it provides robust access control and security by setting it up through the Active Directory. Admins can also control which team members have access to specific rows of data on reports depending on the employee's position. For example, executives can review the entire report while a sales person would be given access to review only the first ten rows. This saves time by building one report for everyone.
Lastly, Power BI has a simple learning curve. Anyone familiar with Microsoft products will be recognize the interface elements for ease of user adoption. It's also simple to export data to other systems such as Excel, which provides the user with flexibility to work with their data in another environment as needed. Power BI integrates easily with Office 365 Groups and Microsoft Teams.
Want to learn more about the benefits of Dock? Click the button below.
Book a
Live demo
Schedule a live demo of Dock 365's Contract Management Software now.
She's a multimedia producer to include writing, photography, graphic design and video. She enjoys learning about new technology for business and exploring her city in Jacksonville, Florida.