We have been serving customers across North America, Europe and Far East. Most of our clients have operations in different countries as well. So, the million-dollar question is: Does SharePoint support multiple languages simultaneously? Well, for French, Spanish, Cantonese it should work fine, but for other languages: watch out for the translations!
Before I start, let us understand that there isn't any single language setting which has control over the entire site. You got to navigate and fix certain features in many O365 assets (Depends on which content you want it to be translated).
I will be writing on how to change the language in SharePoint and Office 365.
#1. SharePoint
Changing the default language
The default language is setup by your SharePoint Administrator when the Office 365 Environment is setup. Depending on the region you belong to, the language setup could be English, Spanish, Chinese, French etc. You cannot change the default language; however alternative languages can be setup easily.
Navigate to Gear Icon > Site Settings > Language Settings (under Site Administration)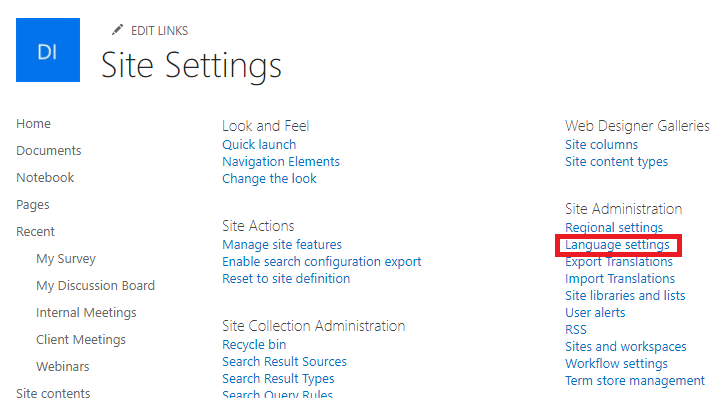 2. Your default language shows up at the top: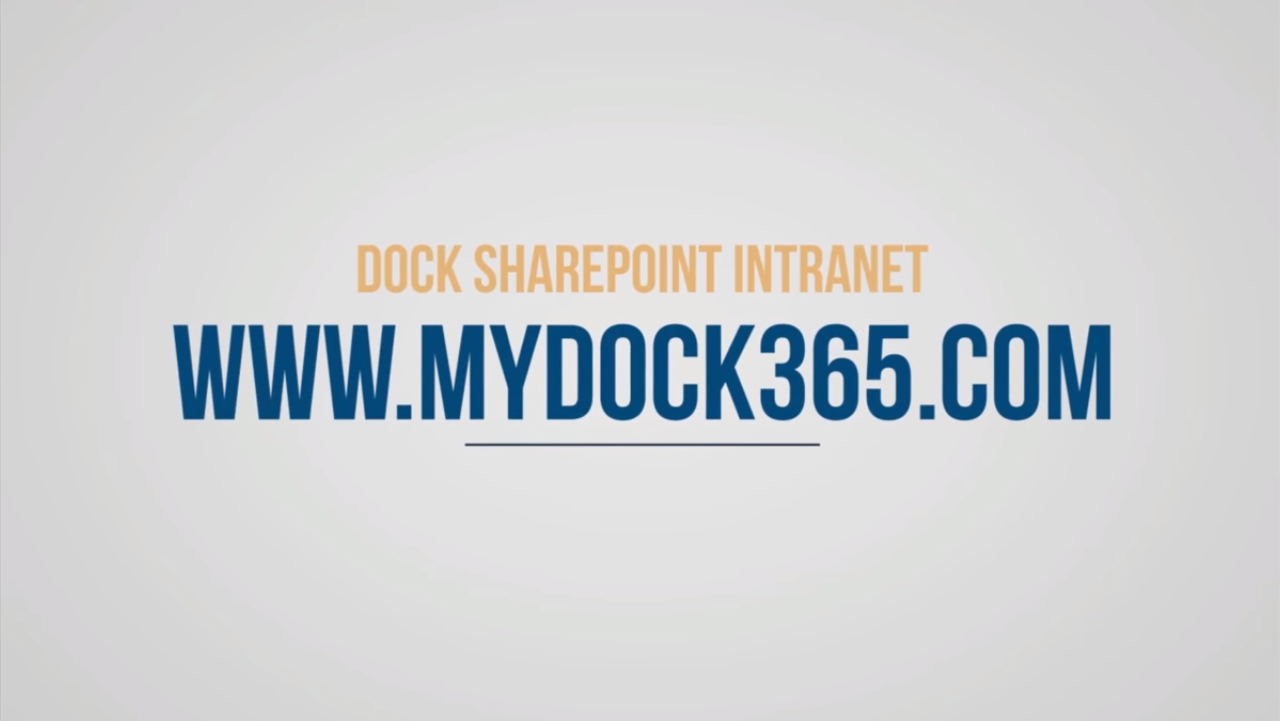 This comes in handy when user-specified text like Title, site description can be translated to alternative languages. You just need to select Yes to get it working.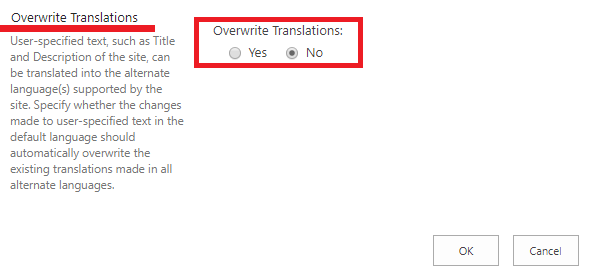 To add an alternate language to the site, follow the below steps:
Adding Language to a Site
There are two ways to accomplish this:
Setting up default language while creating a new site.

Adding alternative language to your existing sites.
Setting up default language while creating a new site.
Go to Site Contents, click on the + New dropdown > Subsite.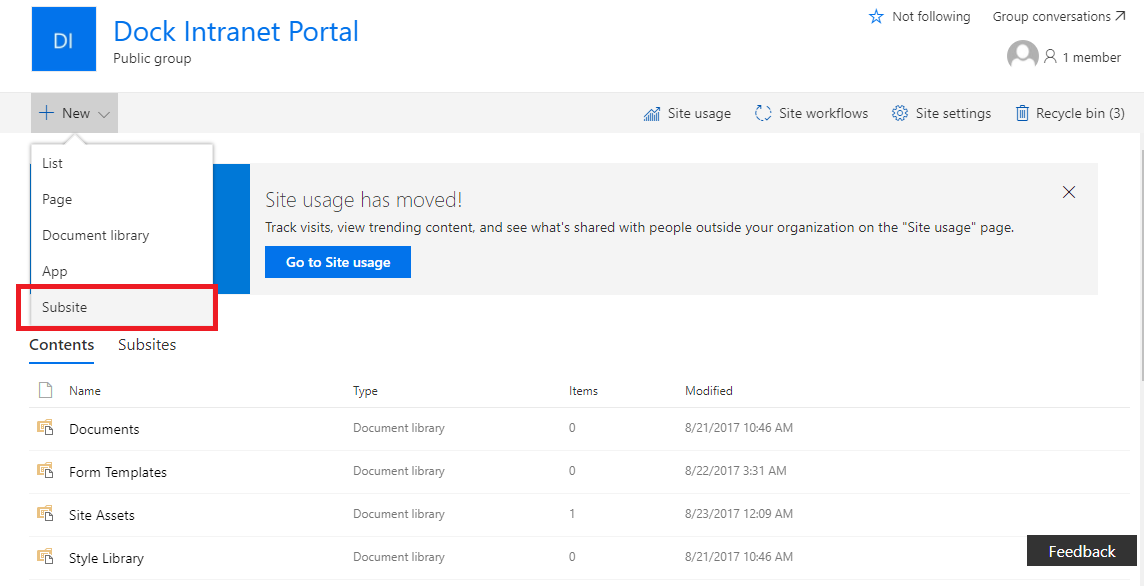 Scroll towards Template Selection language drop down area.
Select your desired language (I have chosen Spanish for illustration purposes). The moment you turn to another language, the items shown in the box automatically changes to that language.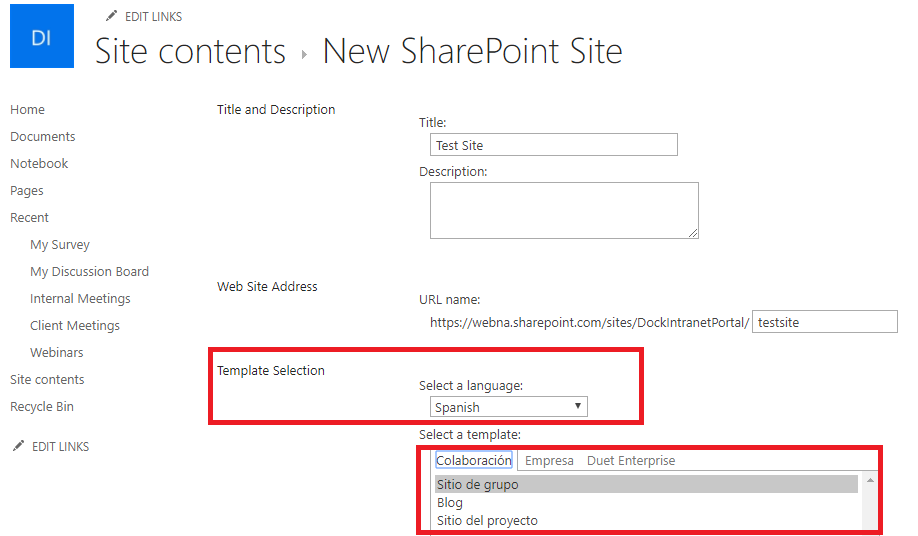 When clicked on "OK", you can see that your newly created site shows up with your chosen language.

Adding alternative language to your existing sites.
There's no way that you can change the default language in SharePoint. All you can do is creating an alternative language to the existing sites.
To add an alternate language to a site:
Navigate to Gear Icon > Site Settings > Language Settings (under Site Administration)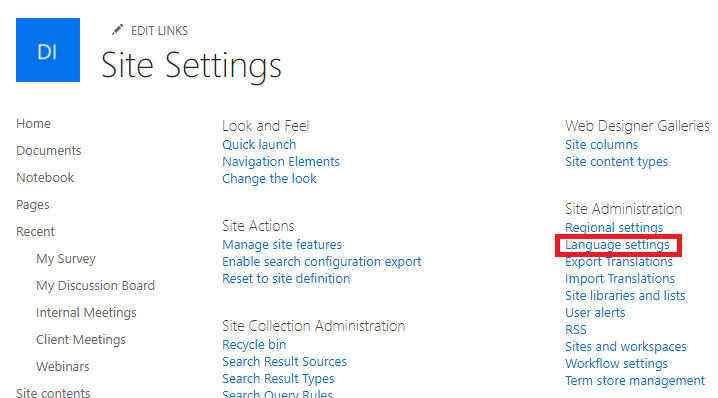 2. Scroll down to the Alternate language(s) section. Choose a language you want to be added the site. Select OK to finish.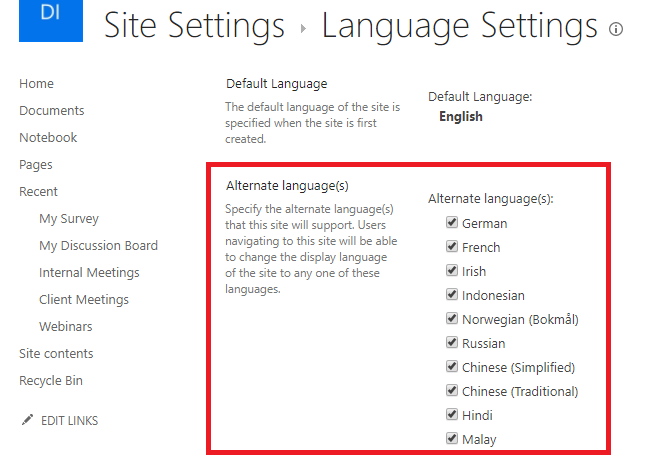 The site will now be translated into a language of the user logged in.
User personal language settings
What you have seen so far is to setup your desired languages at the site level. When alternative languages are setup, the user has the provision to change them from their User Profile/Microsoft Delve.
P.S. Ensure that your SharePoint Admin has added/selected additional languages to make this working.
Case 1: You have only a default language set for your SharePoint.
In this case, your site will always display the default language and unable to setup other languages.
Case 2: When alternative languages are setup in SharePoint Sites.
In this scenario, you will be able to switch to alternative languages. As mentioned above, companies that have both English and Spanish as languages can have English as the default language and Spanish as the additional language. For English speaking users, no changes need to be done on their settings. For Spaniards, sites should be in Spanish and the users need to set their language in User Profile or Microsoft Delve.
Go to your Delve profile: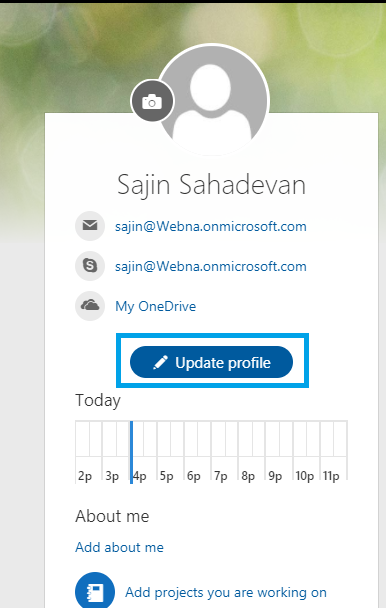 1. Click on Update Profile
2.When scrolled to the middle, please expand "How can I change language and regional settings? ".
3. Click on "here" hyperlink.

4. In the profile page that opens, click on Language and Region under Ellipsis (•••)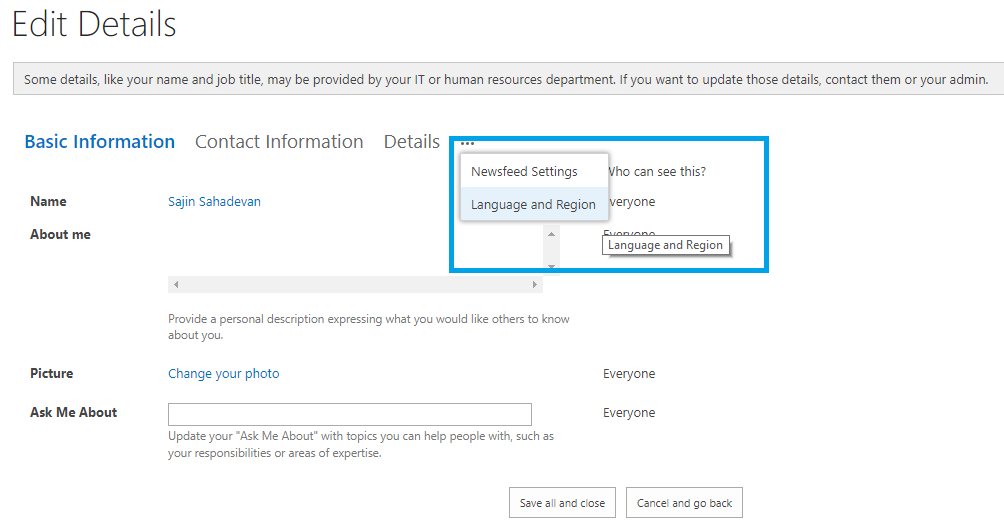 5. Choose your desired language, and select Add.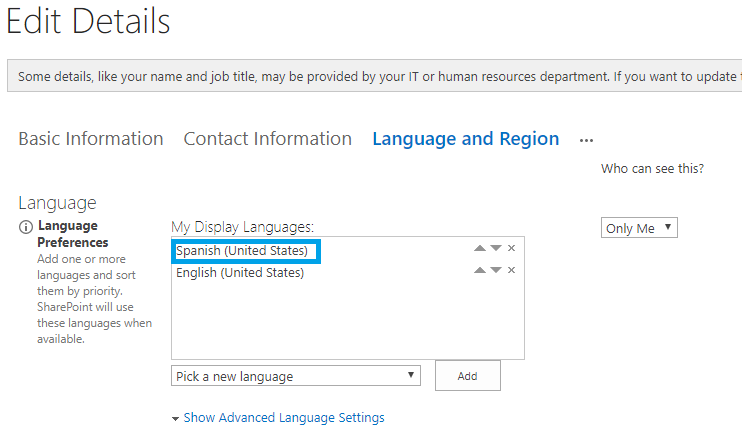 6. Turn Spanish to primary language (use the arrows to move to the top).
7. Save all and close at the bottom.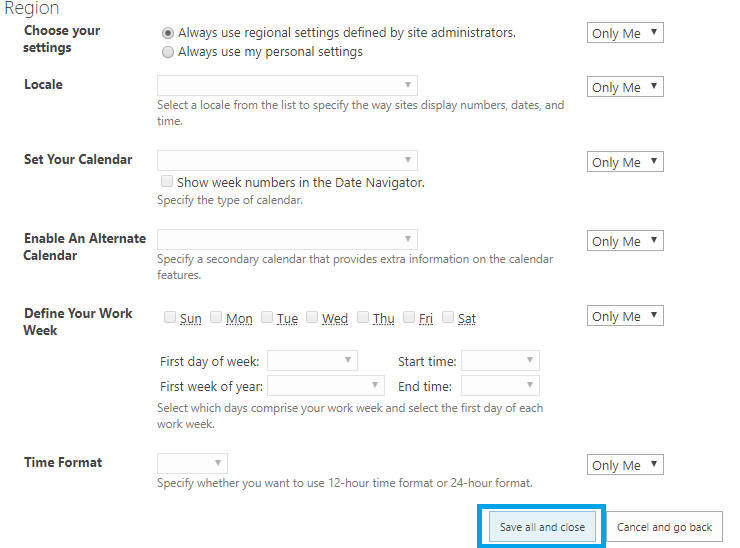 8. You will get a pop-up message saying that it might take a while for changes to take effect.

It should take an hour's time to get it done.
#2. Office 365
Let's check out the next best way to work on multiple languages. The above steps help you to change languages for your SharePoint and no other O365 apps like Delve, Planner, Stream etc. Don't worry, it's very simple to do!
Click on your name at the right-hand side top of the browser. This time, instead of clicking on My Profile, select My account.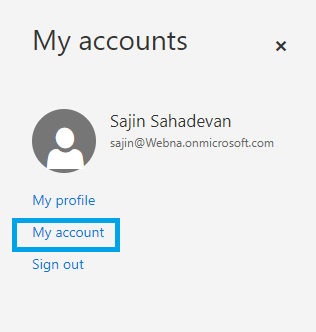 Go to settings as shown in the image below:

Select Language and time zone. Select your desired language and time zone. Click Save.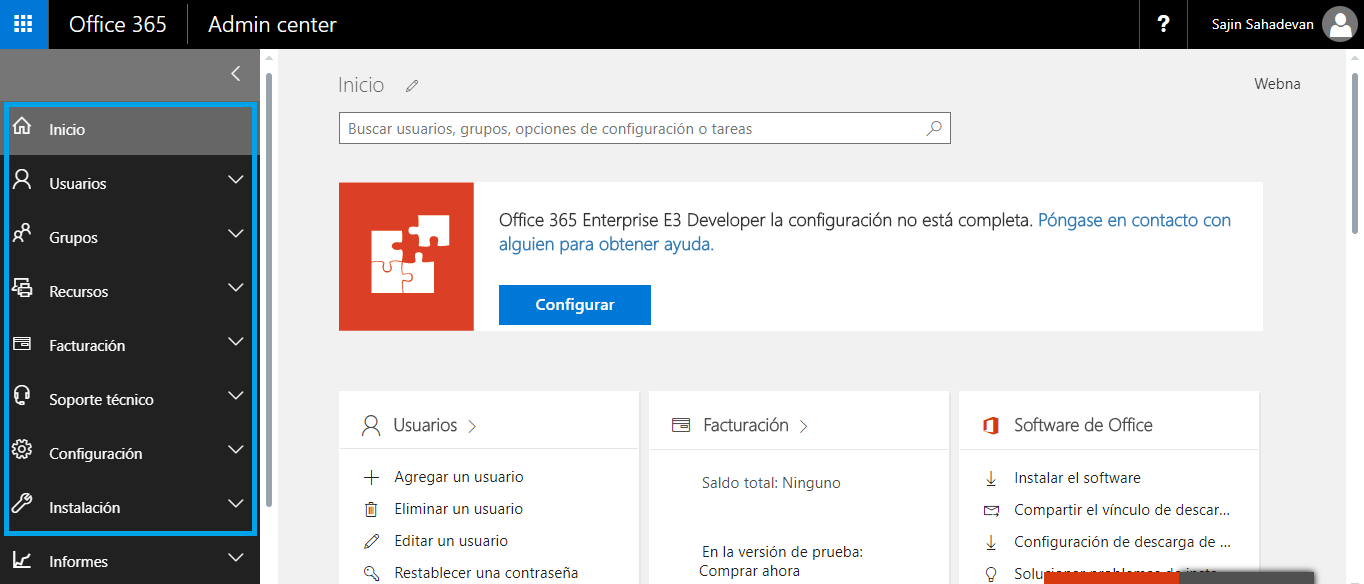 Office 365 Admin Center translated into Spanish
Well, that's it from my side. What are you waiting for? Give it a try today and let your employees know that SharePoint and Office 365 supports many languages!
Book a
Live demo
Schedule a live demo of Dock 365's Contract Management Software now.
He is a Microsoft Certified Technology Specialist cum Digital Marketing Expert and has experience of 6 years. He loves learning about latest technologies like CRM, collaboration tools, marketing solutions etc.