Here at Dock 365, we understand that contracts are an essential component to many companies. If you currently use the standard SharePoint intranet portal for contract management, you may encounter issues when customizing automated contract workflows. By using specialized SharePoint software, you can streamline contract management and create a more effective and productive process.
What is SharePoint Contract Management?
SharePoint Contract Management is a system that leverages the collaborative functionalities of both SharePoint and Microsoft Office 365 to drive contract lifecycle management. Both SharePoint and Microsoft Office 365 are globally accepted as advanced software platforms capable of managing large quantities of sensitive data. For this reason, these platforms are ideal for contract management.
By managing contracts with a SharePoint-based contract management system, you increase visibility by having a user-friendly dashboard that informs you of exactly where a contract is in its lifecycle, what steps have already been taken regarding the document, and what steps must be taken next. Now, answering questions about legal reviews, approvals, and who has worked on the contract last become simple.
With SharePoint and Microsoft Office 365, you can easily delegate contracts to the right person, use customizable, search functions, enable reminders, and track electronic signatures. Every single stage of contract lifecycle management becomes more organized and systematized with the help of SharePoint as a basis for contract management – making every task clearer and more efficient for your entire contract management team. Here at Dock 365, our development team can make this process easier to set up and maintain.
Dock 365 provides a SharePoint-based contract management solution for your company's intranet portal, capable of streamlining every step of contract management. Within each stage of a contract's lifecycle, our CLM software employs automated contract workflows that are customized to your business needs. In this way, your legal team will have more productive and collaborative contract management tracking systems in place that boost efficiency in their daily work procedures. If you are interested in developing different methods of managing contract building, creating automated notifications for various deadlines, and using filtered search functions within a centralized contract repository, we can help you do all of that and more to optimize your contract management process.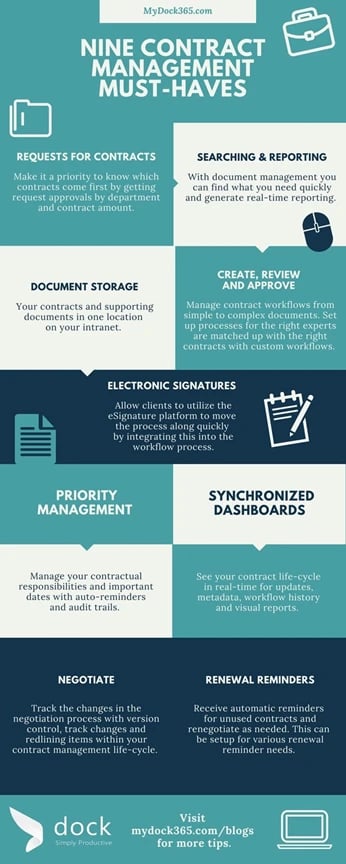 Nine Contract Management Must-Haves
1.

Requests for Contracts
Make it a priority to know which contracts come first by receiving request approvals by department and contract amount. An organized contract intake and request process results in increased visibility, security, and reduces miscommunication.
2. Searching and Reporting
With contract management software, you can find what you need quickly and generate real-time reporting. Our software is equipped with customizable, filtered searches that make the hunt for obscure details simple.
3. Document Storage
With a centralized contract repository, store contracts and supporting documents in one location on your intranet. Our cloud-based contract repository is ideal for efficiency, security, and time management. A contract repository provides several benefits to your overall business strategy, such as increased data cohesiveness, accuracy, and compliance.
4. Create, Review, and Approve
Manage contract workflows so every stage of a contract's lifecycle is prepared for success. By automating contract workflows, you create a standardized and consistent process for contracts to follow, notifying specific people or parties of which actions to take and when to take them. Contract creation, reviews, and approvals are easier and more collaborative than ever with customized, automated contract workflows.
5.

Electronic Signatures
Clients can use eSignature technology to provide their signature on any device at any time, anywhere. In this way, turnaround times are greatly reduced, keeping contracts on or ahead of pace. The Dock 365 Contract Management System utilizes the Sertifi eSignature solution to collect electronic signatures.
6. Priority Management
Track obligations and manage your contractual responsibilities with auto-reminders and audit trails. Enable various notifications, reminders, and alerts so you never miss a renewal or expiration date again. With audit trails, easily track document locations and version changes.
7. Synchronized Dashboards
With our user-friendly dashboard, have all your contract lifecycle management details at your fingertips. Follow contract lifecycles in real-time so you can stay updated and keep tabs on metadata, workflow histories, and reports.
8. Negotiate
Track the changes in the negotiation process with version control, track changes, and redlining items within your contract lifecycle. With automated contract lifecycle workflows, the flow will adjust according to specific negotiation details.
9. Renewal Reminders
Receive automatic reminders for unused contracts and renegotiate as needed. Enable this feature for various renewal reminder needs so you stay proactive and in the know at all times.
Important Considerations For Building Your Contract Management System
Contract lifecycle management is a very detailed process, involving many moving parts and many parties. It's more than a document library with some metadata attached to it for searching your company intranet portal. While standard SharePoint intranet is strong, there is certainly a better option to make your contract management system that much better. Our SharePoint-based contract lifecycle management solution can help your company optimize contract management, taking the guesswork out of your day and allowing you to hit key objectives and maximize results. As you get started, we highly recommend setting-up milestones, schedules, due dates, and standards to ensure proper payment of service so you can begin managing contracts on the right foot.
When storing contract documents in SharePoint, it's common for businesses to use spreadsheets to track these items. Instead of this method, we recommend centrally storing the information, and then enabling email notifications to alert you of approaching deadlines and renewal or expiration dates. Ensuring you have taken proactive and decisive action is critical in contract management so that all parties and clients are satisfied. In addition, by using audit trails you gain clear insights and an exact record of tasks so that reporting and data analysis is simplified. Lastly, at Dock 365, we can develop processes for customer-facing contracts, vendor purchases, subcontracts for vendors or partners as well as any additional customization you require.
Conclusion
We welcome you to leverage all the benefits that our Dock 365 Contract Management System has to offer. Maximize results, increase collaboration, boost productivity, and improve return on investment in your business with our SharePoint-based Contract Management System.
If you would like more information, we welcome you to schedule a free demo with us today.
Book a
Live demo
Schedule a live demo of Dock 365's Contract Management Software now.
She's a multimedia producer to include writing, photography, graphic design and video. She enjoys learning about new technology for business and exploring her city in Jacksonville, Florida.