How Does it Work?
Dock uses the SharePoint Software Assurance Planning Services, which are provided by on-site experts that help you plan your Microsoft SharePoint deployment. The deployment planning consultants help you evaluate how best to deploy SharePoint on-premises, in the cloud, or in hybrid environments. With flexible offerings, Planning Services can help you streamline deployments with plans tailored to the needs of your organization.
Benefits Include:
Get help building a deployment, upgrade, or migration plan tailored for your organization.
Remove ambiguity and concerns about deployments with on-site expertise.
Learn how Microsoft SharePoint fit within your environment through in-depth technology planning sessions.
Build a custom deployment plan based on an assessment of your IT environment, workforce needs, and business requirements.
Extend your internal expertise and incorporate Microsoft best practices to help reduce risks and deployment costs.
Demonstrate the value of your custom deployment plan and solution.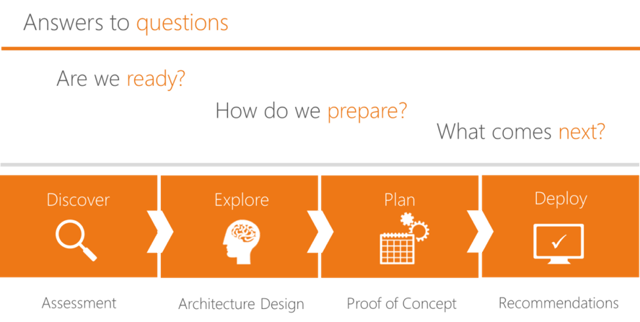 It is important to understand how Planning Services work:
What Planning Services offerings are available
How to access Planning Services through your Software Assurance benefits
How Dock, a Microsoft partner, can perform the planning engagement
Why Planning Services Engagement?
With the rapid innovation of technology and the relative infrequency of a deployment or migration effort, many organizations are not familiar with all of the benefits of the current technologies or the migration process and do not know where to begin. To help plan the steps from current technology to target environment to bring clarity and make the deployment or upgrade more successful.
Through questions, discussion and requirements gathering SharePoint planning service will further refine and define the exact scope of the offering tailored to meet the customer's unique needs. This discussion may include answering questions, reviewing the scoping guide, discussing business pain areas and drivers, and looking at which customer resources will be needed for the scoping call.
Download a Microsoft Software Assurance Guide
SharePoint Planning Services Engagement Options
| | |
| --- | --- |
| Days | Details |
| 1 | Includes a Strategy Briefing Session to introduce and discuss the value of the solution. |
| 3 | Includes the Strategy Briefing Session and an Envisioning Workshop to document the current environment, discuss options and flag areas of potential concern. |
| 5 | Includes the Strategy Briefing Session, Envisioning Workshop and an Upgrade Plan to provide formal documentation of the upgrade based upon the data collected. |
| 10 and 15 | Both the 10- and 15-day engagement includes Pre-Upgrade Checks to assess upgrade readiness and provide a formal analysis of the results along with recommendations for problem resolution, and/or a Proof of Concept environment to verify the Upgrade Plan (in addition to the Strategy Briefing, Envisioning Workshop, and Upgrade Plan). |
Next Steps
Once the SharePoint Planning Service vouchers have been assigned to Dock and the planning phase is complete we will be ready to conduct the engagement. After the engagement is complete, Dock will submit the engagement findings to the customer and Microsoft. Payment for the engagement will be paid to Dock by Microsoft on successful delivery of planning services deliverables. The Software Assurance Planning Services is a great benefit for any customers to see the technical and business value in the latest Microsoft technologies and begin the journey to deployment and adoption.
Book a
Live demo
Schedule a live demo of Dock 365's Contract Management Software now.
She's a multimedia producer to include writing, photography, graphic design and video. She enjoys learning about new technology for business and exploring her city in Jacksonville, Florida.