Did you attend Microsoft Inspire 2017 in Washington D.C.? We were there and we're excited about the SharePoint breakout sessions that showcased the future of SharePoint. If you didn't get to attend and haven't watched the sessions, here's one good video to get you started!
This week we're going to discuss SharePoint's search features. Allow me to dig into the types of search capability available in SharePoint and Office365.
SharePoint Search: Why Does It Matter?
Who wouldn't love to have a Google search capability for SharePoint? Search capabilities are very important when your team is going to search for lot of documents and files quickly and reliably. Thankfully, Microsoft SharePoint has come out with lots of interesting updates: including search capability. I will be talking about the differences between structured search and intelligent search.
SharePoint Structured Search
This is the SharePoint standard search feature that's been available for years. This the search box on the top, right-hand side of the screen, that you're already familiar with. Once you enter your desired keyword, the search results pop up with files and folders present in your intranet portal.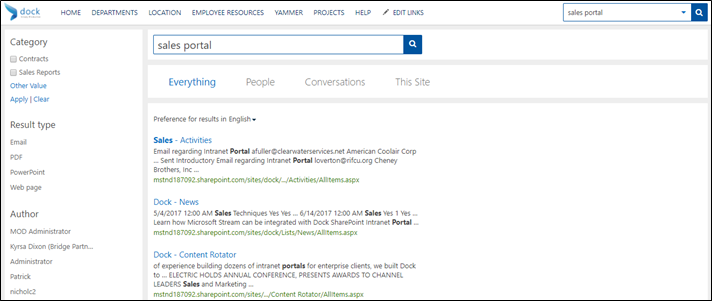 SharePoint and Office 365 Intelligent Search
This search feature is a lot more unknown than structured search. Intelligent search was recently introduced by Microsoft and is powered by Microsoft Office Graph. This works similarly to how social media sites decide which information is most relevant to you. Consider, for example, LinkedIn (which most business individuals are active on). In your news feed, you see information that is based on your follower activities/connections, right? LinkedIn prioritizes these feeds just for you to make things simple. Also, when you search for something on LinkedIn, it shows the search results which are most relevant to you based on your interests.
SharePoint and Office 365 intelligent search follows a very similar process. Your Office 365 captures all your activities, such as last accessed documents, last accessed sites and followed documents, and offers you search results based on them.

Here are some of the pages where you can utilize this feature:
O

ffice

.

com

(Office 365 Homepage)
SharePoint Home Page
Microsoft Delve
Microsoft OneDrive for Business
SharePoint and OneDrive Mobile Apps
So, What's the Difference?

Recommendation
The best choice here is to use both simultaneously. Using both these features together will streamline your search capability. You won't have to configure intelligent search, because it comes with Office 365. However, as its name suggests, Structured Search required a bit of customization to its structure to ensure its greatest performance.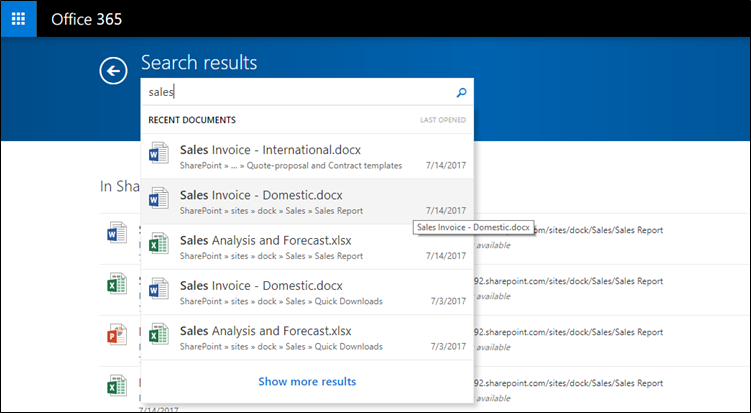 Structured Search may take a little effort to protect, but it is mandatory too. Unlike the Intelligent Search, it can be customized and tailored to surface up content based on search queries, metadata filtering, etc. For example, in the screenshot below you can see how we altered the default search experience and created our own template so we can surface up various documents based on company-wide metadata tags.
Structured Search helps you come up with tailored content based on metadata filtering, search queries and other qualifications. The screenshot below shows you how SharePoint customizes your search experience by narrowing down your query based on category.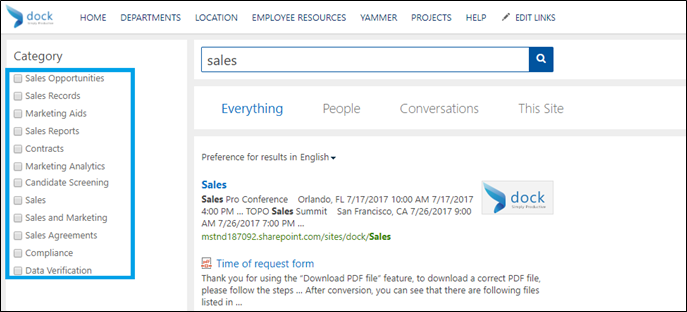 By combining Structured Search and Intelligent Search in your customized SharePoint intranet, you can easily create your company's very own Google-like search for all your internal information and documents.
Book a
Live demo
Schedule a live demo of Dock 365's Contract Management Software now.
He is a Microsoft Certified Technology Specialist cum Digital Marketing Expert and has experience of 6 years. He loves learning about latest technologies like CRM, collaboration tools, marketing solutions etc.