Is your intranet just not working as it should? If it's not, don't worry, we are here to help. There are very common, small issues that can cause your whole intranet to break down. Here are Dock's solutions to these common intranet problems.
Problem:

No One Can Find Anything
Document storage is vital to your SharePoint intranet. By implementing a strong storage system and integrating it with your intranet, you lay groundwork for a digital, online workplace. However, when it's not organized, it creates a time-wasting hassle. If your employees struggle to find documents, it slows them down and opens a wider margin for error.
Dock's Intranet Portal for an example of better document search and collaboration. It also includes a built in document approval process.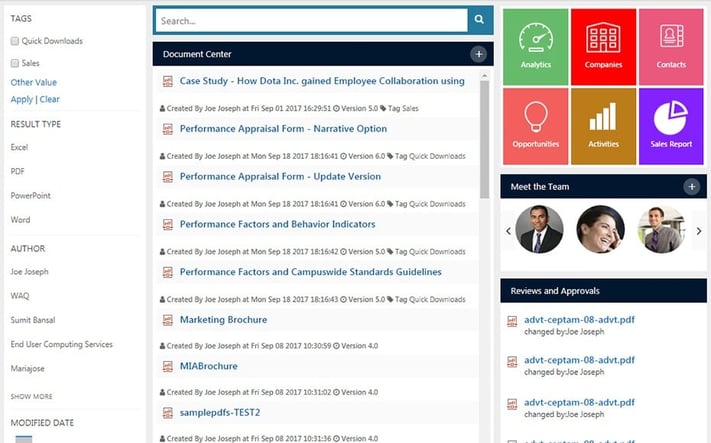 Dock's Solution: Enhanced Tagging-Based Storage
Helping your employees find their documents is easy with the help of a well-organized intranet. Dock's intranet is built on the power of SharePoint, so document management is at its core. We enhance Dock's storage capability by utilizing tagging based storage and search. With Dock, no employee will struggle to find a document in your intranet. Dock's enhanced tagging-based search means an employee can search by the title, contents, or any related tags they can think of and the search results will always deliver.
Problem:

No One Can Figure Out How To Communicate
Intranet platforms are a powerful tool for opening communication up to your whole workforce, no matter how near or far apart they are located. However, if your employees can't figure out how to communicate, this platform starts to feel like more trouble than it's worth. Your employees will become frustrated and go right back to sending group-emails if they can't figure out how to communicate effectively on their intranet.
Dock's Solution:
Open Communication Areas

Choose an intranet platform that has integrated communication in every feature, at every step. Communication shouldn't be an afterthought in your intranet, it should be weaved into every work process. Dock is a true collaboration platform, which means every process your employees complete in Dock can be completely collaboratively and openly. Dock empowers team work by encouraging open communication throughout all its portals and features.
Problem:

Users Can't Figure Out How To Find Their Work Space
If your users struggle to figure out where they should be working, chances are they are going to take their work offline. This can be caused by a number of underlying issues: disorganized content, poor governance, or outdated work spaces. For example, if a user has been moved from marketing to sales but still only has access to the marketing areas, they're going to go back to working and managing their tasks in their own offline work space.
Dock's Solution: Departmental/Team-Based Portals
Avoid this predicament altogether by using an intranet that's well-organized by teams and departments. Dock's navigation is clear, concise and makes it easy to find each team members place on their intranet. Dock also makes it simple to make changes and keep your intranet up-to-date. Your business grows and changes and your intranet should grow with you. Implementing an intranet that is changeable and customizable allows for changes to your team.
Problem:

Users Log In One Time And Run Away Screaming
This is a common issue among intranets built on SharePoint. If your intranet is confusing, unattractive and looks outdated, you're going to have a difficult time convincing your workforce to adopt to the new technology.
Dock's Solution: Better Interface
Combat adoption issues by choosing an intranet that is as beautiful as it is functional. Dock is a fully customizable SharePoint intranet which means we'll customize the interface with your teams branding, colors, logos, and functional needs to make it look and feel like home for your employee from their first time logging in.
Problem:

Users Have Forgotten Literally Every Lesson From Training
Even though you put in plenty of training time before or during your intranet launch period, it seems as though your employees have completely forgotten how to use it. IT is getting inundated with tickets for intranet help, your employees are constantly IM-ing each other asking "Where do we store this document again? How do I find that portal?" This confusion causes slower workers and more errors.
Dock's Solution: Ongoing Training
Dock solves this problem in a very simple manner: ongoing training. Dock believes that training should happen whenever you need it to happen, not just one time. As a subscription-based service, Dock will continue to help you with training throughout your subscription to Dock. Did you hire in a new team or open a new location? Did your team members somehow all forget how to tag their documents? Dock will help.
What Are You Waiting For?
Dock is SharePoint intranet like you've never seen before. Schedule a demo with our SharePoint experts to see a live tour of a fully-functional Dock environment. We'll help you experience what Dock will do for your team.
Book a
Live demo
Schedule a live demo of Dock 365's Contract Management Software now.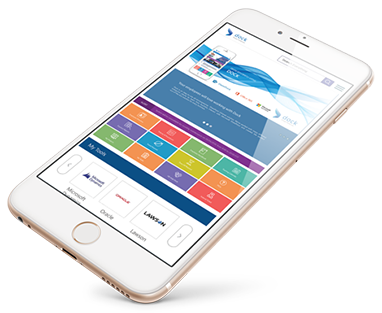 Our Insights. Learn with our Latest Blogs about SharePoint.