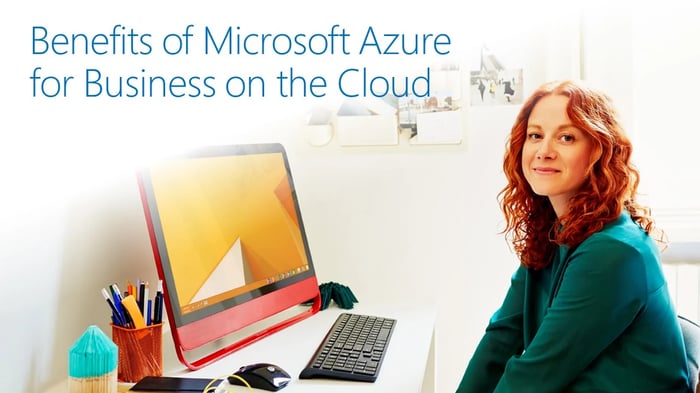 More and more small and medium-sized businesses are moving to the cloud and looking for help on their cloud journey. Before we dive into Azure, let's take a look at the cloud. The cloud represents one of the most transformative shifts we've seen in business in quite a long time. But as far as the cloud has come, we're still in the preliminary stages. Nowhere is this more evident than with small and medium-sized businesses or SMBs.
To date, most of the cloud conversation and adoption has focused on enterprises. SMBs, while interested in the cloud, haven't converted at the same rate. That doesn't mean they won't however. if you look at numerous studies, you see that there's an expected huge shift towards SMB cloud adoption in the next few years. What that shows us is a market in demand.
Azure offers infinite opportunities:
4% equals the estimated compound annual growth rate of the SMB cloud service market from 2015 to 2018
78% of SMBs worldwide will be fully adapted to cloud computing by 2020
88% of SMBs are considering using at least one cloud app in the next 2-3 years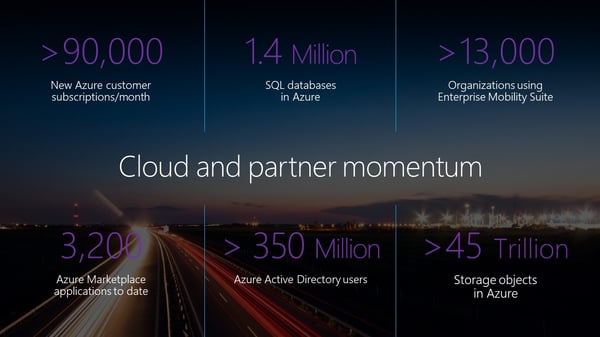 A lot of the studies we just mentioned are forward looking, as in where the cloud and SMBs are going in the near future. Now let's look at the facts as they exist right now with Azure. What you see here is a story of momentum.
More than 90,000 Azure subscriptions are added every month
There are 1.4 Million SQL databases in Azure
More than 13,000 organizations use Microsoft Enterprise Mobility Suite
There are 3,200 apps in the Azure marketplace
There are more than 350 million Active Directory users
Combined together, companies are currently storing more than 45 trillion objects in Azure
So why are so many customers using Azure? Well, simply put, Azure offers one of the most comprehensive and diversified cloud portfolios around.
Azure helps SMBs grow with greater efficiency and be more responsive to change. It's a flexible cloud platform that enables you to quickly build, deploy, and manage apps across a global network of Microsoft-managed datacenters. You can build these apps using any language, tool, or framework. And you can integrate your public cloud apps with your existing IT environment. This offers a real advantage over other platforms, which take an "all or nothing" strategy.
A lot of SMBs wonder about the reliability of the cloud. Azure delivers a 99.95% monthly SLA, and automatic OS and service patching. With a wide range of usage-based services, you can build apps, compute, use storage, take advantage of network services and a whole lot more.
Strategies for Azure:
First there's deploying apps within virtual machines
Quickly deploy apps in the cloud by hosting them in Azure VMs. There are no upfront infrastructure costs, you reduce IT management, and you can scale the app up or down as needed.
With Azure, you can create Linux and Windows virtual machines in minutes. Gain the flexibility that comes with virtualization for developing, testing, and running apps as well as extending your datacenter. Get all the benefits of open-source software configured the way you need it. It's as if there was another rack in their datacenter, one that gives you the power to deploy an app in minutes instead of weeks.
Unique to Azure, you can easily move apps back and forth from on-premises to the cloud and still have the same experience. When you're done you can easily sell your app on the Azure marketplace.

Second, there's data backup
With Azure, you can access easy, scalable data backup in the cloud for a range of apps, such as SharePoint, SQL Server, and Exchange. For improved data protection, you can access encrypted backups. Azure's global geo-redundant data centers protects you from disaster and helps you get up and running quickly should a failure occur. You also gain the flexibility to quickly and easily provision more storage as needed.
Azure Backup is a simple and cost-effective backup-as-a-service that extends on-premises tools with ones in the cloud. You'll get protection for your data and apps no matter where it resides. It's organized, cost-efficient, secure, and reliable. As with all other Azure services, there's no hardware costs. You can easily scale up and down, only paying for what you use.

Third, there's disaster recovery in the cloud
With Azure Site Recovery and Windows Server 2012 R2, you can access a fast, affordable disaster recovery solution for SMBs while avoiding the capital and operational expense of building and managing a datacenter. A lot of SMBs recognize that they need to have a disaster recovery plan, but currently lack one. Azure Site Recovery simplifies the process and quickly delivers a solution.
Azure Site Recovery automates the replication of virtual machines based on policies set and controlled by the customer. It also automates the fast, orderly recovery of services in the event of a site outage at the primary datacenter with Site Recovery. You can bring over apps in an orchestrated manner to help restore service quickly, even for complex multi-tier workloads. All the automation is easy to use and cost-efficient in that it saves customers the time and cost of building such a solution themselves. You'll also be able to customize it according to your needs.
Lastly, there's hosting websites on Azure
Azure offers a perfect platform for leveraging the cloud to deploy scalable websites. Hosting a website on Azure means that infrastructure management is covered, and you and your customers get the peace of mind from leveraging Microsoft's global network of managed data centers.
A lot of people are saying web and mobile apps represent the next great wave in app development. If you have an app, you need a web or mobile version. Azure App Service is a platform-as-a-service (PaaS) where customers can build powerful web and mobile apps for any platform or device that connect to data anywhere, in the cloud or on-premises.
You can build engaging mobile apps for iOS, Android, and Windows. You can easily add corporate sign-on, and securely connect to on-premises resources. You can also code in their favorite language. Quickly automate business processes with a visual design experience for business processes and workflows. Easily integrate with their SaaS and enterprise apps with out-of-box connectivity to dozens of cloud-based services and enterprise applications.
Sources:
Odin SMB Cloud Insights Report

Jointly produced study from Intuit (INTU) and Emergent Research report titled Small Business Success in the Cloud

The small business revolution: trends in SMB cloud adoption BCSG
Book a
Live demo
Schedule a live demo of Dock 365's Contract Management Software now.
She's a multimedia producer to include writing, photography, graphic design and video. She enjoys learning about new technology for business and exploring her city in Jacksonville, Florida.