The standard SharePoint site offers a basic layout for your employees to access the private network of links to employee documents, such as the employee handbook, tax forms, and FAQs for common job-related questions.

Employee Resources
This includes a way for employees to communicate with each other through live messaging accessible only by authorized users within the employee self-service portal. Now, getting your employees to consistently use the new technology is another subject altogether. This is where Dock 365 can make a difference with your SharePoint intranet portal in combination with Office 365.
Best SharePoint Intranet Portal Designs
A custom employee resources portal empowers collaboration among each department within your organization. Dock's employee self-service portal provides a place for staff to communicate and collaborate on projects. Internally access the employee directory, payroll and benefits documents, dive into training, submit travel requests and more. Departmental portals create a virtual shared office space for your staff with the help of Dock 365, which works within your SharePoint intranet portal.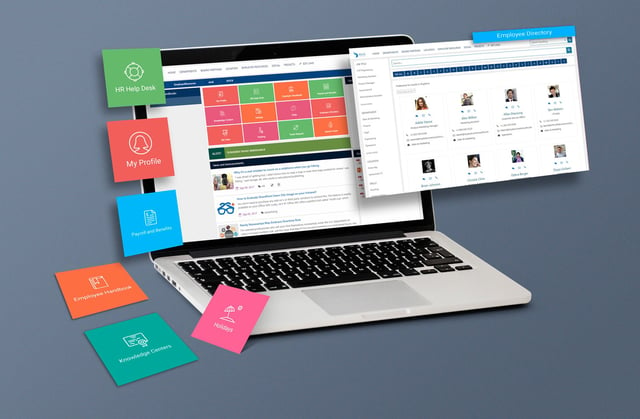 Easily Access the Employee Directory
The ultimate electronic employee directory attractively designed with Dock allows your employees to find anyone within the organization with a push of a button. Gone are the days of updating printouts every time there's an update in the staff information. Not only does it provide a photo to ensure your employees are contacting the correct person but it also includes a brief bio. A people finder allows an employee to search and read more about their coworker prior to reaching out. They can see what they look like if they're new and want to introduce themselves. In addition, you'll be able to locate the department, view an org chart and access contact information in a searchable database.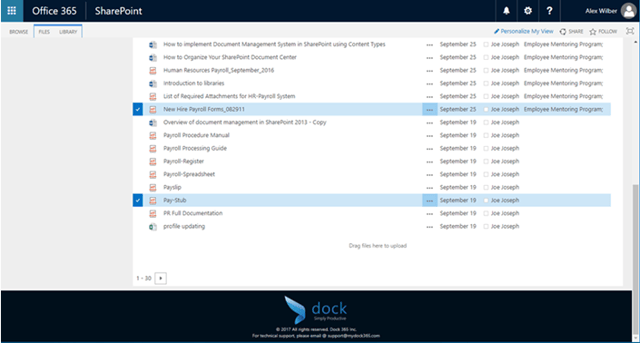 Quickly Access Payroll and Benefit Documents
Free up your server space by using SharePoint and Office 365 cloud-based storage to access from any device in any location the payroll and benefit document information needed at your fingertips. You have options to create new documents, upload them and search for the information you need quickly and easily. Once you locate the file you're searching for, you'll have the option to download and print as needed. If you'd like to modify the view, you can display by type, modified by, file size or content type. Extensively more options are available for customization to fit your specific needs.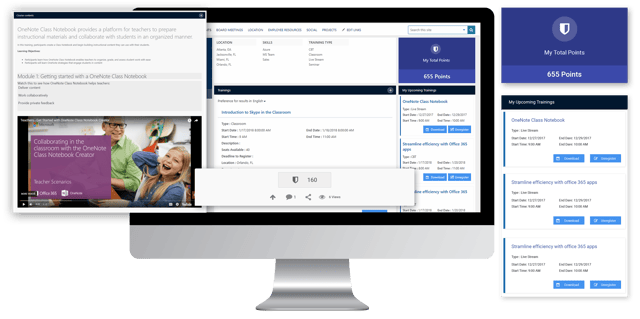 Dive into Effortlessly Training Your Employees
The training portal is a powerful tool to ensure your employees have the latest training in the soft and hard skills needed to improve and refresh their knowledge. The training portals is a gateway to all the courses and resources within the company. It acts as a repository for teaching and learning materials. It has the potential to become your ecosystem for managing all teaching and learning processes for your teams. Admins can simply edit the start/end times, location, training type, instructor's name and display the number of people registered for the training. Each type of training can also be organized into sections such as web-based, instructor led and anything else you'd like to create.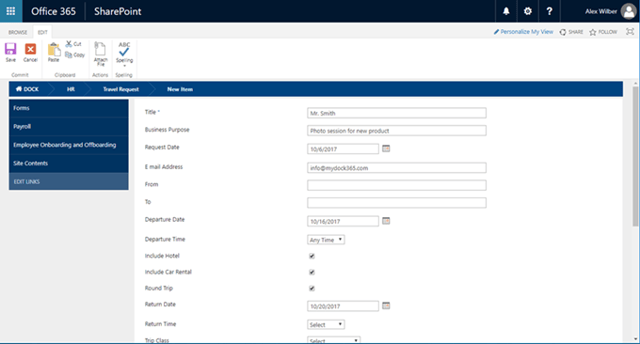 Employees Submit Travel Requests Forms
Your employees can submit travel requests with a simple form to communicate their travel itinerary wish list. This fully customizable form can include information such as if the employee requires a hotel and rental car for overnight stays down to details of a seat location. With no trouble, the request is submitted and reviewed within the employee intranet portal. Overall, employee portals are fantastic ways to bring employees together while increasing work flow and productivity.
Dock Develops Employee Intranet Portals
Empower your employees to manage many of their own tasks independently. Your employees will be able to view their payroll and benefits, request time off, view their handbook and FAQs and handle their own training in the same place which they do the rest of their work. The difficult part is training your tech department and employees a new computer system. Employee adoption is critical in your decisions for finding the right intranet portal templates.
Our SharePoint developers offer over a decade of experience helping businesses create your SharePoint intranet portal templates with adding easy-to-use online collaboration tools for your teams with custom company portals and considerably more for your SharePoint site.
Learn more about our Company SharePoint Intranet Home Page benefits.
Book a
Live demo
Schedule a live demo of Dock 365's Contract Management Software now.
She's a multimedia producer to include writing, photography, graphic design and video. She enjoys learning about new technology for business and exploring her city in Jacksonville, Florida.