Guess what I found today! The new look of SharePoint Admin Center! Looks great, isn't it?
Do you remember the Microsoft Ignite announcement about SharePoint and OneDrive enhancements? I'm glad it has come in now.
Advancement in the cloud drives colossal business value, and it conveys new abilities to the IT experts who work enthusiastically to support, design, control, and secure their company's services and content.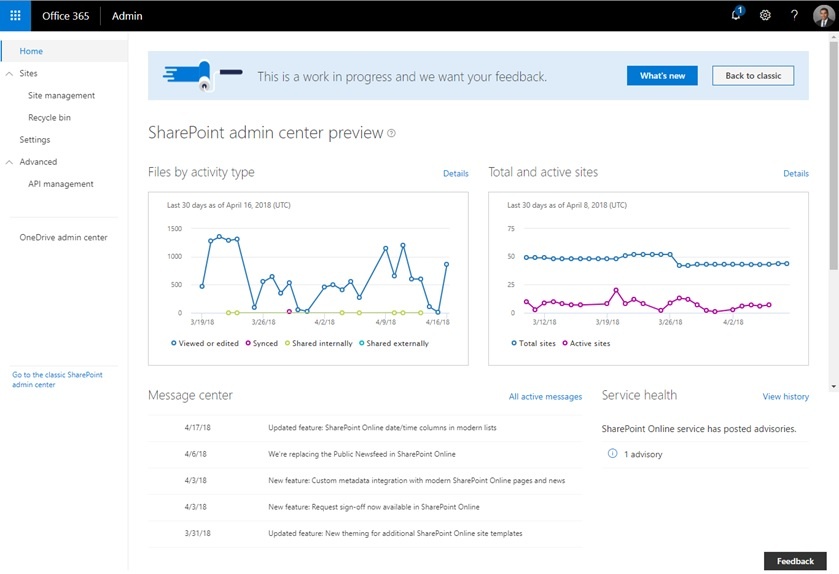 Microsoft Office 365 comes with exceptional reliability on a global scale and support for compliance over each industry and geography. On top of security that keeps your content and service protected, Microsoft provides granular and dynamic controls so that users can manage access and distribution of your company's sensitive information. Furthermore, Microsoft has brought in advancements available in Office 365 to Microsoft SharePoint Server with OOB connected and capabilities.
The latest user experiences are designed to become simpler, more powerful and intuitive. We also believe administration must be simple and just as powerful. Thanks to Microsoft for launching the latest SharePoint Admin Center Interface and for use, it will draw heavily on the modern principles. A managerial support is designed to encourage IT more, in turn, to enhance user activities.
Home
The latest Home Tab showcases the most important information and easily assists users to find out important information about the services, it's health and how your company is making use of Microsoft SharePoint Online.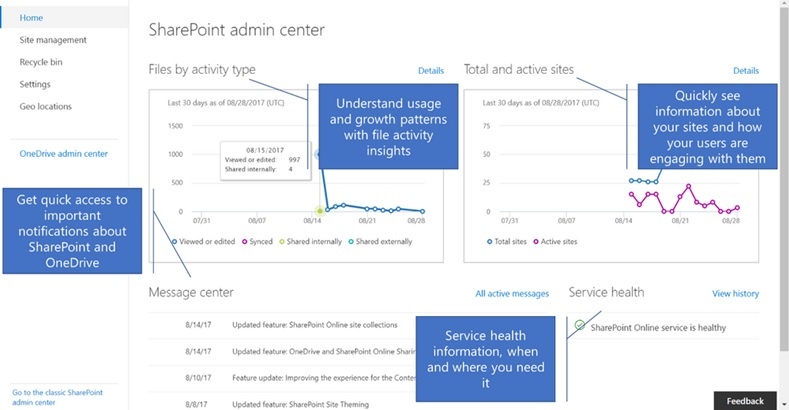 Site Management
This experience has been lifted from the Modern Lists in SharePoint Online. It promotes easy way of managing site collections as you can view all the needed aspects of the SharePoint Site collections. You can also filter, sort and discover site information and activities.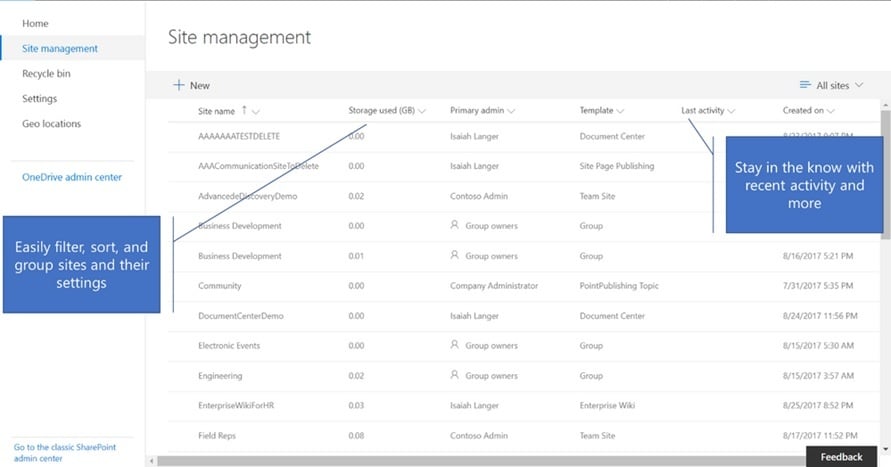 Recycle Bin
Your deleted sites can be recovered/managed easily with this latest interface.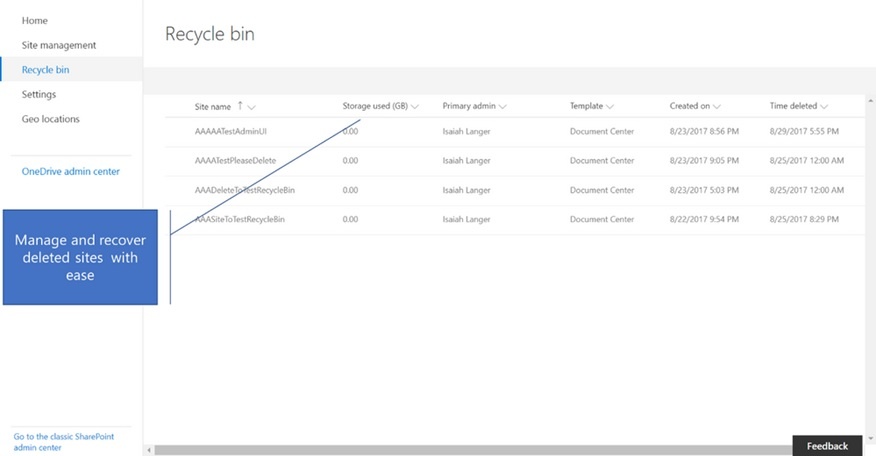 Sharing
Microsoft has come up with sharing controls to the forefront of administration. This is closely aligned with Microsoft OneDrive Admin Center. I'm sure it's easier for all of us to control the flow of the company's information.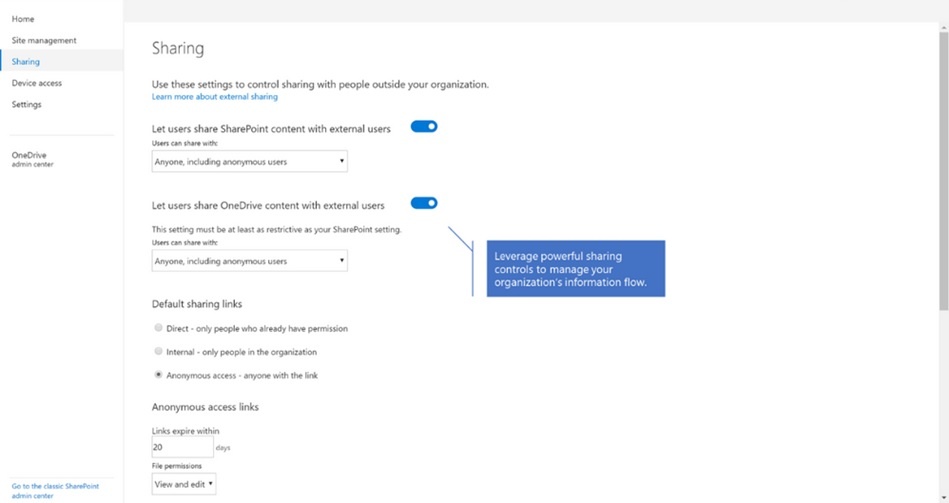 Device Access
We believe compliance should not get in the way of collaboration. Over the last year, Microsoft has introduced couple of conditional access policies across the users, locations, and device pivots to protect access to your data. Thanks to the latest SharePoint Admin Center interface, users can easily access and use policies to address the unique business requirements.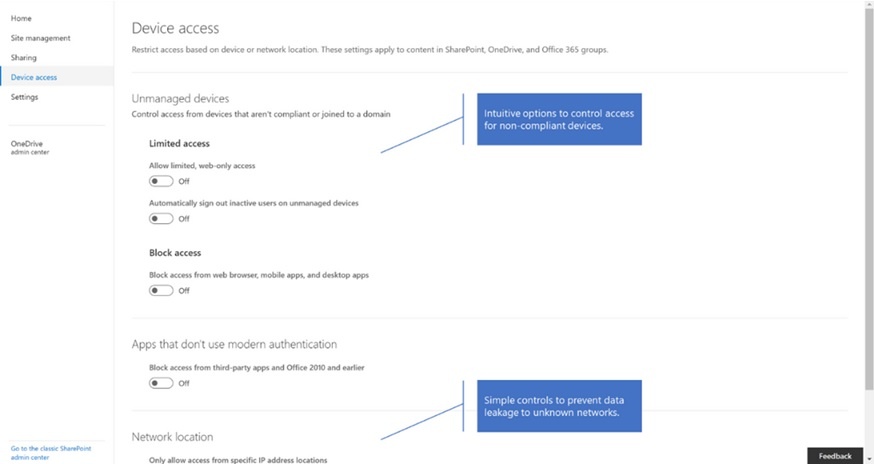 Settings
With the latest interface, you can manage settings across SharePoint with specific views. This will help you manage few discrete options for the service and sites.
Book a
Live demo
Schedule a live demo of Dock 365's Contract Management Software now.
He is a Microsoft Certified Technology Specialist cum Digital Marketing Expert and has experience of 6 years. He loves learning about latest technologies like CRM, collaboration tools, marketing solutions etc.