The rapid spread of coronavirus has certainly been a cause of concern for many companies. With experts calling for social distancing, many companies are having their employees work remotely to protect them from coronavirus. Teams all across the country are having to adjust to working from home. Many employers are feeling the same old worries about working from home as they did before the coronavirus outbreak. These can include fears of decreased employee productivity, engagement, and collaboration.
We're here to tell you that despite these fears, managing your team remotely is perfectly doable. Here are our tips for managing your company as people work from home.
Set Clear Expectations
It can be hard for employees to know what they should be doing when remotely. That's why it's important for you to set clear expectations for your team from the start. Setting clear goals for remote employees is key to ensuring their success. What these goals are vary depending on the employee and their position. It's important to work with your team on an individual basis to figure out what works best for who.
Another part of setting clear expectations is establishing how their performance is being tracked. Will your team be reporting based on objectives completed or time spent working? Again, this will change depending on the employee. By setting this up, you can have a standard by which to measure their performance while working remotely. This accountability helps ensure that your team is performing at the same level as they normally would.
Finally, make sure you're consistently evaluating what works and what doesn't. No one is quite certain how long the coronavirus outbreak is going to last. It's important that you focus on creating a situation that works both in the short term and the long term. That means being adaptable and soliciting feedback from your team so you know what changes you might need to make to optimize the remote working situation.
Foster Open Communication
One of the benefits of working in an office is having immediate access to whoever you need to talk to. This can seem difficult to replicate when working from home, but it isn't impossible. It's easier than ever before to stay in contact with coworkers. Platforms like Slack and Microsoft Teams are great for direct messaging, group chats, and voice/video calls with your team. This, combined with conventional email, can help make up for your team not being together in-person.
That said, some teams might be worried about overcommunicating. Fortunately, this isn't the case. Emphasize that your employees shouldn't be afraid to reach out to you or one another if they need something. It's better to spend a lot of time making sure that everyone is up to date than to leave some members of your team in the dark. This not only helps boost morale, but make sure that no one makes a mistake that could throw off the rest of the team.
We recommend making use of voice and video calls as much as possible. Face-to-face communication is the most effective form of communication. Phone and video calls do the best to simulate that for your team. When shooting an email to one of your employees, instead consider giving them a call. This can help them with potential feelings of isolation and eliminate any possible miscommunications that can happen over email. As we said earlier, technology has progressed to the point that employers don't have to worry about communication when their employees are working remotely.
Trust Your Employees
While your fears about employees not doing work is reasonable, it's important to keep it in check. You hired them because you saw something in them. You need to trust your instincts and let them prove themselves. Further, the more time you spend worrying about whether or not they're doing their work is less time you're spending doing yours. Don't get distracted by excessive micromanaging.
Speaking of micromanagement, it's actively detrimental to your overall organization. Micromanagement leads to decreased performance and productivity. By micromanaging your team, you're causing them to feel increased stress and anxiety which actively increases the danger that coronavirus poses to them - defeating the purpose of working remotely. Not only that, but it decreases morale which can lead to a drop in their productivity.
That said, you really don't need to worry about your employees' productivity. On average, remote employees put in 4 more hours of work a week than their in-office counterparts. They also tend to be much more effective with their work. Employees that work from home tend to 35-40% more productive than normal employees. Any concerns over a potential drop in quality are unfounded. Like we said, you hired your employees for a reason. Trust them to do what you hired them to do and they'll likely blow your expectations out of the water.
Conclusion
Your team making the switch to remote working doesn't mean that they're going to be any less productive. By managing them effectively, you can ensure that they will perform as well as they do when in the office. Make use of our tips to make sure that the coronavirus outbreak doesn't impact your organization's ability to succeed.
Are you looking for more than just tips on managing a remote workforce? Do you think your company could benefit from using digital tools to increase collaboration and engagement? That's where we come in. Our Intranet Portal Solution is perfect for companies interested in customizing SharePoint to meet their unique needs. With a wide array of tools and custom-built web parts, our intranet solution is a great choice for companies that want to ensure their employees are able to be as productive at home as in the office. Learn more and schedule a free demo today.
Book a
Live demo
Schedule a live demo of Dock 365's Contract Management Software now.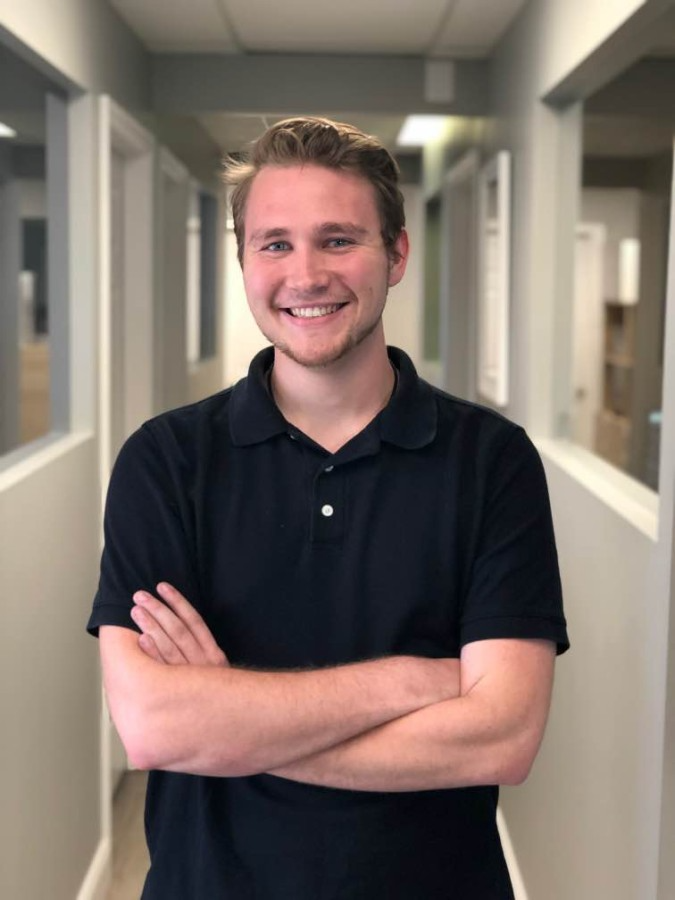 Quentin Russell is a Content Specialist with knowledge of Content Marketing and Social Media Marketing.