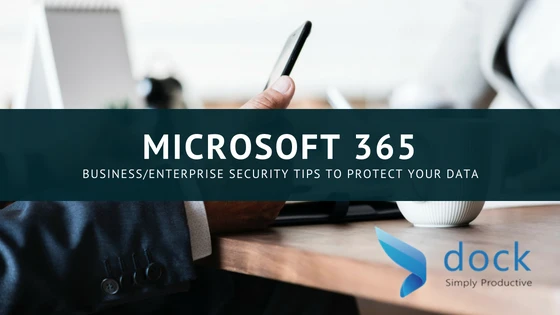 Microsoft 365 Business is a complete, intelligent solution, including Office 365, Windows 10, and Enterprise Mobility + Security, that empowers everyone to be creative and work together, securely. Microsoft 365 Enterprise is designed for large organizations and integrates Office 365 Enterprise, Windows 10 Enterprise and Enterprise Mobility + Security. In either case, protecting your information is critical.
Microsoft 365 Enterprise:
Unlocks creativity by enabling people to work naturally with ink, voice and touch, all backed by tools that utilize AI and machine learning.
Provides the broadest and deepest set of apps and services with a universal toolkit for teamwork, giving people flexibility and choice in how they connect, share and communicate.
Simplifies IT by unifying management across users, devices, apps and services.
Helps safeguard customer data, company data and intellectual property with built-in, intelligent security.
Microsoft 365 Business is designed for small- to medium-sized businesses with up to 300 users and integrates Office 365 Business Premium with tailored security and management features from Windows 10 and Enterprise Mobility + Security. It offers services to empower employees, safeguard the business and simplify IT management.
Microsoft 365 Business:
Helps companies achieve more together by better connecting employees, customers and suppliers.
Empowers employees to get work done from anywhere, on any device.
Protects company data across devices with always-on security.
Simplifies the set-up and management of employee devices and services with a single IT console.
Control & Protect Your Information
Develop a data protection practice with Microsoft 365
These Microsoft 365 products and services can help you develop solutions for a security practice focused on controlling and protecting information:
Office Advanced Security Management — Enhanced visibility and control
Gain insight into suspicious activity in Office 365 so you can investigate potential problems and take action to address security issues.
Advanced Compliance — Meet compliance obligations, establish policies, and simplify access
As digital content multiplies, organizations need tools to help meet compliance obligations, manage complex corporate data, and respond to security incidents.
Data Loss Prevention — Create policies to identify, monitor, and protect sensitive data
To comply with business standards and industry regulations, organizations need to protect and prevent the disclosure of sensitive information such as financial data, credit card numbers, social security numbers, or health records.
Azure Information Protection — Better secure sensitive information - anytime, anywhere
Enterprises need control over the access to information, no matter where it's stored or who it's shared with.
Cloud App Security — Enterprise-grade security for your cloud apps
Bring security capabilities to SaaS cloud applications to gain better visibility and enhanced protection against cloud security issues.
Microsoft Intune — Meet your data protection needs while delivering the best user experience
Flexible mobile device and app management controls let employees work with the devices and apps they choose while protecting company information.
Windows Information Protection — Integrated protection against accidental data leaks
Maintain control of enterprise data without degrading the user experience.
Enterprise Mobility + Security Tips
Get intelligent security, built in:
Digital disruption is reshaping today's business landscape with new risks and opportunities. In a world of accelerated change, organizations need new solutions for collaboration and mobility. At the same time, they face rising pressure to protect not only privacy and data but also apps and devices. Microsoft's Cyber Defense Operations Center reports that in 2016 alone, more than 3 billion customer records were breached globally. Cyberattacks have become increasingly aggressive and sophisticated, spurring a demand for new protection strategies.
Integrating Windows 10, Office 365, and Enterprise Mobility + Security, Microsoft 365 enables secure collaboration in today's workspace. And with a Microsoft 365 powered device, which includes Windows 10 Enterprise with Office 365 ProPlus and Enterprise Mobility + Security, you can ensure the best possible experience.
"To perform well in a digital market, we're empowering employees with the freedom to access and share their data on demand. And we're using the Microsoft Enterprise Mobility + Security solution to lay the groundwork for this new way of working." -- Edwin Idema, IT Manager, ASICS EMEA
Get comprehensive protection
In Microsoft 365, the Enterprise Mobility + Security Suite enables organizations to pursue digital transformation while staying on top of security challenges. A Microsoft 365 powered device protected by Enterprise Mobility + Security provides a centralized way to safeguard apps and data on-premises, in the cloud, and across devices.
Gain identity-driven security
Protect data anywhere by streamlining identity management across your datacenter and the cloud. Identity-driven security protects your organization with secure single sign-on, multi-factor authentication, and risk-based conditional access. You can also save time and stay productive with self-service capabilities like password reset.
Manage mobile devices and apps
With a Microsoft 365 powered device, you can enable employees to use their favorite devices and work from anywhere while you gain peace of mind. Securely manage apps and data on iOS, Android, and Windows devices from a single portal. You can perform management tasks entirely in the cloud or on-premises through integration with System Center Configuration Manager.
Ensure productivity
Gain productivity without compromise. Employees benefit from using familiar apps and a consistent experience across every Microsoft 365 powered device, including mobile and desktop systems. And you can extend protection from Office 365 apps to line-of-business software.
Read more: 5 Awesome Team Collaboration Tools with Microsoft Teams
Book a
Live demo
Schedule a live demo of Dock 365's Contract Management Software now.
She's a multimedia producer to include writing, photography, graphic design and video. She enjoys learning about new technology for business and exploring her city in Jacksonville, Florida.