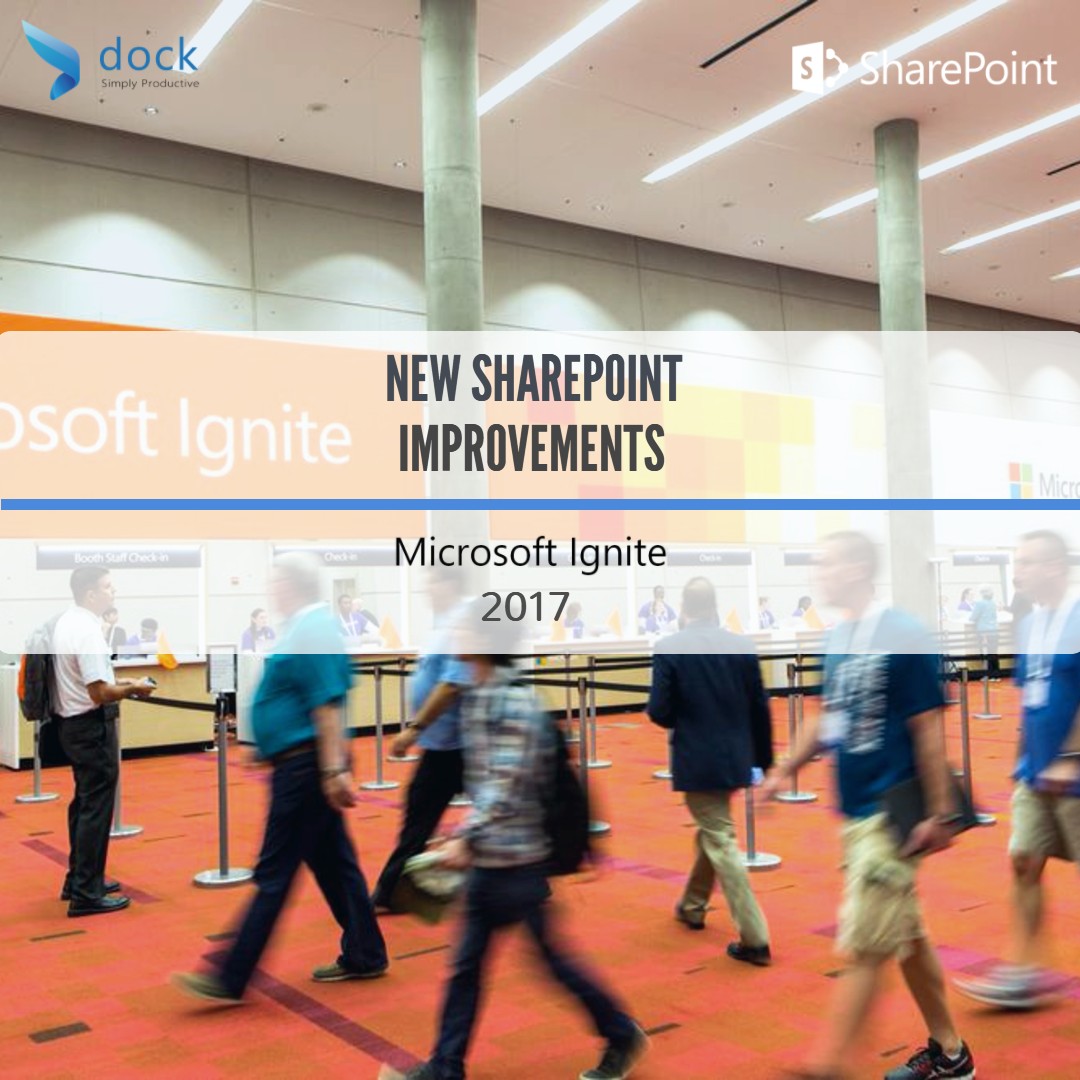 Microsoft Office 365 was created to encourage and improve teamwork for businesses. SharePoint and OneDrive in combination will make it easier by providing groups the capability to share content and apps for Microsoft Teams, Outlook, Yammer or custom apps for your SharePoint site. Dock 365 works within these structures to provide a service to your organization to implement these upgrades.
There are many more thrilling SharePoint announcements made by Jeff Teper, corporate vice president, at the Ignite 2017 event this year. Such as influencing teams to engage, transform business processes, harness collective knowledge, manage content and develop apps. Ultimately putting the right tools in your hands to build custom solutions with SharePoint, OneDrive and Microsoft 365 for your business. Let's explore the highlights of the many new innovations recently announced.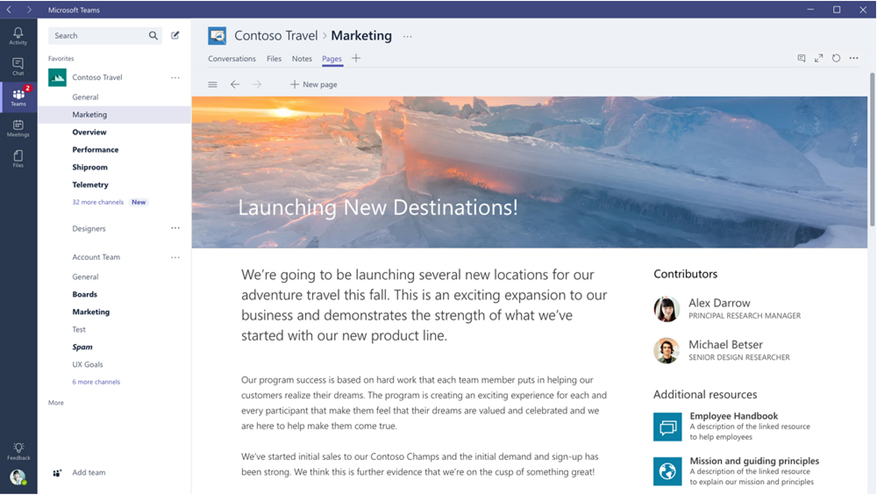 "Share information with your team by adding a SharePoint page or news article as a tab in Microsoft Teams"
Inform and Engage Teams
Your SharePoint pages now include Planner and Microsoft Forms. A new file viewer web part can now display previews of hundreds of different file types, embed content from anywhere such as Twitter feeds, YouTube videos, Amazon book recommendations, and more. Engage employees with Yammer web parts that are mobile-ready to cultivate engagement on any SharePoint page. Now you'll be able to promote news articles in email or in Microsoft Teams. Auto post news articles with the SharePoint news connector in Microsoft Teams as well as collect multiple articles and send them as an e-newsletter.
With a new Me tab, you can save articles to read later in the SharePoint mobile app. It also shows the recent documents you've worked on for easy access. With the improved Site Usage page, views and likes are displayed on each news article. Encourage consistency with customized themes, site and page designs by empowering users to create them based on the business requirements of the site and provisions with a theme already in place. SharePoint hub sites coming in early 2018 will allow you to bring together associated sites to roll up news and activities to simplify searches.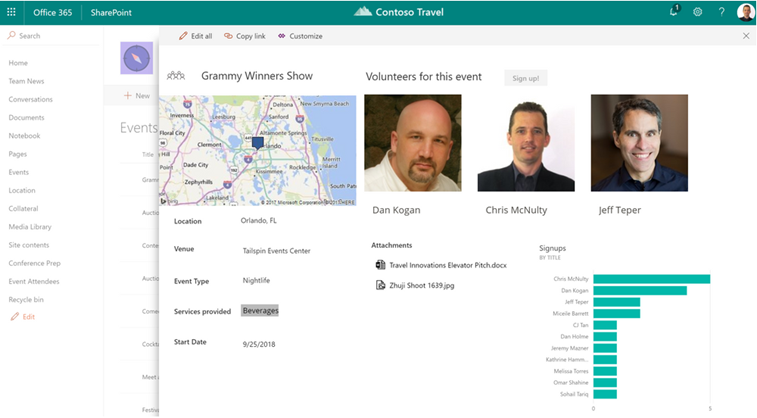 "Create engaging custom forms for SharePoint lists with PowerApps"
Renovate Business Processes
A few important capabilities across SharePoint, PowerApps, and Microsoft Flow includes a transforming business processes. A new visually compelling lists and libraries with column formatting and interactivity of data. With custom forms build with PowerApps, you can now customize the default SharePoint forms to create the look and functionality needed for your business to support users in your list or library.
In addition, a built-in flow allows you to send a document for review and feedback. You can configure a flow to prompt the user for information in a panel that appears with the flow is launched and used in later stops of the flow created directly from OneDrive to automate file-based processes. Predictive indexing was added to automatically add indices to large lists and libraries to improve queries to see improved performance working with them.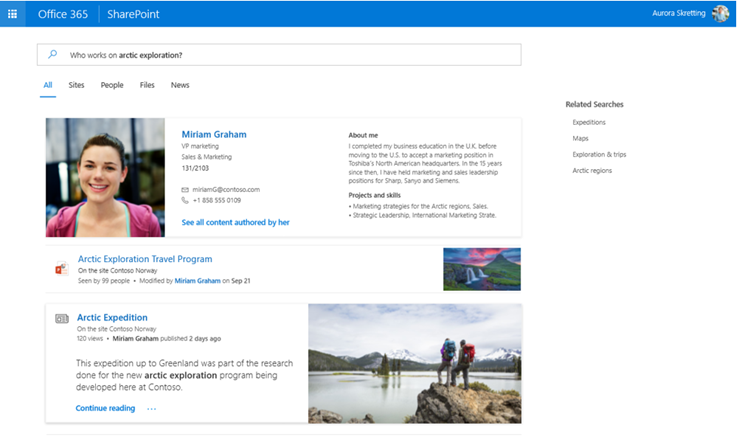 "Find what you need, faster, with personalized search results and a streamlined search results page in SharePoint"
Harness Collective Knowledge
Now infusing search and discovery throughout SharePoint and Microsoft 365 to allow users to harness collective knowledge by using Microsoft Graph from wherever you may be working. Now news and list items can be filtered in search results to more quickly identify the content you're looking for. Your Windows 10 taskbar will include Bing for business and the new Office.com experience tailored to the context of the search experience in SharePoint wherever you're working. To make the most of information in photos, you'll be able to index text from images, even to index handwriting.
In addition, search across geographies for multi-geo customers to span and unify those based on your search and location to ensure content can be discovered, managed and governed. These additional features further enhance SharePoint content services within Office 365 with a unified information architecture with hybrid content types to replicate them to SharePoint Server 2016 and 2013. As well as trigger document management and disposal with event-based information to dispose and manage records from the Office 365 Admin Center.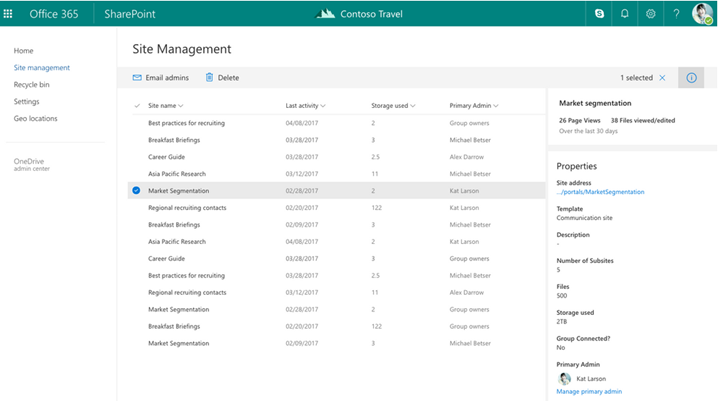 "Admins can manage all of their sites in Office 365 from the new SharePoint Admin Center"
Manage and Protect Content
The newest innovations for service and data governance is getting an upgrade. International companies can benefit from the multi-geo capability in Microsoft 365 for SharePoint and OneDrive allowing them to address complex data residency requirements by providing a tenant the capability to span multiple datacenters around the world. You can now manage your service-level encryption key to control its renewal and the option to revoke the services access to your data. The site-level device access policy now includes being able to block access by unmanaged devices or restrict them to browser-only access as needed.
If you're IT department's SharePoint administrators want significantly deeper levels of insight and control, the new Admin Center features should be of interest. Design the home page to surface information that previously required tenant-level admin privileges regarding service health, messages and usage. Admins can now sort, filter, and configure all the sites with a new site management page where you can view all your sites and their activity. Including the ability to manage settings and policies for SharePoint in Office 365 with new controls to govern sharing and service settings.
Integrations and Apps Development and Extensions
With SharePoint Server 2016 Feature Pack 2, the general availability of new expansions allowing you to extend SharePoint and One Drive through building web parts with one toolset for both on-premises and Office 365 in several ways. The extensions let you use modern developer tools and frameworks to extend more areas of SharePoint through customizing the function and experience of sites and lists. Now you can integrate applications with files with Microsoft Graph. File Handlers v2 makes it easy to integrate with files across SharePoint and OneDrive. You can also connect your applications to core SharePoint data with the new Microsoft Graph APIs for SharePoint lists and content types that allow you to connect to mobile apps and web services to core SharePoint data.
Book a
Live demo
Schedule a live demo of Dock 365's Contract Management Software now.
She's a multimedia producer to include writing, photography, graphic design and video. She enjoys learning about new technology for business and exploring her city in Jacksonville, Florida.