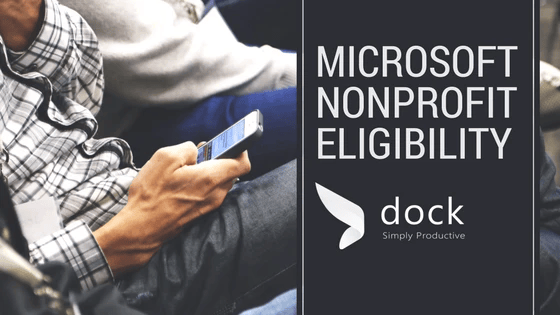 Eligible nonprofits and charities can receive donated and discounted Enterprise and Small Business versions of Office 365. All versions include powerful features that can help you run your nonprofit more efficiently, securely, and less expensively. And because nonprofits come in different sizes and have diverse technology needs, there are five plans to choose from.
Eligible Organizations: Nonprofits and non-governmental organizations must be recognized as charitable organizations in their respective countries in order to be eligible for Microsoft Nonprofit Programs. Eligible organizations must also operate on a not-for-profit basis and have a mission to benefit the local community that could include but is not limited to:
Providing relief to the poor.
Advancing education.
Improving social welfare.
Preserving culture.
Preserving or restoring the environment.
Promoting human rights.
Establishing civil society.
For a detailed explanation of eligibility criteria and links to country specific eligibility criteria, visit the Eligibility page.
Any organization that does not meet the criteria outlined above for eligible nonprofit missions is ineligible for Microsoft nonprofit programs. Ineligible organizations include, without limitation:
Nonprofit organizations that have not obtained recognized charitable status in their respective country;
Governmental organizations or agencies, including international governmental organizations and United Nations Entities. Visit Microsoft Volume Licensing for Governments for more information;
Schools, colleges and universities. These formal educational institutions are eligible for offers through Microsoft academic volume licensing programs and are not eligible for Microsoft Nonprofit Programs, including nonprofit schools. Please visit Microsoft Volume Licensing for more information;
Healthcare organizations included in Microsoft Health Programs are ineligible for Microsoft Nonprofit Programs, including, but not limited to, hospitals, healthcare networks, health plans, ambulatory/outpatient healthcare organizations, nursing homes, retirement centers, assisted living, home healthcare, and health research organizations and laboratories. Visit Microsoft Volume Licensing for Health for more information. Exceptions include independent nonprofit organizations with the following missions: community, behavioral and women's health clinics; hospices; emergency services; and blood, tissue and organ banks.
Professional, commerce and trade associations;
Political, labor, and fraternal organizations;
Refurbishers that will be installing the donated software on refurbished computers to be distributed or donated to nonprofits or schools. Please visit Registered Refurbisher Program for more information.
Individuals.
Read more about how Qualified Nonprofits Can Create More Impact with Office 365
About Dock
As a trusted Microsoft SharePoint technology solution provider, we help customers realize their business goals and desired outcomes. By bringing together Microsoft SharePoint Portal solution as a product to maximize return on investment they made with Microsoft SharePoint.
We've worked with many different enterprise clients to learn how businesses want to interact with Microsoft SharePoint and created the perfect out-of-the-box solution for every business. Dock 365 is an easy-to-use business solution. A custom solution to designing a company portal with SharePoint and Office 365.
Book a
Live demo
Schedule a live demo of Dock 365's Contract Management Software now.
She's a multimedia producer to include writing, photography, graphic design and video. She enjoys learning about new technology for business and exploring her city in Jacksonville, Florida.