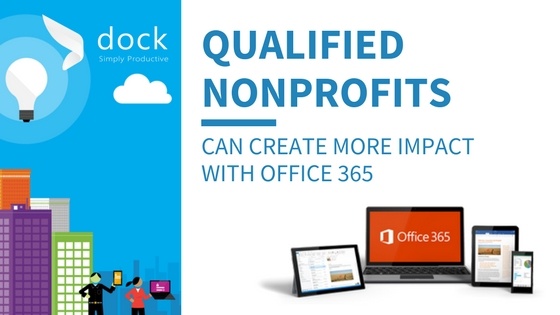 Dynamic Tools for Nonprofits with Office 365
By providing your staff and volunteers with the dynamic set of tools included in Office 365 nonprofit plans, you'll be able to empower them to increase their productivity and effectiveness. Supply your team members with free email and online documents editing and storage. Including video conferencing, instant messaging, and your own Yammer site to bring your team together from anywhere in the world.
Utilizing the Cloud for Quality Communication
Support your nonprofit business with superior productivity experience so that your staff and volunteers can accomplish more by working together on projects. Access common documents such as grant applications and board reports anywhere at any time with online storage and remote file sharing. Office 365 offers flexibility to work with online versions of familiar Office applications for your team to install across PCs, Macs, and mobile devices.
Rest Assured Office 365 is Secure, Compliant and Provides Privacy
With Office 365, uses a cloud-based productivity service for security frameworks based on ISO 27001 standards, which have been verified by an independent auditor. You can feel confident with Microsoft Office 365 because they've contractually committed to a robust Data Processing Agreement, the EU model clauses and a HIPPA Business Associate Agreement. There's no need to be concerned about security on mobile devices either. Your team can use the built-in tools to manage access to data across phones and tablets.
How to Become a Qualified Nonprofit with Microsoft Office
Apply for discounts and donations for nonprofits by meeting all five of the following criteria:
Organization eligibility
Mission eligibility
User eligibility
License restrictions
Non-discrimination
What is Office 365 Nonprofit?
Microsoft designed Office 365 Nonprofit to help nonprofit organizations and NGOs to do more good. Providing eligible customers with access to Office 365. To learn more and apply for a donation by visiting www.microsoft.com/office365nonprofits. Required documentation may include the certification or registration provided the nonprofit's governing body. For example, in the U.S. we require a copy of the IRS 501(c)(3) determination letter.
Looking for More Support? Look No Further.
With over 16 years of experience, our SharePoint and Office 365 experts can provide support for your nonprofit business from technical support to developing your intranet platform. Learn more by clicking the button below:
Book a
Live demo
Schedule a live demo of Dock 365's Contract Management Software now.
She's a multimedia producer to include writing, photography, graphic design and video. She enjoys learning about new technology for business and exploring her city in Jacksonville, Florida.