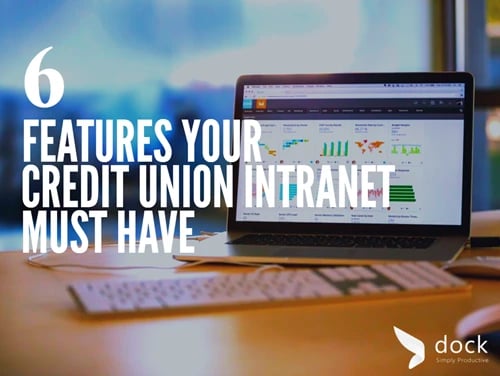 Intranet portals have always been a savior for organizations by ensuring higher levels of productivity, communication and coordination within the employees and yes of course, compliance! To be precise, SharePoint Intranet Portals have played a great role in enhancing document management and other banking related workflows effectively.
The combination of business workflows and social initiatives with democratic models has boosted knowledge base solutions today.
It's a competitive market out there. To outsmart the competitors, credit unions must follow technology drivers for streamlining business processes, boosting coordination and saving time among its affiliates.
What about having an intranet portal to provide workflow automation to your entire team? Give everyone easy access to data they require so that they can focus on ensuring best-in-class service for your community members.
Read more: How to Improve Employee Productivity in Your Credit Union
Collaboration is the future and with SharePoint-based solutions like Dock Intranet Portal, you will be able to enhance your offerings with the latest reliable and safe financial services to your affiliates.
What Are the Key Features a Credit Union Intranet Portal Should Have?
Business Intelligence
Power Business Intelligence helps credit unions to analyze important information when you need to keep track of your existing customers and future clients effectively. By creating rich and effective visuals with your company's data, Power BI helps you better management. An intranet portal with Power BI integration is surely the best tool for growing your credit union.
Mobile Friendly-Portal
With a mobile-friendly platform, your employees can easily engage and connect with dispersed teams. Intranet's with mobile-friendly platform allows your employees to communicate and collaborate real-time anytime and anywhere with using their own mobile devices.
Multi-Device Usage
To make your intranet portal as effective as possible, make sure that it is accessible from multiple devices. On your computer, cell phone or tablets – your intranet should be equally as accessible. Our intranet platform is easy-to-use across all devices, helping your users to contribute from whatever device they have.
Internal Security and Compliance
Microsoft SharePoint Online and Office 365 come preloaded with internal security and compliance features that work with your company's content management and data usage. The best part of choosing Microsoft Technology is it complies with regulatory, legal and technical standards. If your solution is built on top of Office 365, you don't have to worry about security breaches.
Document Management
A perfect SharePoint document management system for credit unions ensures better storage and management of member details and lowers pressures on filing spaces. You will be able to bring more efficiency to your management team by lowering the time spent on document searches. The power of SharePoint search feature matched with Policies and Procedures Management Portals makes looking for documents simple. This suite also provides you with peace-of-mind that your documents are protected and can be backed up regularly.
Front Office Management
Your tellers need to be speedy and give out accurate information regarding your credit union services, right? Best-in-class customer service is the key for any credit union to outshine other financial services.
With the help of an efficient knowledge base management portal, your front desk employees can research and find information relevant to the queries asked by the customers and provide reliable services accordingly. With knowledge management systems for Credit Unions powered by SharePoint, your tellers will be able to manage their day-to-day tasks easily and efficiently.
What are the Challenges?
Tellers are the main point of contact with your customers. The quality of service from your tellers will directly reflect to your brand reputation. The right technology for carrying out their tasks with better speed and accuracy will empower your tellers to serve your customers perfectly.
So, where's the challenge? If you don't have the right solution for your team, it will affect your customer service eventually, turning off your customers.
What Causes Customers to Become Frustrated?
When tellers handle new applications that consume more time.

Inaccurate member details or information.

Usage of traditional paperwork.

Inadequate information about credit union services.
How Can You Evade Those Challenges?
Leverage the latest technologies for ensuring automated workflows and enhancing the flow of data and information to the employees.

Bring in automated interfaces and functions for streamlining business processes.

An easy user interface with simple navigation will help employees navigate to their desired content quickly.

The intranet portal should enable tellers to attain cross-selling skills where they get complete access to the member details and can address their grievances or needs effectively.
Download the Compliance and Security Guide!
Book a
Live demo
Schedule a live demo of Dock 365's Contract Management Software now.
He is a Microsoft Certified Technology Specialist cum Digital Marketing Expert and has experience of 6 years. He loves learning about latest technologies like CRM, collaboration tools, marketing solutions etc.