What's new with Microsoft's updates for Office 365 this quarter? We're reporting on the new data types in Excel, an expansion of Microsoft Cloud with data centers in new locations and of course, the intelligent search feature in Microsoft SharePoint.
Let's check out the new updates in detail:
#1. Modern Communities & Personalized Search
Microsoft has come up with updates that uses Microsoft Cloud for enhancing company-wide search functionality, enabling modern communities and streamlines the content delivery process.
Last year, the latest search functionalities were announced for Microsoft SharePoint Online. This helps to enable people discovery, information and expertise from your organization. This announced experience is getting rolled out to all the O365 tenants. Using Microsoft Graph signals, the users will be able to generate tailored search results across the intranet portal. You will be able to preview files with over 270 various file types without moving out from the search interface. Thanks to Microsoft Graph, when you want to start searching for files in Office 365 or SharePoint, personalized and consistent results will show up on your screen!
SharePoint Hub Sites
Microsoft has rolled out SharePoint Hub Sites to Office 365 tenants that is enrolled in the Targeted Release. The SharePoint Hub Sites are flexible building blocks for company intranets that is powered by user activity, news, search feature and navigation from other SharePoint Team Sites as well as communication sites. SharePoint Hub Sites helps to build a unique path of your company by organizing content across your SharePoint Tenant based on departmental portals, locations, projects etc. This helps your O365 administrators to build governance and grow over years.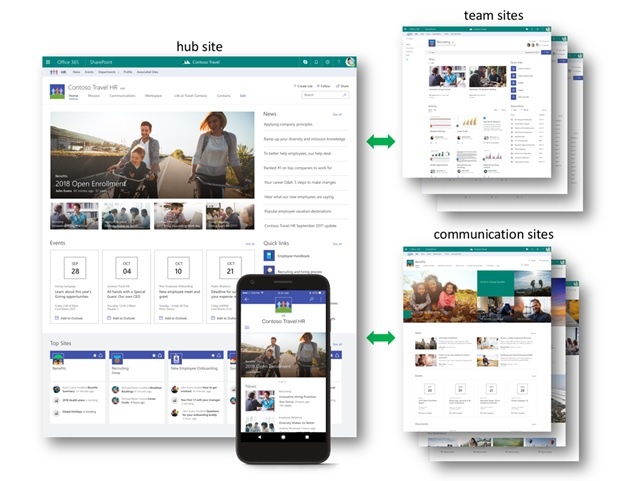 Yammer to SharePoint Intranet Integration
Have you checked out the latest webpart for Yammer conversations and feeds for SharePoint Site? The latest webpart helps users to control over what content is shown, with features to show most of the popular discussions and the need to curate specific threads. You can display unread conversations specific to the user. Also, it is mobile responsive that helps users to access from desktop and mobile easily.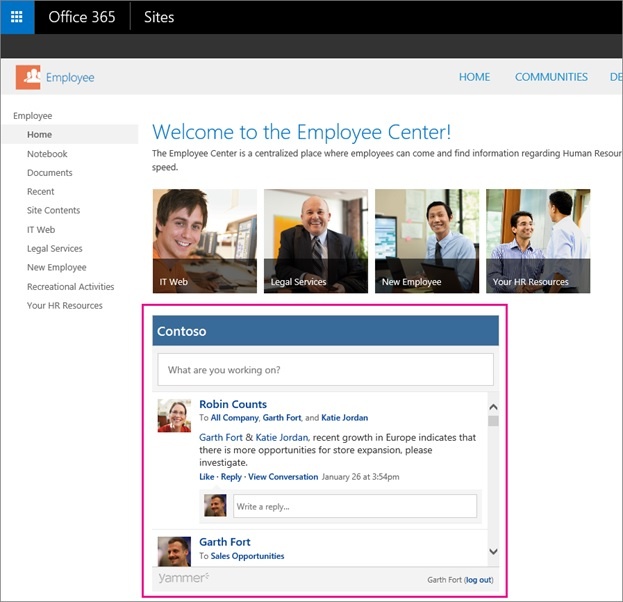 #2. Microsoft Excel Online – Intelligent Capabilities
Billions of Office 365 users all over the world rely on Excel Online to work on complex tasks with tools such as advanced data transformation and Insights. Microsoft has rolled out couple of updates that connects the power of Microsoft Cloud to enhance Excel's capabilities.
Latest Data Types
What's the good news? Microsoft has announced the cloud-based data types for Excel Online (Stocks and Geography). This comes with additional AI features so that Excel can identify rich data types beyond text strings and numbers. For example, you are preparing a lead report with respect to U.S. States. When I type "Florida", it automatically associates with additional attributes like population and GDP. This is the same technology used in Microsoft Bing Answers.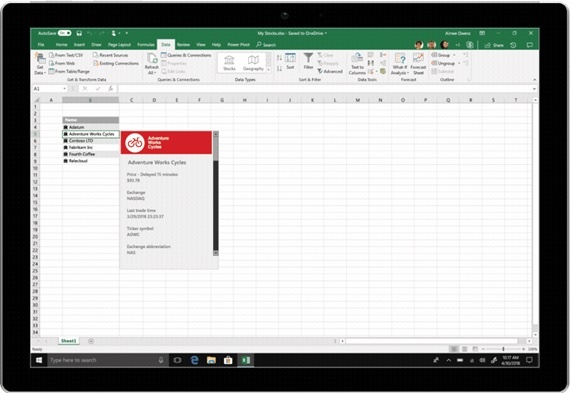 Other major enhancements
Microsoft has introduced Excel's desktop features to Excel Online so it makes it easier for them to work on spreadsheets online. Check out the ability for inserting Pivot Tables, deleting rows and columns for analyzing and formatting your data. You can now insert images from your system, create duplicates of your existing worksheets and most important: adding colors for the spreadsheet tabs. This provides a robust desktop version of Excel on your browser.
Book a
Live demo
Schedule a live demo of Dock 365's Contract Management Software now.
He is a Microsoft Certified Technology Specialist cum Digital Marketing Expert and has experience of 6 years. He loves learning about latest technologies like CRM, collaboration tools, marketing solutions etc.