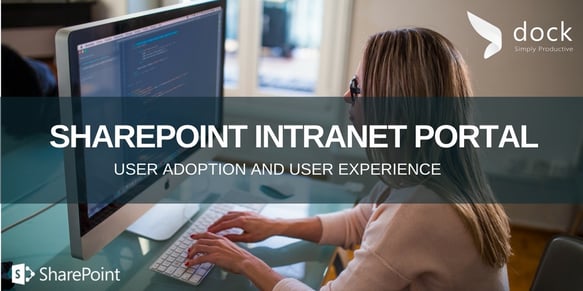 Staying on top of business and technology trends has become increasingly expensive. However, your competitors will be investing in IT even if you don't—and that's something you can't afford. With our deep understanding of SharePoint Intranet Portal, we have designed best in class intranet portal, Dock, to overcome some of the challenges, we see most businesses faces when it comes to user adoption of SharePoint.
Although SharePoint is a powerful tool equipped with many features, SharePoint deployment out of the box tends to "fall short" in terms of a favorable user experience causing user adoption to suffer. All too frequently we see companies attempt to implement SharePoint, internally, as an intranet portal and subsequently abandon the project altogether, due to the complexity involved with building a coherent portal in which employees can collaborate.
Having learned from years of experience building dozens of intranet portals for enterprise clients, we built Dock to overcome these "out of the box" challenges to help organizations drive user adoption and get the maximum return on their SharePoint investment. We tailored Dock's user interface to create an enhanced user experience, while taking full advantage of SharePoint collaborative and business workflow functionality.
In contrast to the traditional "built from the ground up" approach that takes many months of requirements gathering, design, development, testing and deployment, Dock is a well thought out Intranet Portal that can be deployed within weeks while retaining a surprising amount of customizability. Dock comes with best in class user experience, superior content management capability (due to enhancements of the out of the box interface), better portal management, and pre-built SharePoint components that start addressing business needs immediately upon deployment.
Dock comes with standard department portals like Sales, HR, Employee Resources, Training and Marketing. Our business process automation tools, such as Employee Onboarding and time-off requests, are usable immediately upon deployment.
Dock built on SharePoint is all about enabling users to be more productive and to communicate and collaborate more effectively.
How can Dock help in user adoption of your SharePoint portal initiative?
Dock provides best experience across all devices.

Dock responds to changing business needs faster, instead of waiting for weeks and months for your small business process improvement application.

Dock user training is designed to be user friendly.

Personalization feature of Dock helps users to make Dock their own by customizing what they want to see on the landing page, or their individual department pages.

Dock's targeted content helps users to avoid clutter and content overload.

Dock helps you with SharePoint out of the box usage analytics, to understand, how users have adopted Dock/SharePoint.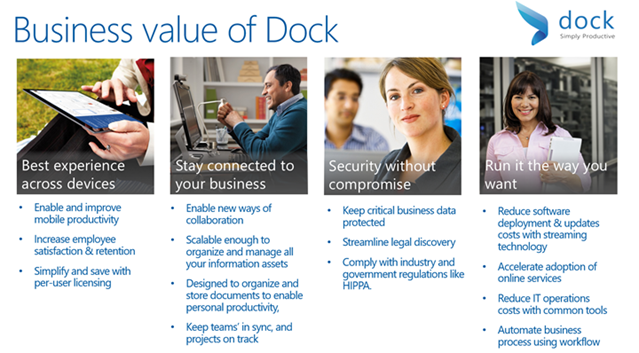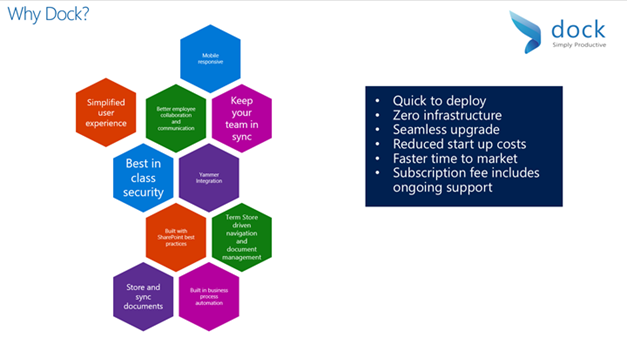 If you're looking for a dedicated information technology portal,
you can find more information on our website .
Book a
Live demo
Schedule a live demo of Dock 365's Contract Management Software now.