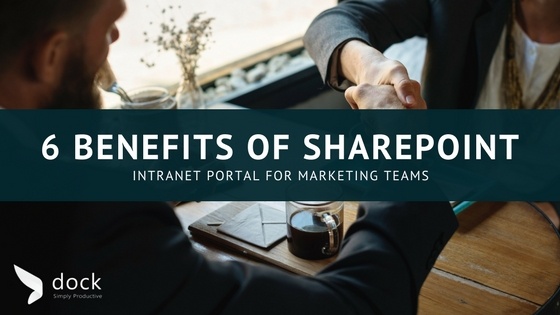 The life of a marketer is a complex one whether working for a marketing firm or department within an organization. The fine-line of missing a deadline for your launch date is a thin one if you're having issues with managing content or miscommunication between teams, especially if they're working globally. Often marketers schedule their campaigns a quarter ahead of go time, but if you're suffering from last minute campaign launches, SharePoint intranet portal can change your life for the better.


Dock can develop a custom intranet design using the intranet software that's designed to your brand with an easy-to-use SharePoint intranet portal to provide six effective benefits for your marketing teams.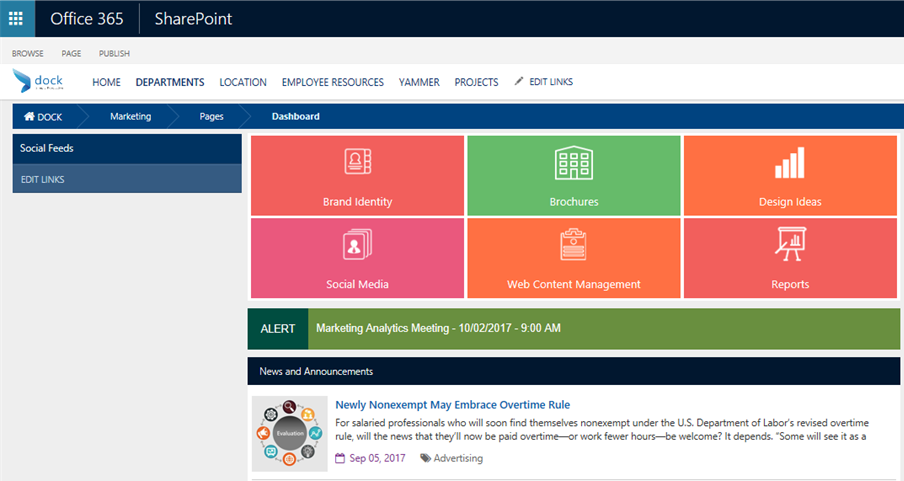 SharePoint Content Management
Imagine your SharePoint site offering the kind of CMS intranet of your dreams. An employee intranet that offers improved content management and publishing with ease. With simple online collaboration tools, you'll have better approval mechanism for your content while storing your digital assets into one place on a cloud-based server. This will allow your marketing team members to collaborate with vendors and customers simply and effectively. Beat your deadline times by using SharePoint online in conjunction with Office 365 for video and other digital assets management capabilities to organize your content management strategy ahead of time.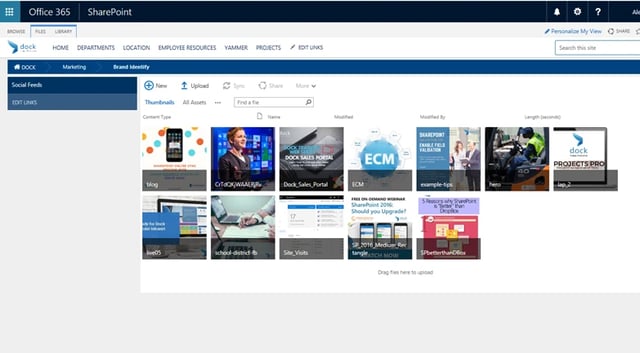 1. Improve your content management system intranet
Having company assets located on a cloud-based server encourages marketing teams to ensure brand consistency across multiple departments, locations or languages if needed. The SharePoint intranet portal provides centralized storage of brand assets, which is a massive time-saver by avoiding time wasted on searching servers or requesting from the art department for the right assets.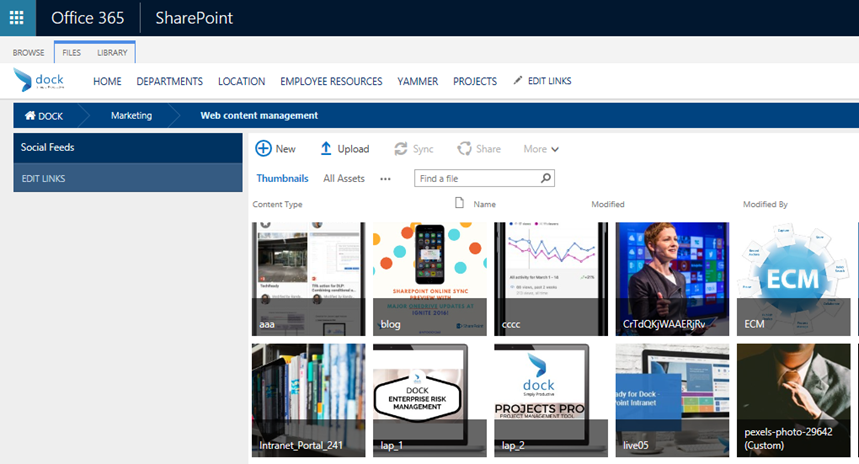 2. Content publishing with a push of a button
Beyond the standard SharePoint intranet portal, we offer an easy navigation company portal within the SharePoint site. You can quickly create/publish site content by achieving assets using common tools for creating and publishing site content in a periodic manner. No worries with Dock, you don't have to be a computer genius to navigate the custom and simple navigation with SharePoint templates.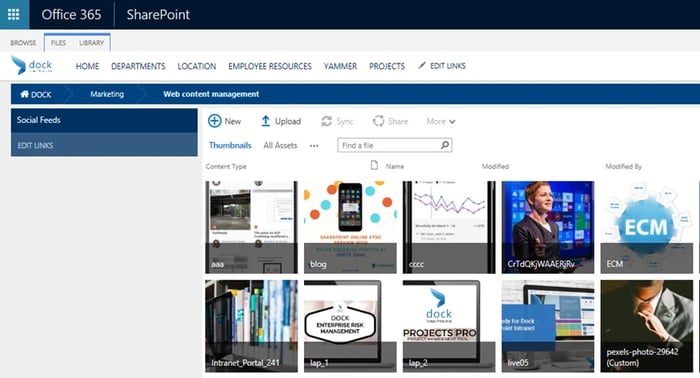 3. Better approval mechanism for your content workflow
You'll be able to share information with your customers and being able to work anywhere is key to improving the mechanism for marketing teams. Sharing documents with customer and vendors will save time as well. The SharePoint app is a great way to add more functionality to Dock. For example, you could embed Yammer feeds on your SharePoint sites and invite customers to social community discussions to improve communication by meeting their needs quickly and effectively.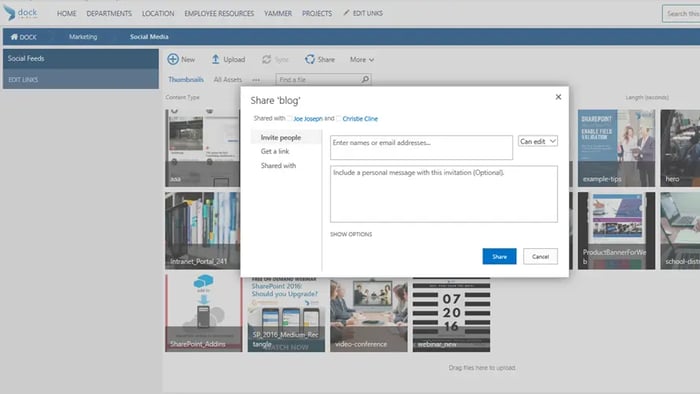 4. Ability to store your assets in one place accessible from anywhere
Your marketing team members will be able to reduce time I takes to discover and find useful and relevant content just as easy as it is to publish content into the company portal. No worries about protecting your assets, SharePoint safeguards your business with record management, which is secure and protected across the organization with your employee intranet.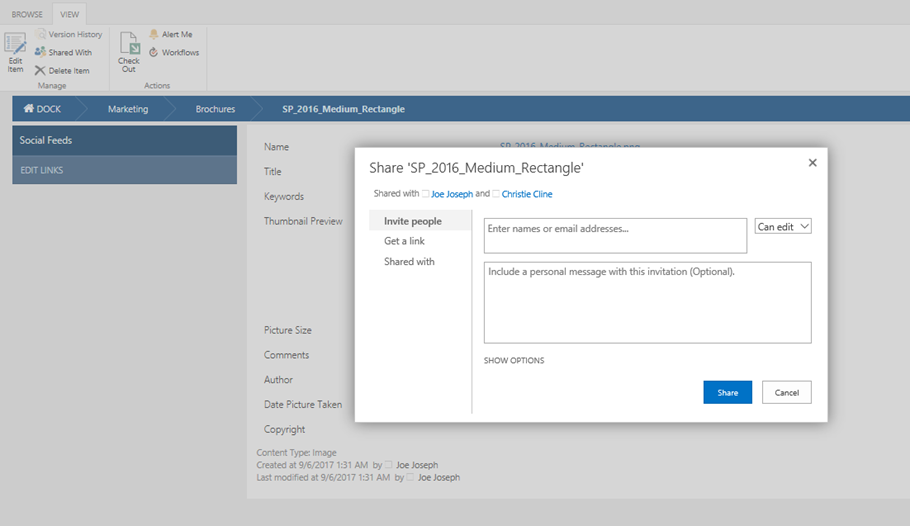 5. Collaborate with your vendors and customers with ease
Easily share content with people outside of your organization who do not have licenses for your organization's Microsoft office 365 subscription. SharePoint Online information management policies enable organizations to control and track things like how long content is retained or what actions users can take with that content.
Read more about our Vendor Management capabilities.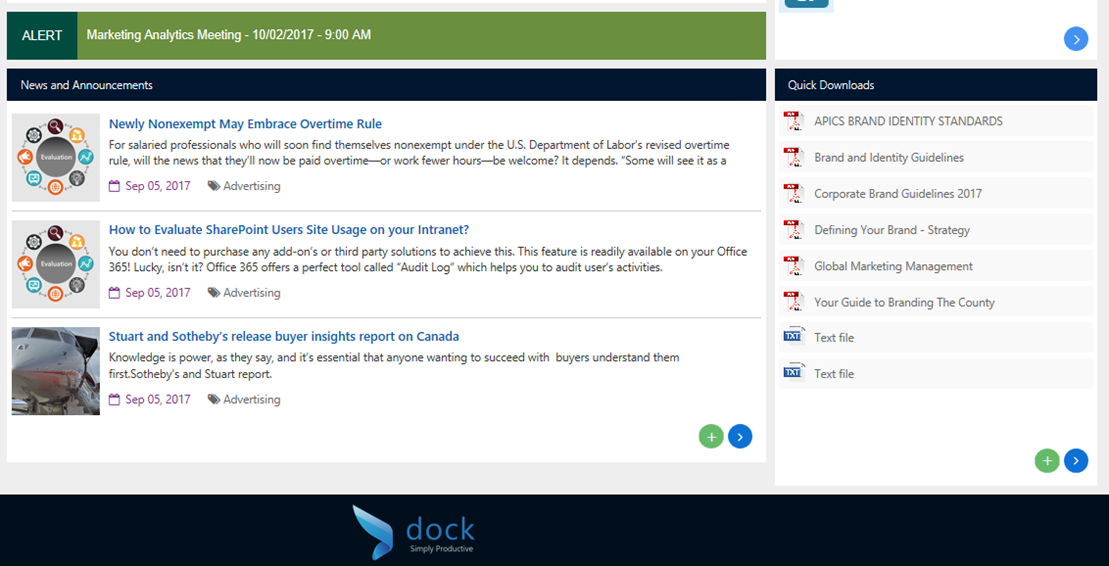 6. Digital asset management capabilities for your content management strategy
You can agree that technology solutions could help marketing teams improve business outcomes and run your department better. It's now the backbone of a successful business since outdated or obsolete IT limits a businesses' ability to address key challenges and opportunities in today's digital world. An integrated, flexible cloud platform provides the power and agility required to stay a step ahead of the competition and support growth. Making your content management strategy with Dock will allow your marketing team to get ahead of the curve.
Dock can improve your marketing strategies
Our SharePoint developers offer over a decade of experience helping businesses create your SharePoint intranet portals with adding easy-to-use online collaboration tools, HR portals, company portals, employee portals and much more for your SharePoint site.
Book a
Live demo
Schedule a live demo of Dock 365's Contract Management Software now.
She's a multimedia producer to include writing, photography, graphic design and video. She enjoys learning about new technology for business and exploring her city in Jacksonville, Florida.