Wondering how to best use and configure your SharePoint team site to collaborate and communicate with both team members and partners, manage tasks, share reports, track events and much more. This blog post is a guide to help you better leverage the SharePoint team site.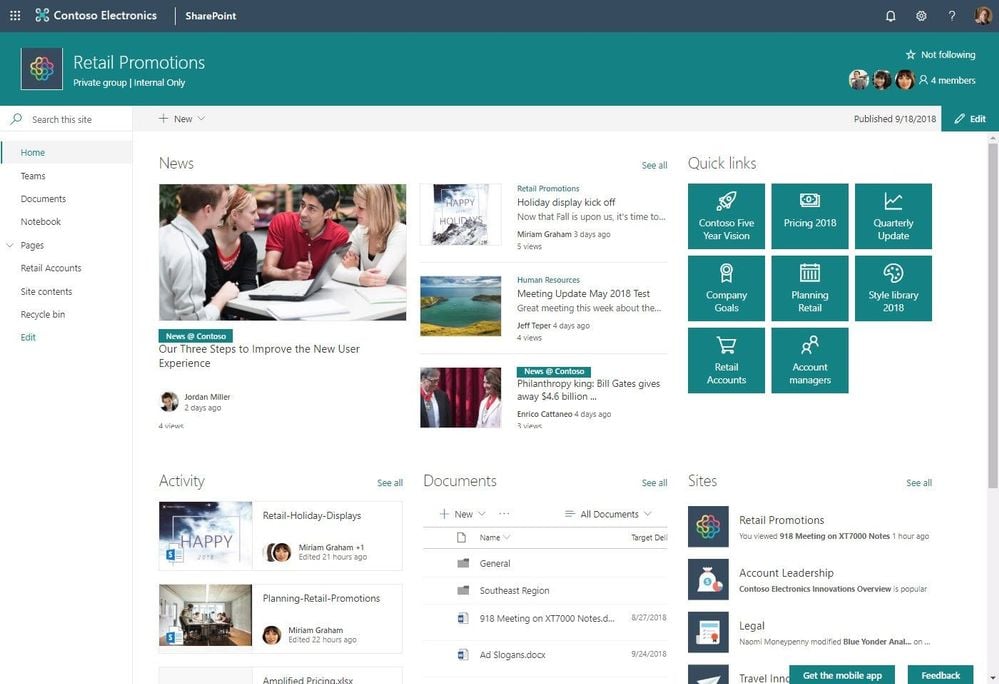 Build a SharePoint team site in just seconds
Now create group-connected SharePoint team sites in seconds. Unbelievable right? Once you create a group, Office 365 provides the group
A shared inbox

Calendar

OneNote notebook

Team site document library (a default place files)

Planner for task management
And now a modern team site comes with pages, lists, libraries and team news thus enabling a group to collaborate and communicate better.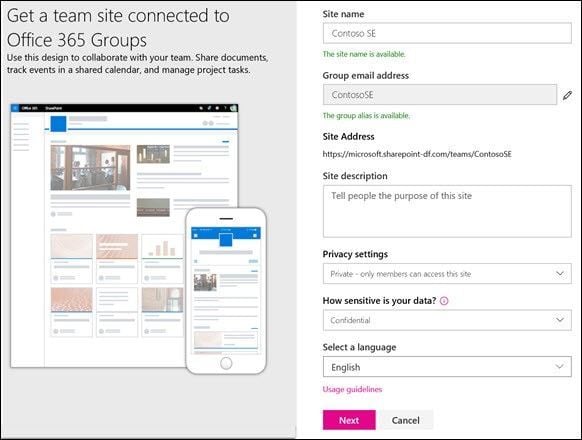 To create SharePoint team sites connected to Office 365 Groups click the Create site button on the SharePoint home page in Office 365.
As shown in the image above, enter the required information in the two-step creation wizard:
Step 1
Title of the team site

Select whether the group will be public or private

Choose site classification & preferred language

Click Next
Step 2
Enter the owners and members

Click Finish
Viola! You are done.
Your site, your brand
Customize the look of your SharePoint site to reflect your brand's values and ethos. Choose one of the default SharePoint themes and customize it as per your requirements by adjusting style and colors and adding logos, videos, slide shows, and more.
Choose a company theme

Use one of the classic experience designs

Site headers allow adjustment of layout options, logo and background choices

Site footers allow logo, text and links to be added to the bottom of the pages.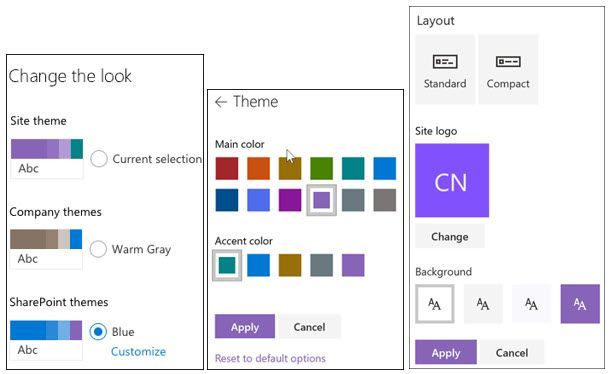 Easy External Sharing
Most organizations perform work that involves collaborating, communicating and sharing documents with vendors, clients, or customers.Now use the external sharing feature of SharePoint Online to share content with external users. You can control, track and report the sites that can share externally. Depending on your need, let external users access only the files you want them to view, download or share.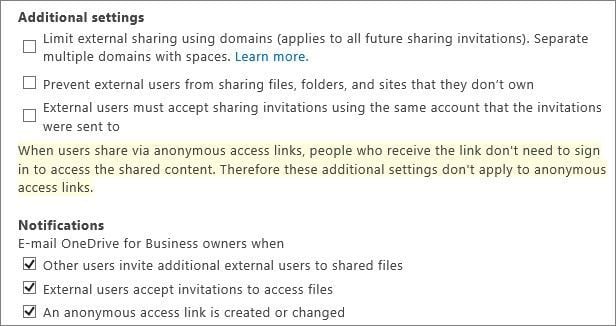 Planner integration
Task management is a crucial everyday business task and it is the most efficient when your team has access to everything it needs in one place. Now manage all your tasks and content in one place, all thanks to the Planner integration.You can use an existing Planner plan or create an entirely new plan directly from within SharePoint. Use the "+New" button to add a Planner plan just like adding a new page, list, library or news.Based on what task information is most relevant to your team, choose between the Planner Board or Charts view to appear on your page.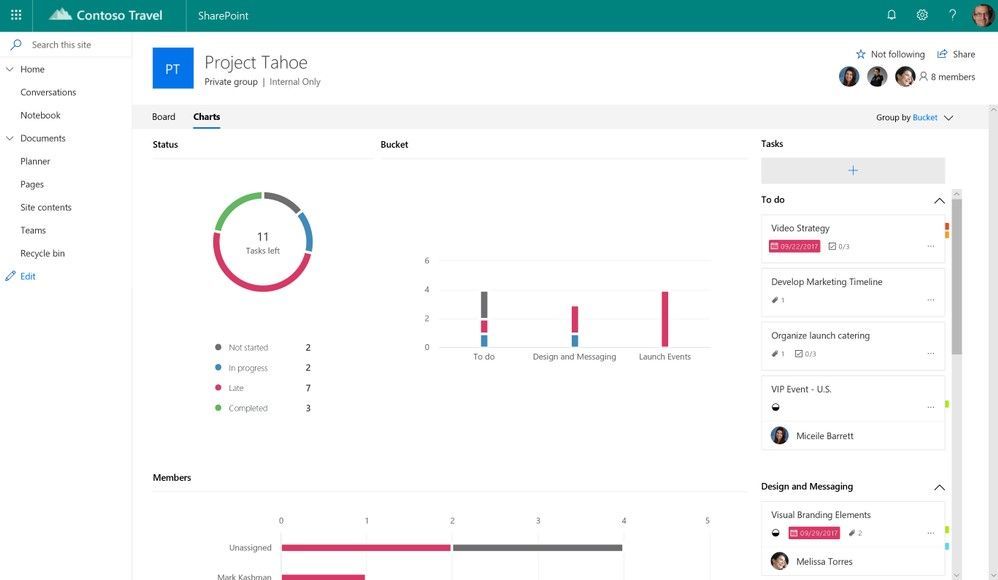 Connect your existing team site to a new Office 365 group (groupify)
Enable your SharePoint team site to leverage the superpowers from other integrated apps using one click to groupify. Transform your existing SharePoint team sites by connecting them to new Office 365 groups.
Steps
Go to the gear icon menu in the upper-right of your site

From the drop-down menu, click on Connect t New Office 365 Group
Now provide enhanced group capabilities to all team members. In addition to the benefits like using modern pages, lists and libraries already available in your classic sites, connecting your site to an Office 365 group provides benefit from all other shared group-connected apps such as
Outlook for a group inbox and calendar

Planner for task management

OneNote for team meeting notes and much more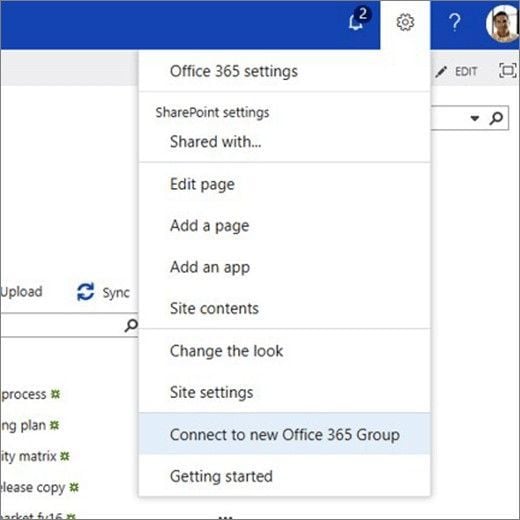 Book a
Live demo
Schedule a live demo of Dock 365's Contract Management Software now.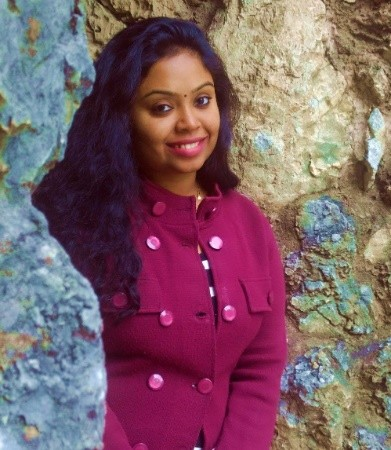 She comes with 4 years of experience in content management and have worked with brands from the US and UK. An enthusiastic content crafter, she loves travelling and learning about new Microsoft Technologies.