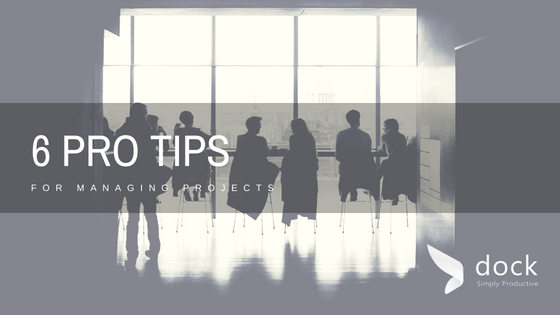 Today's office management personnel are wearing more hats today than in the past decades. If your small business lacks a project manager but you know you need to manage many projects, here are some useful tips to help manage time and remain enthusiastic with the right tools. Whether you're an official project manager or simply leading a project, the following six tips should help you get your bearings and set your project up for success.
When working with others, you'll want to get them excited about the project but to also remain enthusiastic until the completion. Our tips will help show you what tools to use so that you stay passionate about the tasks at hand.
Tip 1: Communication Tools
Communication among your team is essential to success. Tools like Skype and other chat software make it easy to stay in touch with your team. Even with these type of tools, some people may still prefer phone calls or face-to-face interaction. It's important to understand how each member of your team prefers to communicate. This will help prevent misunderstandings and will allow you to strategize the best way to introduce your team to modern technology.
Group chats make syncing up and collaborating with other PMs a breeze. Elevate your productivity even more when you add these 5 crucial features to your chats: https://t.co/TeaDeiL6Op pic.twitter.com/YiJzx3JAsH

— Microsoft Project (@project) May 25, 2018
Tip 2: Establish Goals
Look at the big picture and determine what you want to accomplish with this project. If a client or outside stakeholder is involved in the project, external sources will obviously help determine your goals. For example, keep the scope of the project from expanding, staying within budget or securing the right resources in advance. Your timeline will assist you in staying on track with your goals.
Tip 3: Create a Visual Timeline
The right visuals give you a quick view of your project's timeline without requiring you to flip through a calendar or read through extensive notes. Access programs that allow your team to access a timeline, meetings and chart information to save time and the hassle of creating your own from scratch.
Tip 4: Reduce the Number of Meetings
A study by Verizon Conferencing found that only 22 percent of meetings are considered "extremely productive" and 44 percent "very productive." That leaves 34 percent of meetings as only somewhat or not at all productive. Obviously, meetings are a necessary part of project planning, but really consider whether a meeting is a best use of your time or if email or some other form of communication with tools such as a project planning portal.
Tip 5: Organize a Kickoff Meeting
Speaking of meetings, the kickoff meeting sets the tone for the entire project. When planning this meeting, be sure to adhere to the following standards:
Invite the right people and ensure the key players can be in attendance.
Create a detailed agenda stating what the meeting will cover. This will help everyone stay on task and understand the meeting objective.
Determine if this can be an online meeting or if it needs to be held in person. This will be different depending on how large the project is, whether you're working with a new client, the budget for the project, etc. Keep in mind that in-person meetings are usually more complicated to plan—and more expensive too, especially if they involve travel.
Reschedule if the key players can't be there—there's no point in holding a meeting without them. You'll often have to hold another meeting to update them or get their input.
Before forming the agenda, be sure to understand the point of the meeting and what information people should walk away from the meeting knowing.
Tip 6: Prep for the Unexpected
It's almost a guarantee that something unexpected will happen. And when it does, you should've have at least considered the possibility. Dependencies and constraints have a cause and effect relationship. At its simplest, a constraint is a restriction within the boundaries of which the task should be completed or executed. A constraint may be driven by lack of resources like money and manpower, shortage of available time and even the lack of expertise in an area.
Book a
Live demo
Schedule a live demo of Dock 365's Contract Management Software now.
She's a multimedia producer to include writing, photography, graphic design and video. She enjoys learning about new technology for business and exploring her city in Jacksonville, Florida.