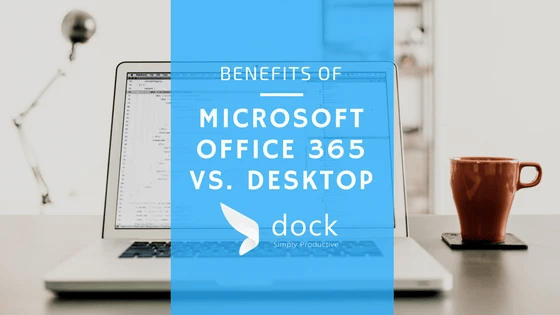 Microsoft recently announced that Office Windows 10 comes with preinstalled apps for free to use on Windows 10 smartphones and small tablets for iOS and Androids. Check out the awesome team collaboration tools with Microsoft Teams to learn more about the apps and more.
New to @Office365 this month: rich data types in @msexcel, intelligent search, expanded datacenters, and more: https://t.co/i5SJ3njKgT https://t.co/gHj7Lp3rLL

— Microsoft Office News (@OfficeNews) March 29, 2018
The newest updates in March for Office 365 includes:
Rich data types
Intelligent search
Expanded data-centers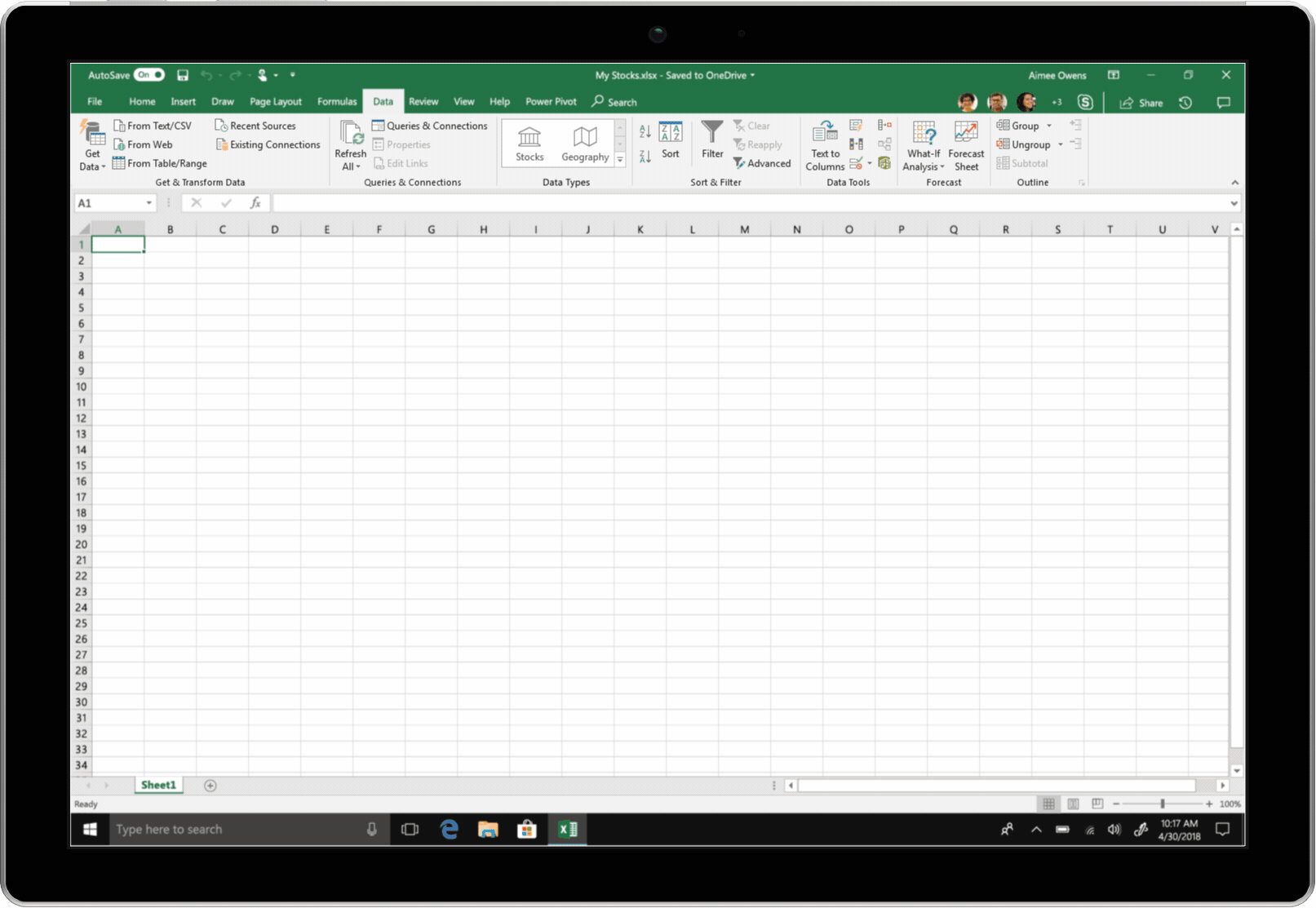 New data types in Excel: With Office 365, there's a new cloud-connected data types with Stocks and Geography. With added AI capabilities, Excel can now recognize rich data types beyond numbers and text strings. "For example, Excel recognizes that 'France' is a country and automatically associates it with additional attributes such as population and gross domestic product, using the same technology that powers Bing answers." This is based on machine learning; theses data types will simplify the process of working with real-world data. There will be more changes soon.
Expanding capabilities in Excel Online: Microsoft also introduced several highly requested desktop features to Excel Online, making it easier to create and edit spreadsheets in your browser. Now, you can insert Pivot Tables and delete rows and columns to analyze and format data. You can also insert images from local storage, duplicate existing worksheets, and change the color of tabs—enhancing your control over the look and feel of your work.
Personalized search and modern communities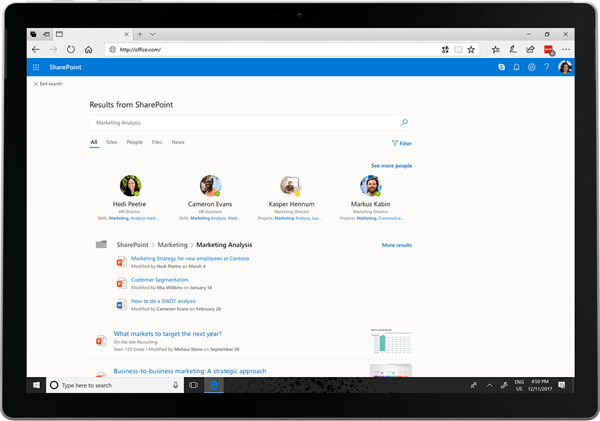 Intelligent, personalized search: The new search capabilities in SharePoint Online that enable the discovery of people, information, and expertise is now rolling out to all Office 365 subscribers. Using signals from Microsoft Graph, Office 365 provides unique search results across content and people based on your work patterns. This makes it easier to explore, allowing you to preview files with support for over 270+ file types within the search page. Now you'll see consistent, personalized results powered by the Microsoft Graph.
Expanding our cloud infrastructure
Microsoft opened our first local datacenters in France, announced plans to deliver the Microsoft Cloud from new datacenter locations in the United Arab Emirates and Switzerland, and added new cloud options for Office 365 customers in Germany. These new datacenters will help organizations digitally transform with the latest Office 365 services, while meeting their compliance requirements to store customer data in their own country.
Benefits of the Office desktop version
MS Office or Microsoft Office is a commonly used software program in business today that features several programs within the Suite, such as Word, Excel, PowerPoint, and Outlook. The benefits of sticking with the desktop software instead of launching to online for Office 365 provide powerful tools.
Perks of MS Office Desktop:
Global software
Simplicity
Great support
Comprehensive software
MS Office is used on a global scale for desktop publishing to project management. Most companies require documents written with MS Word. This file type can be shared and opened to edit from anyone with the software installed. Compared to other programs, MS Office is the simplest to use and learn. Every program that's within the suite comes with useful features that enables your team to complete their tasks. Microsoft's website provides a plethora of help pages for any questions you may have for software support. This site offers instant assistance with chat or email your questions.
In addition, the site provides automatic updates to keep MS Office bug-free, so that your Office Suite functions at its best. It's a comprehensive software that covers completely with software with any business task. For example, if you'd like to write a letter or memo, MS Word is the best program. Similarly, MS Publisher for creating business brochures. MS Excel is used to set up your customer databases or inventory. MS Office has many desktop applications to help you operate your business efficiently.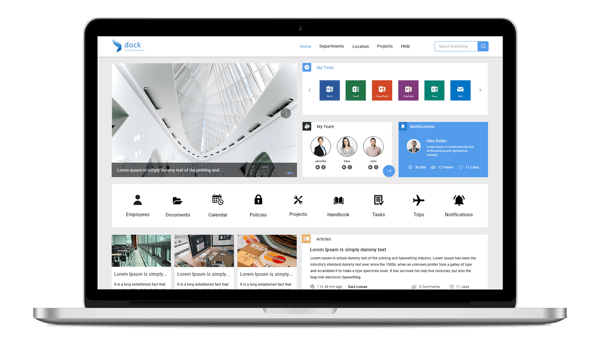 Dock with Office 365
With Dock, we utilize SharePoint and Office 365 for your company intranet home page so that it's designed to flow with your brand standards and organized by your business needs. This is where every employee starts their day to access important news, alerts, and information. Employee's birthdays and anniversaries, new hire information is highlighted. Employees can find out what is the next interesting event in the company.
The homepage can be fully customizable with additional components like social media plugins for Twitter, Facebook, LinkedIn, Instagram, Yammer and more. Dock will upgrade your SharePoint into a content management system intranet portal.
Request a Free Trial
Book a
Live demo
Schedule a live demo of Dock 365's Contract Management Software now.
She's a multimedia producer to include writing, photography, graphic design and video. She enjoys learning about new technology for business and exploring her city in Jacksonville, Florida.