Welcome back to our series where we try to answer the real questions about Microsoft SharePoint. In the last article, we started with the basics by explaining what customized SharePoint modern intranet means. In this installation, we're going to help you understand how to choose the best intranet for your business, no matter what industry you're in.
Ready? Let's go.
Getting Started
You understand the concept of an intranet and now you're ready to decide which one will suit your business best. The first step is defining your resources and goals. Do you have limitless money to spend on your intranet? Or are you looking for the least possible investment?
Are you already subscribed to Microsoft Office 365? SharePoint (which comes with O365 or can be purchased with a separate license) is a great starting point. At Dock, we believe in Microsoft SharePoint so much that not only do we hand-make customizations on it and write blogs about it, we use it every day to manage our own business processes.
With every new customer at Dock, we get a lot of questions about how SharePoint modern intranet examples can work for their industry's niche needs. We've found that SharePoint can be customized to meet every need we've come up against so we built all those customizations into Dock.
Security
Security is a universal priority to every industry. Dock's SharePoint intranet is unique in that your data will be backed by the security of power Microsoft. Dock and SharePoint will live in your premises or in the cloud and will never be affected by Dock. Customized SharePoint modern intranet from Dock gives you the peace of mind that your information is safe and secure, just like always.
Team Organization
Maybe your company is growing and booming with a busy marketing team, an unstoppable sales force, a consistent stream of new employees needing training, multiple locations with admins and support employees and a team of HR people that are so busy supporting everyone they never get to take a break. Or maybe you just have a small but strong force of 50 or so people in one big office that keep your business running like a smoothly oiled machine.
With Dock's customized SharePoint intranet, it doesn't matter if you have a 30-person powerhouse or a 3000-person institution. Before you ever get Dock deployed, we'll sit down with the people in charge of keeping everyone organized and pick our which of Dock's hundreds of customizable features you need and which ones you don't.
Don't have a marketing team? No problem. Need three different HR portals for each of your locations? Easy. Dock can handle it all.
Document Management
In almost every business in every industry there is one document that everyone needs to work with every day to keep the ball rolling. For financial institutions, this could be your policies and procedures documents for compliance. In construction, it could be the most up-to-date building codes. Whether it's sales tax documents, copyright guidelines, a code of conduct or whatever else that your unique business needs, customized SharePoint intranet will ensure everyone has it when they need it.
These documents can be easily accessed from Dock's landing page. A site administrator can update the file whenever a new version is available so no one will ever work on outdated information again. Compliance will be higher than ever before with customized SharePoint intranet from Dock.
We know that Dock is perfect for every industry so we can't wait to learn about your business and how we can help you. Reach out to the SharePoint experts at Dock and schedule a demo today.
Book a
Live demo
Schedule a live demo of Dock 365's Contract Management Software now.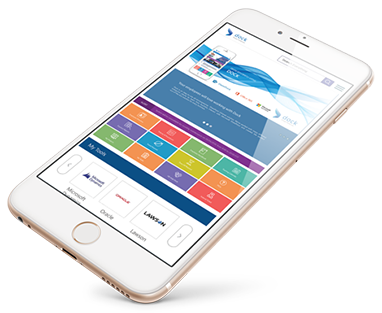 Our Insights. Learn with our Latest Blogs about SharePoint.