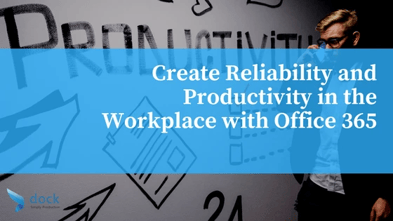 First, it's important to define the terms. Starting with reliability, according to Merriam-Webster dictionary, reliability is the quality or state of being reliable. Breaking that down further, it's "the extent to which an experiment, test, or measuring procedure yields the same results on repeated trials." When considering the meaning of reliability in the workplace, the term has an important meaning or weight to the bottom line of how business flows day-to-day.
From employees to software, reliability is key. In combination with productivity… a reliable and productive workplace goes together perfectly. The definition of being productive is "the rate per unit area or per unit volume at which biomass consumable as food by other organisms is made by producers." Essentially, are we not only reliable workers who can produce results but also are we producing satisfactory results, thus being productive for consistent results over an extended period?
Productivity and reliability can be measured with office tools as well, such as the printers and software such as Microsoft Office 365. Most companies that use Office 365 because it's the standard but it also is an excellent way for employees to utilize so they can meet their requirements of their day to day work. It's accessible on a cloud based server option so employees can work on projects from any location with an Internet connection. Often times, companies aren't aware of the wide range of options that are perfect for small and medium sized companies to leverage not only productivity but also profits, increasing its scale of reliability to get the job done.
Business owners are looking for these aspects for rapid growth of their products or services in a competitive environment surrounded by technology to ensure success. Office 365 is accessible online to increase team productivity, that's the bottom line.
According to Multi-Cloud Services blog, "Either it's merely checking an email on a smartphone or sharing documents over laptops, Office 365 enables to be in touch with the business from any remote area just on an Internet connectivity."
The critical step to this process for a real competitive advantage is how well your business understands and utilizes the Office 365 Support Services within your work environment. Most companies only use Word and Outlook but it goes well beyond these options. Let's go over how to get the best ROI for your Office 365 investment.
Here's a review a few of the reliable features of Microsoft Office 365 to increase productivity in the workplace:
Microsoft Teams
Comes with capabilities such as a chat function for today's teams allows employees to communicate though threaded and persistent chat and keep everyone in the know. Initiate a private or group chat, share files or co-author content. Conduct online meeting from team meetings to live streaming, or dialing into a conference call, Microsoft Teams is designed for all your meeting needs. Experience Microsoft Teams meetings on desktop, mobile, or Skype Room System with HD video.
Option to use the phone system and calling plans. Make, receive, and transfer calls using phone, PC, Mac, and mobile. Shift away from expensive, proprietary telephony hardware to simplify the management of your phone system. Conveniently communicate across devices. Successful communications require the right audio devices. Our partner ecosystem offers certified devices which are reliable and enhance your experience.
Skype for Business
Skype for Business features includes super convenient conference call capabilities, instant messaging and screen sharing with the touch of a button as well as high powered AES encryption.
How user productivity potential is increased:
Synchronization with Office 365
Company contact lists are automatically integrated
Online statuses are easily viewable
Meetings can be scheduled directly through Outlook
Start conversations directly from apps like Word and PowerPoint
Reduction in travel costs and time – work effectively from anywhere
Track usage and adoption – see if training is driving usage
SharePoint Intranet
A mobile, intelligent intranet. Share and manage content, knowledge, and applications to empower teamwork, quickly find information, and seamlessly collaborate across the organization. SharePoint empowers teamwork with dynamic and productive team sites for every project team, department, and division. Share files, data, news, and resources. Customize your site to streamline your team's work. Collaborate effortlessly and securely with team members inside and outside your organization, across PCs, Macs, and mobile devices.
Build cohesion and inform your employees throughout your intranet. Drive organizational efficiency by sharing common resources and applications on portals. Tell your story with beautiful communication sites. And stay in the know with personalized news in SharePoint home and the SharePoint mobile apps. SharePoint provides a powerful search and intelligent ways to discover information, expertise, and insights to inform decisions and guide action. SharePoint's rich content management, along with valuable connections and conversations surfaced in Yammer, enable your organization to maximize the velocity of knowledge.
How Dock Can Help
Built with the power of Office 365 tools, Dock can transform the basic functionality into a beautifully designed intranet portal to help with your specific business needs. Transform business processes and accelerate productivity by transforming processes—from simple tasks like notifications and approvals to complex operational workflows. With SharePoint lists and libraries, Microsoft Flow, and PowerApps, you can create rich digital experiences with forms, workflows, and custom apps for every device.
Book a
Live demo
Schedule a live demo of Dock 365's Contract Management Software now.
She's a multimedia producer to include writing, photography, graphic design and video. She enjoys learning about new technology for business and exploring her city in Jacksonville, Florida.