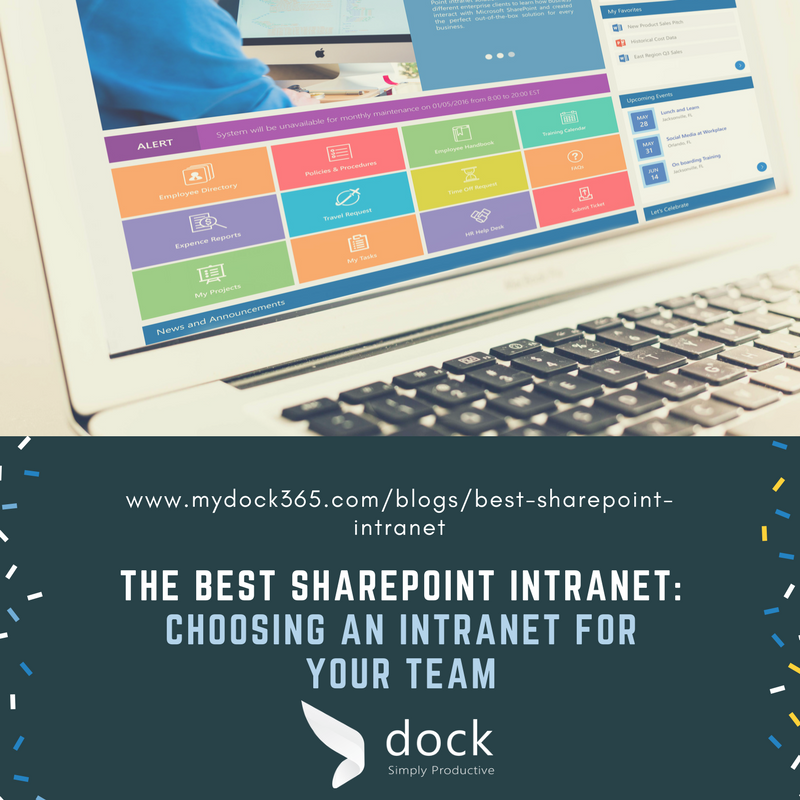 When you're seeking a new intranet, it can be kind of overwhelming and difficult to choose the best one. There are a lot of choices between custom made and ready-to-go intranets so that you can improve employee productivity. With the power of Office 365 and SharePoint, Dock develops this platform to improve it's function to fit your specific needs, from credit unions to businesses with over 30 employees, Dock can improve employee productivity with better communication.
At Dock, we know business isn't black and white and we know that the best practices are sometimes somewhere in the middle. That's why we created the best intranet option: one that lives somewhere between one-size-fits-all and 100% custom made. Dock strives to promote company collaboration.
Think Outside the Box
Dock is customized intranet out-of-the-box based on Office 365 and SharePoint. That means Dock deploys on your existing Office 365 applications and transforms them from separate business applications into a fully-functional intranet portal with all the features you need, such as a content carousel on the main portal page to showcase company-wide announcements with video and images. We offer planning services engagement with your team to ensure a great start.
How to Use Microsoft #OneNote for Project Management https://t.co/2ydYAgTLR0

— Dock Intranet Portal (@mydock365) March 14, 2018
Why Go Out of the Box?
Out of the box, or turnkey, means that your intranet is ready to deploy on day one. Imagine a software like Facebook or Office 365. You sign up, enter your details, and it's ready to deploy, whether that's by downloading a program or logging in. Dock is customized out-of-the-box, which means you technically could deploy Dock, ready-to-go on day 1, but we take some time to customize it for you.
Dock is outside the box out-of-the-box. Rather than deploying the same intranet for every client, we take a little time to get to know you and your team and your business processes and deploy an intranet that is tailor-made for you. By using this customized out-of-the-box model, we save you the exorbitant time, money and stress which typically go into intranet adoption.
Choosing Your Intranet
Choosing the best intranet is important! The path to choosing can be difficult so we want to provide you with a step-by-step guide to picking the intranet that will be the perfect fit for your business. Learn more about how to improve employee productivity with SharePoint intranet .
Step 1: Intranet Features
The first step to picking the best intranet is deciding what kind of features you need. Do this by evaluating what you want your intranet to do. Organize your team? Organize your documents? Provide a place to allow employees to communicate publicly and efficiently? The best intranet is an intranet with all the features your team needs. We suggest chatting with your user-base to learn what types of features they'd like to see, especially the design. It's important to get an opinion from those users that will be using your intranet most frequently. SharePoint used in combination with Office 365 includes Microsoft OneNote, which allows your office to go "paperless" as an option for improved productivity.
Step 2: Intranet Type
Choosing the best intranet will also mean choosing the type of intranet that is right for your team. Evaluate options: fully-customized, turnkey, standard or Office 365-based. How do you decide? First off, fully customized is a slow, expensive process. If you don't have 12-18 months and thousands upon thousands of dollars to put into your intranet, then you probably don't want fully customized. This is okay though, because in our experience building intranets for businesses in countless industries and of varying sizes, fully-customized is often overkill. Hybrid turnkey solutions are applicable to the widest range of businesses and are in the most affordable price bracket.
As for the structure: this is a lot easier. If you use or are considering using O365 (SharePoint, Outlook, OneDrive or even just Word and Excel) in your business, an O365-based intranet is a no-brainer. Save time, stress and effort by deploying on an existing information structure. By using this type of intranet you'll also be maximizing your investment in O365. A bonus to your intranet type are PowerApps, build a remote workforce with custom apps created for your specific needs.
Step 3: Demos and Decisions
Deciding is the most fun part! Picking a perfect SharePoint intranet finally relies on trying them out! Schedule a demo with our intranet experts to take Dock for a test drive. Experience what outside the box out-of-the-box will mean for your team and see why Dock can be the an affordable option. If you'd like to know more about how SharePoint and Office 365 with Dock increases team collaboration. Read more about Team Collaboration with Dock SharePoint Intranet & Office 365 .
Book a
Live demo
Schedule a live demo of Dock 365's Contract Management Software now.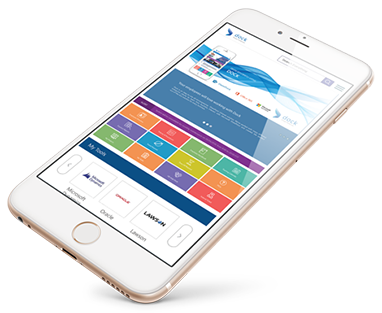 Our Insights. Learn with our Latest Blogs about SharePoint.