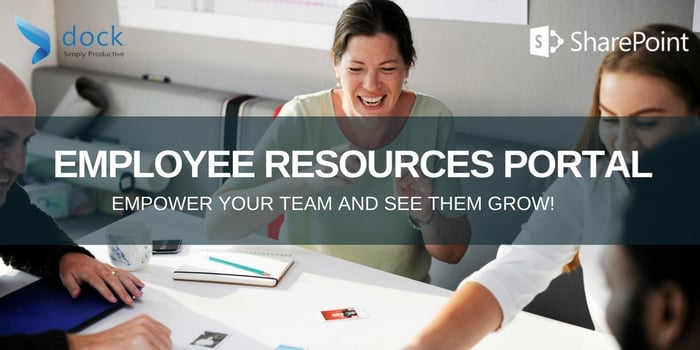 Hello Everyone! Today, we will be discussing about Employee Resource Portal on Sharepoint Intranet Portal and how it can nurture your team.
Earlier, the employees were forced to approach their HR Personnel for every request, concern or query. If the team size is larger, imagine the amount of patience the HR Team goes through when assisting the employees?
With Employee Resources Portal powered by SharePoint Online, you can request for leaves, submit travel requests, expense reports easily without anybody's support anytime and anywhere! This way, the HR Personnel can focus on their pressing matters rather than reaching every single employee's queries.
What are the Core Features you Get in Employee Resources?
Employee Personal Profile

My Benefits Information

My Payroll and Compensations

My Absence and Time Management

Training Resources

Policies and Procedures

Employee Directory

Expense Reports

Time Off Requests

Travel Requests and much more!
Employee Personal Profile
Employees have the provision to add their personal profile here. Powered by Microsoft Delve, you get to see all the information like job title, employee photo, phone number, email address, location etc.
My Benefits Information
Employees will be able to look into their Health Plan Summary, New Hire Eligibility, Dependents Coverage and Life Event Changes. No more hassles with the HR Department!
My Payroll and Compensations
Get your Payroll details within minutes instead of days! Employees have access to Employee Pay Stub, W-4 Form, Direct Deposit Authorization and Compensation History details.
My Absence and Time Management
The pain area of most of the HR Team is Time Management and Leave Management. Streamlining this gives a great opportunity for solving various concerns in one step! No more hassles involved in employee follow ups and leave management – eventually saves time and cost!
Training Resources
There is no way that you will miss out any training sessions in your organization! Keep track of upcoming training programs with Dock's Training Portal! We have setup New Hire Orientation and All Employees Training Guide features enabling users to watch and download training resources effectively!
Policies and Procedures
Now this is more of a knowledge base management system which helps employees to learn about the policies and procedures within their organization. Avoiding statutory compliances is not a good idea. When you have Dock Intranet Portal that is user-friendly and hassle-free –Especially when it's hassle-free – there is nothing to worry about!
Employee Directory
Employees will be able to find their team members/all employee details within their organization. Powered by Microsoft Delve, you get to see all the information like job title, employee photo, phone number, email address, location etc. You also get to understand the Organization Chart and Department specific flow.
Expense Reports
Tired of printing your Expense Reports and submitting it to your HR Team? Go paperless with the Expense Reports feature where your employees can accurately send Expense Reports that complies approval limits, business rules and company policies. This improves the quality and eliminates extra work - which helps to boost productivity.
Time Off Requests
No more leave requests in hard papers! Just submit the web-form with your leave request and that's it! Your HR gets notified on your leave request. The HR Personnel reviews it and may approve or disapprove your leave request. These workflows happen in minutes – eventually saving time!
Travel Requests
Your Sales Reps might be busy travelling to customers for Sales Closures and probably, the HR gets the information during the weekends. You can't blame the Sales Reps as they don't have time to fill up forms, meeting the HR to get approvals. This way, lot of miscommunication occurs and leads to lot of confusions. With Dock's Travel Request feature, the employee can submit the form within a minute which goes directly to the HR Team. The workflow can be customized based on your requirement. Once submitted, the HR Team can act on your travel requests easily.
Lots of features, right? We are working on the integration possibilities with ADP HRMS for enhancing our HR Module features. Dock with SharePoint and Office 365 encourages team collaboration. Read more about Team Collaboration with Dock SharePoint Intranet & Office 365 .
Also, watch some of our videos:
Book a
Live demo
Schedule a live demo of Dock 365's Contract Management Software now.
He is a Microsoft Certified Technology Specialist cum Digital Marketing Expert and has experience of 6 years. He loves learning about latest technologies like CRM, collaboration tools, marketing solutions etc.