Do you find yourself worried about your complex document migration issues? We have a perfect solution to share with you. Dock's MyGrator 365 can help you simplify the process by assisting you to easily move all your files to SharePoint without causing any impact to your users. Instead of wasting your time with the free migration tool available in the market. We imagine you tried moved to SharePoint online but due to file migration concerns and it's taking up valuable business hours or too much server time is down, you're online searching for solutions.
MyGrator is a timesaver tool for content migration from traditional file servers, SharePoint Servers, OneDrive folders and vice versa. It comes with a dashboard that keeps you informed about the Migration Task status and performance. Equipped with its user-friendly interface and execution model, MyGrator outperforms many free SharePoint migration tools and eliminates the difficulty of content migration from various sources.
Let's time a moment to compare the benefits between the Microsoft Free SharePoint Migration tool versus Dock's "MyGrator 365".
The comparison will be based on the following criteria:
User Interface

Supported Platforms

Performance
#1. User Interface
Microsoft's free migration tool has a decent user interface that requires an Office 365 login to get started. It has an easier way to navigate through the settings to setup your migration task.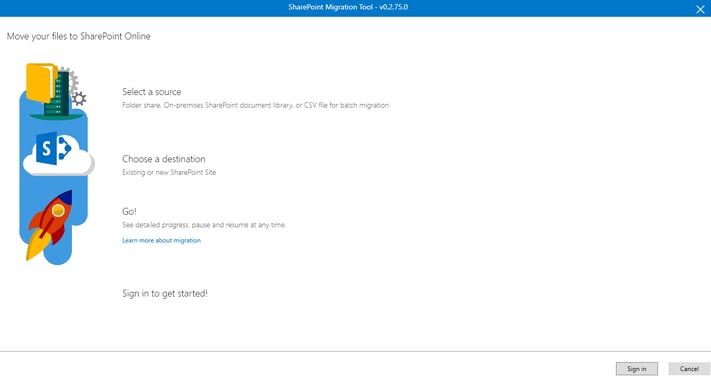 User Interface of Microsoft Free SharePoint Migration Tool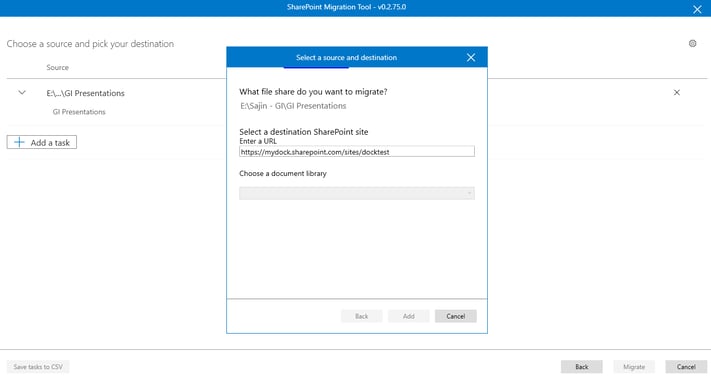 Setting up Migration Task in Microsoft SharePoint Migration Tool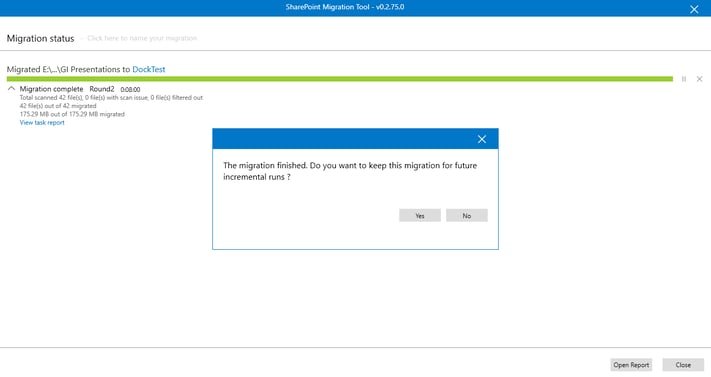 Successful completion of migration task in Microsoft Free SharePoint Migration Tool
MyGrator 365 is equipped with a Dashboard that shows an overview of the migration tasks i.e. total number of migration tasks completed, migration tasks in progress, server load, disk space and memory information. The tool doesn't require users to login in order to start working on. It comes with a user license key file that is required at installation within the tool.

Dock's MyGrator 365 – Dashboard View

Setting up Migration Task in MyGrator 365

The Migration Jobs Dashboard in MyGrator 365
Compared to the Microsoft's SharePoint migration tool, MyGrator has a Migration Jobs Dashboards, that helps you to keep track of your migration tasks. Also, the good news is: You can schedule migration tasks for later! Just plug in the future timings and leave it aside! MyGrator does its job without any user intervention.
You can also check the progress of the migration tasks that are scheduled/completed. Generate reports for the tasks that has been completed for further reference.
#2. Supported Platforms
The free migration tool from Microsoft supports the following:
File shares on-premises to SharePoint Online or OneDrive for Business

SharePoint Server to SharePoint Online Migration
Which means, file shares on servers or PC can only be migrated to the cloud. It doesn't work vice versa. Also, there isn't an option for custom metadata mapping.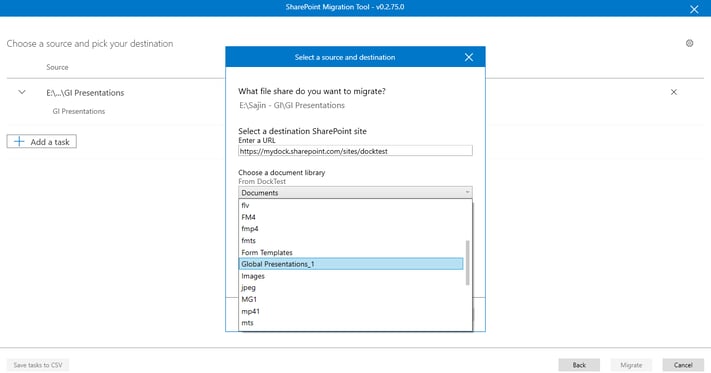 Selecting the source and destination for the file migration steps
It is also not recommended for complex data migration. Users need to take advantage of the Microsoft FastTrack data migration service.
In the case of MyGrator 365, it helps you migrate documents from File System to Online or Vice Versa.
MyGrator 365 supports the following platforms:
SharePoint Server 2007

SharePoint Server 2013

SharePoint Server 2016

SharePoint Online

OneDrive for Business

File System

Users can select the platforms ranging from File System, SharePoint Server 2007
to SharePoint 2016
MyGrator 365 currently works only on Windows 10 OS. However, Microsoft's free migration tool is supported on Windows Server 2008 R2, Windows 7 and above.
#3. Performance
Please review the test reports comparing Microsoft's free migration tool and MyGrator 365. The test also includes MyGrator 365's performance with other solutions (Average Time).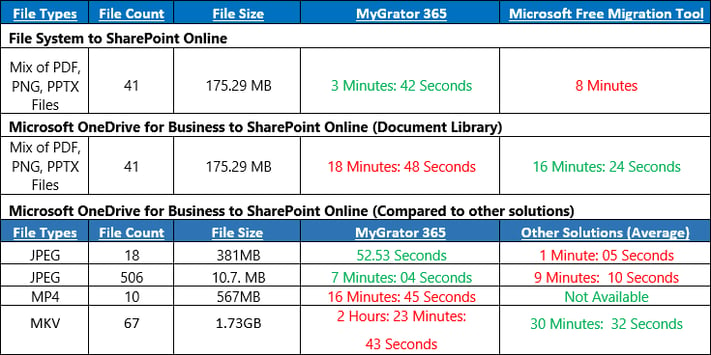 Verdict
File migrations is like moving between houses; where you take all your belongings with you and keep them at the same exact place. In most cases, you won't be able to achieve 100% accuracy but in the case of SharePoint; there isn't a compromise on the data organization. When upgrading to Office 365 or the latest SharePoint Server instance, content reorganization will surely be part of your migration plan. This is where MyGrator plays a prominent role in organizing all your content during your SharePoint Migration task.
Why MyGrator?
Unlimited Data Migration

No Server Required for data migration

Technical Support

Migrate any type of files
Book a
Live demo
Schedule a live demo of Dock 365's Contract Management Software now.
He is a Microsoft Certified Technology Specialist cum Digital Marketing Expert and has experience of 6 years. He loves learning about latest technologies like CRM, collaboration tools, marketing solutions etc.