Unlike other businesses, financial organizations like banks and credit unions require a customized intranet solution that can meet their challenging requirements. Everyday business activities in such organizations include managing ever-growing list of documents including policies and procedures, ensuring compliance with stringent federal and state policies and catering to the variegated requirements of customers. Phew ! that's a lot right ??
Keeping in mind the diverse requirements of Credit Unions and Banks, we at Dock 365 have developed an exclusive Policies and Procedures Portal. It is a centralized repository where all the policies, procedures and other relevant documents can be stored. Thus, making it easy for employees to find, view, edit relevant documents as and when required.

Dock 365- Policies and Procedures Portal
Thinking of storing your policies & procedures outside of SharePoint?
Well, why pay extra for an all-new storage system that works in a completely different manner and requires you to train your employees to get the job done? All you need is Dock 365-An intuitive and clean SharePoint Intranet Portal to meet all your organizational needs.
Our customizable Polices and Procedures Portal comes with a wide gamut of features. Let's explore a few of them.
Policies and Procedures Management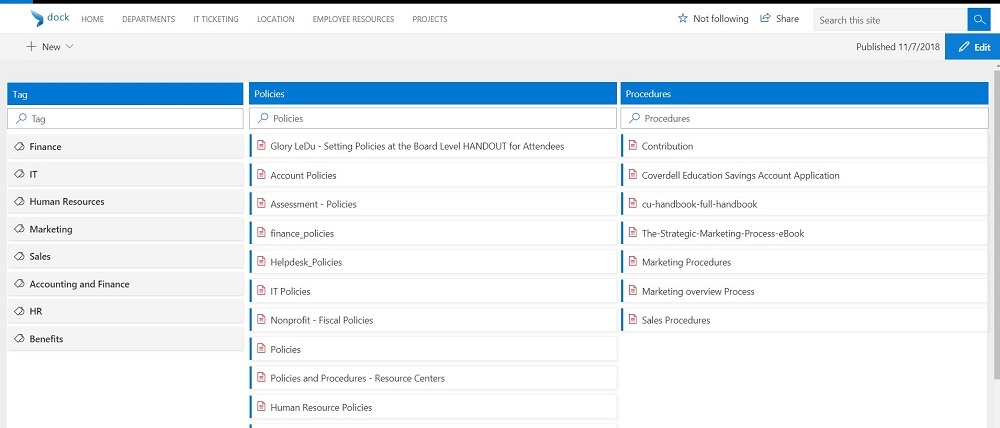 Despite having a well-designed and robust document management portal, we decided to create an exclusive portal for financial institutions as compliance is something vital for their very existence. The portal is a dedicated space to store, utilize, search and update all the policies and procedures documents at the same time ensuring compliance across the team.
Tagging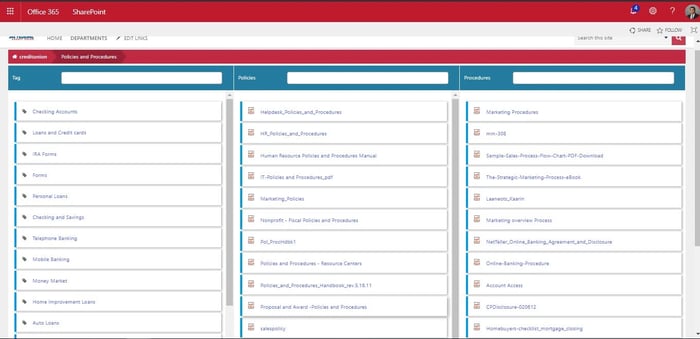 Make use of tagging feature to refine content search results for your employees. Your employees will no longer waste hours searching for a particular document. Just add desired tags to your documents and easily find required content.Other than department tags, we have a different set of tags specifically developed for credit unions, banks and other financial organizations.
Mortgage

Investments

Loans and Credit Cards

IRA Forms

Personal Loan

Telephone Banking

Mobile Banking

Money Market

Stocks

Savings Accounts
Different Views of your Policies
Present the policies and procedures list in different ways that you and your team likes. Right from 3 column to single row, there are a lot of view options to choose from.
Take Policies on the go
Easily work on your polices and procedures documents no matter whether you are in your office cubicle or at the airport. Do more with Dock 365!!
Powered by Microsoft SharePoint and Office 365, Dock offers much more compared to other solutions when it comes to managing policies and procedures for financial organizations. Policy Versioning, Enhanced data security, Instant notifications on policy amendments, co-authoring documents and much more.
Are you ready for Dock ? Schedule a no-obligation Demo right NOW !
Book a
Live demo
Schedule a live demo of Dock 365's Contract Management Software now.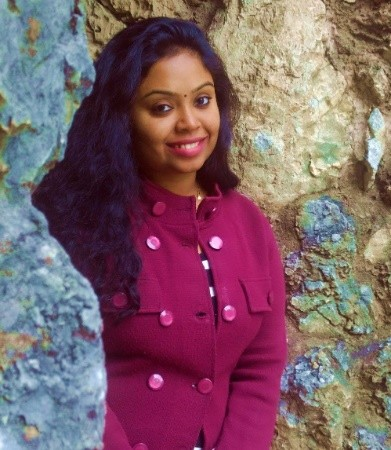 She comes with 4 years of experience in content management and have worked with brands from the US and UK. An enthusiastic content crafter, she loves travelling and learning about new Microsoft Technologies.