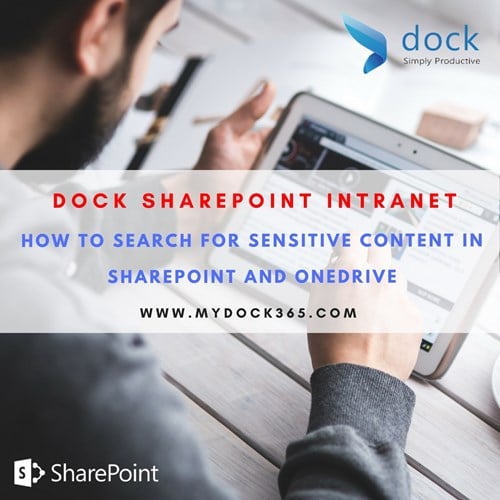 So, you're looking to find ways to search for sensitive content through your company's SharePoint intranet portal. Safety should be your company's number one priority when maintaining your sensitive data in SharePoint securely.
Office 365 provides the capabilities for email with data loss prevention (DLP) along with several built-in sensitive information types you can use for your

searches. SharePoint intranet portal uses DLP in SharePoint and OneDrive to allow employees to use the same sensitive information types to search documents and sites within your entire organization. It's built into your existing Enterprise Search so you can search for sensitive content in your existing eDiscovery Center. This allows you to keep content in place and enabling you to search in real time.
With this capability, you'll be able to:
Search for sensitive content across SharePoint Online and OneDrive for Business

Leverage built-in sensitive information types (credit cards, passport numbers, Social Security numbers, and more)

Identify offending documents, export reports and adjust appropriately
Your SharePoint admin or IT team, can create simple or complex queries and program the Search feature to crawl an array of sources. This can include team sites using OneDrive for business folders. After the query is run, results will appear under the SharePoint tab, this is where you can review them. Next, adjust the query, adding indexed properties such as "date" or "author" to fine-tune your results. It's also important to check if permissions to use the eDiscovery Center is role protected to guarantee the right people have access to certain data to run queries and review sensitive content.
To leverage built-in sensitive information types, Office 365 provides this from different industry segments and geographies, such as credit card numbers, Social Security numbers (SSNs), and bank account numbers. In some cases, you may already be using this to search for sensitive content in email. Based on pattern matching, sensitive information types can be detected and easy to setup. Next, extend these same sensitive information types to search across it by creating simple queries. Learn more about the built-in sensitive information types.
Review possible offending documents inline, in real time from the eDiscovery Center. It's important to export the list of documents for additional review and then, if needed, take manual actions such as fine-tune sharing permissions, remove data on shared sites, and more established on your review of the results. Download a copy of the files with a report query by exporting the results. You can also save the query and give your attention to researching the results. Afterwards, you can inspect documents as needed, inspect false positives, and expand the query as needed. When downloading the reports, the original file structure from SharePoint preserves all the paths for protection.
To recap, searching for sensitive content in SharePoint and OneDrive is used within the Office 365 environment. This will keep the admins informed about what and where sensitive data exist in SharePoint Online and OneDrive for Business. This information will assist you in working better with content owners to ensure protection of sensitive data. It's also recommended to create policies that automatically detect sensitive content and apply protection based on your company's needs. Actions such as deletion of data or quarantine until further review.
Pro tips: Implement a firewall protection on all employee browsers and secure infrastructure with Azure Active Directory. Utilize Office 365's Data Loss Prevention (DLP) by defining what should be considered sensitive by updating protection controls and policy tips across Office 365.
SharePoint Online Tools with Dock 365
Admins and experienced SharePoint IT department personnel can assist your business get up-to-speed with improving search queries for sensitive information, which can take time and cost money to implement this team. However, if you're a small business or a large one without an IT department, rest assured Dock can provide the development and support that you'll require.
Learn More: SharePoint is the Top Content Management Solution
We have over 16 years of SharePoint experience and are Gold partners with Microsoft. We're here to design the intranet portal of your dreams to include your company branding, easy to customize and quickly improve communication with your entire organization.
Book a
Live demo
Schedule a live demo of Dock 365's Contract Management Software now.
She's a multimedia producer to include writing, photography, graphic design and video. She enjoys learning about new technology for business and exploring her city in Jacksonville, Florida.