Businesses need modern and smart productivity solutions to stay competitive always. Microsoft SharePoint is one exceptional technology businesses around the world have always trusted to enrich collaboration and communication among their workforces. The SharePoint Classic experience kept businesses satisfied and running fine for a very long time. As time passed and when new technologies and challenges showed up, Microsoft introduced the Modern Experience for its SharePoint Users. This blog post is the second part of our blog series 'All That You Should Know About Modern Pages on Your SharePoint Site'.
In the first part, we discussed how to create a new modern SharePoint page, how to customize the page, and steps to share the page via email. There was also a section that shows how to delete a modern SharePoint page. Today, we are here to show you how to restore a deleted item and how to mark a page for easy access later. You can also get information on how to use page anchors and tracking visitors/activities on a page. Let us dive directly into details.
How to Restore a Deleted Items in SharePoint
What will you do if someone deletes an important file by mistake? Obviously, 'Restore' is the option that come to our mind first. When you delete any item in a SharePoint site, it will be put into the Site Recycle Bin. If you delete it from here, then it will be moved to Site Collection Recycle Bin. If you want to restore deleted items from this Second Stage Recycle Bin, you must be a SharePoint Site Collection Administrator.
Here are the steps you need to follow for restoring deleted items from SharePoint Online Site Collection Recycle Bin.
Go to your Modern Team Site and choose 'Recycle Bin' from the left pane.
Alternatively, you can also choose Settings > Site Settings > Site Collection Administrator > 'Recycle Bin'.
Go to the bottom of the page and choose Second-Stage Recycle Bin.
You will get a list of items in the page.
Select the item you want to restore and click 'Restore'.
If the items you are restoring belonged to a deleted folder, the folder will be restored along with the file in its original location.
How to Bookmark a page for Quick Accessing Later
When you publish a page with all required data and resources, people start coming in. There is an easy way for users to save your page for accessing later. The facility is called 'Save for later'. Users can find the option in the bottom of the page. The user just needs to click on the item, so that the page will be added as a 'Saved for later' entry.
It will also show a list of Recently saved items when you add a new page to the list. Click on See all saved items to access all those items right away.
How to Use Page Anchors
Want to showcase or add a page to an email, instant message or anywhere outside SharePoint? Page Anchors can help you get that done with ease. All you need is to go to the Heading 1 styles in any of the text web parts on your page and click on the link symbol placed next to the heading.
Copy the link by right-clicking on the page anchor. Click on 'Copy link' and use the link on outside SharePoint environment.
How to Track Interactions on Your Page
Once you have published a SharePoint Modern Page, it is not important to track the activities and interactions on your page. Obviously, your aim will be to make a page that is easy to use and gain information for the users.
The visitors can leave comments and likes at the bottom part of the page. You can also see the number of users who have visited the page. Click on the likes area to see the full list of people who liked the page too. You will also get notified for all these activities, so you can take necessary actions instantly. Users can use @ mentions to grab attention of someone to an important topic.
In the next part of this series we will give you more insight on Customizing the title area of the Modern SharePoint Page and how to make it easier for others to find your page.
Have a good day!
Book a
Live demo
Schedule a live demo of Dock 365's Contract Management Software now.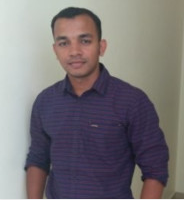 Alex Joseph is a Digital Marketing Strategist with explicit knowledge in Content Marketing and Microsoft Technologies. A writer by day, Alex is a night owl and a DIYer. Alex's theory is to make businesses achieve success with modern solutions and smart exploitation of resources.