SharePoint has emerged as a leader for enterprise content management where people can work together on lists, files or libraries in real time. Our customer, The BairFind Foundation found that Dock's customized SharePoint intranet helped their team to work and collaborate across different locations around the United States seamlessly, empowering new levels of communication.
With Microsoft's advanced features and its focus on mobile and intelligent intranet solutions, it is important to have mobile-responsive, good looking and dynamic communication portals/pages so that your team is well engaged and informed.
Microsoft will be releasing more features for communication sites this summer. Until then, let's take a look at the features that are already released:
Thanks to SharePoint Platform: Enable dynamic and beautiful sites!
It's easier for users to move from projects or campaigns (the one's you are working on) in team sites to creating site-wide communication portals. Compared to our existing team sites, the upcoming communication sites can be created much easier, in a matter of seconds. All you need to do is simply click on "Create Site" on SharePoint Home in O365.
You will also be able to add parts and adjust the page layouts easily and populate important content and data from other tools like Office 365 Videos and Yammer. Look at the image below, isn't it interactive and vibrant? Your users are going to love this!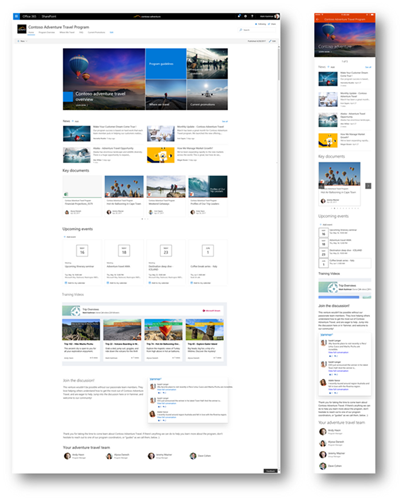 A communication site in a desktop view (left) and SharePoint mobile app view (right).
Once the site has been created, you will be able to add new pages and layer the content accordingly. Choose single or multi-column layouts and make use of the dynamic web parts that are integrated with other O365 services. It's all about drag and drop functionalities, so get ready to start organizing/reorganizing web parts for your sites!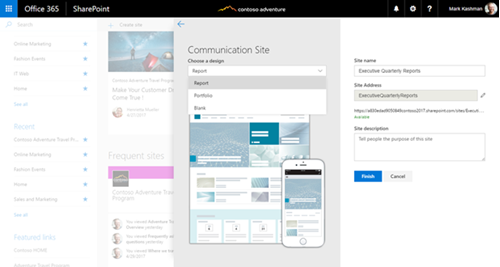 Choose your communication site layout from several site templates
Dynamic content is populated from Office 365 to your communication sites. You will be able to create sites for campaigns, reports, product launches, upcoming events and more.
This could be a value-added feature for Dock Intranet Portal users when using the departmental portals like Sales, Accounting and Finance, Marketing, Human Resources and Projects. Teams will be able to share their expertise & insights on latest information or news – eventually grows better communication without barriers.
So, what are the tools available when creating a communication site? Let's check it out:
WebParts
There are 5 new web parts that will help you to engage with your audience easily:
The Hero web part -Showcases important content
The Microsoft Stream web part – You get a gallery of videos from the Stream channel
The Events web part – Enables you to track the upcoming events and lets you easily add them to your calendar
The People web part - Highlights notable members of your team
Group Calendar – Much awaited feature to schedule events so your team has access to it. No more sharing calendars among the team members!

Section layouts
You can now use various multi-column layouts for your sites. Add Bing maps, events or document libraries to make your sites more appealing!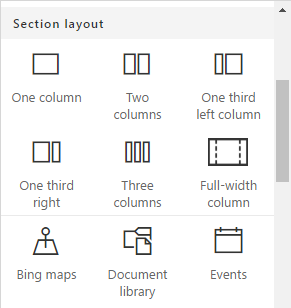 Site usage
Tracking your site's performance which is very important. To review the reports and charts to find out the user trends, page views, active users, etc, all you need to do is click on the upper-right gear > Site usage.
Collaborate and communicate with Dock and SharePoint!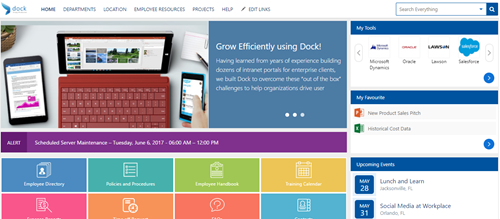 Latest Dock Interface with Departmental Portals and interactive web parts.
With the combination of Dock + team sites + Office 365 groups and reach of the upcoming communication sites, Microsoft SharePoint ensures you to maximize the collaboration and user engagement experience. Whether you have a few core users or larger audiences across your company, you will surely see the benefits coming through!
With Dock, you will achieve strong, dynamic user experiences that you want your users to work on by clearly communicating your information organization-wide!
Image courtesy : blogs.office.com
Book a
Live demo
Schedule a live demo of Dock 365's Contract Management Software now.
He is a Microsoft Certified Technology Specialist cum Digital Marketing Expert and has experience of 6 years. He loves learning about latest technologies like CRM, collaboration tools, marketing solutions etc.