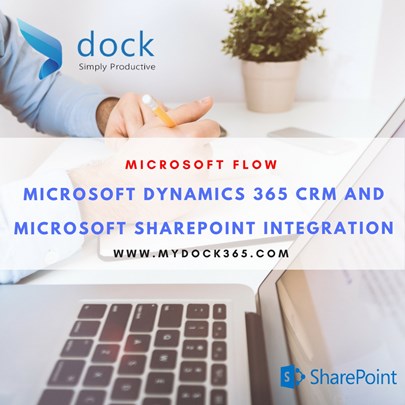 Whether you're a small business or a major corporation, customers are the lifeline of your business. Obviously, gaining new customers and retaining old ones is a priority for businesses today. This is where a Customer Relationship Management (CRM) can step in and do most of the heavy lifting.
If you're a current SharePoint site and Office 365 user, or thinking of becoming one, integrating Dynamics 365 and Flow can provide you with predefined templates to improve your CRM process. You'll be able to take your CRM workflow to the next level with the best intranet solutions. In a few steps, your business CRM with SharePoint tools can become highly automated to save your business time and money.
Microsoft Dynamics 365 "is a cloud based service that provides a set of intelligent applications that seamlessly work together — unifying the capabilities of CRM business software and ERP systems." Use any the 36 Dynamics predefined templates as a strategy for managing all your company's relationships and interactions with your customers and potential customers. It helps you improve your profitability.
Here are a few template examples:
Sales accounts to Operations customers
Create leads from an Excel table
Create leads based on Tweets with a button tap
Microsoft Flow is a service that enables you to create automated workflows between your favorite applications and services to synchronize files, get notifications, collect data, and more. No matter which industry your business is in, Flow provides countless scenarios and applications for the Dynamics 365 automation process through assimilation without coding knowledge.
See our video on how to integrate Microsoft Dynamics 365 Contact Lists with SharePoint Lists:
Microsoft Flow can tighten the gap between various predefined Microsoft/Non-Microsoft applications like Dynamics 365, SharePoint, Twitter, One Drive, Slack and many more. It works to help users create workflow of common tasks. In addition to predefined templates, you can create your own. The first step in that workflow is the event on which the workflow should fire.
No more endless mundane tasks that are done over and over. Imagine all the time you'll save with Flow. Automate tasks such as notifying your team of sales opportunities, add notes to current contacts or anything else you could image.
If you're looking for a dedicated information technology portal, you can find more information on our website . If you're looking for backend development assistance with SharePoint, look no further than choosing the best SharePoint Intranet Portal Expert for your business!
Book a
Live demo
Schedule a live demo of Dock 365's Contract Management Software now.
She's a multimedia producer to include writing, photography, graphic design and video. She enjoys learning about new technology for business and exploring her city in Jacksonville, Florida.