Safety in workplace should be a primary concern for every organizations. There are many factors in a workplace that could be overlooked, which could inevitably result in harming the employees. There have been many such incidents nationally and internationally. Taking into consideration these mishaps and the well being of the employees, there are certain industrial standards to follow, in order to ensure safety. Entire teams spend hours of works into ensuring safety of the workers by in depth learning of the environments, careful planning and coordination, and sheer perseverance.
Content:-
The safety management system should meet some industrial standards like we discusses before. What are those standards? Today, there are at least six industrial standards in practice. They are as follows:
ANSI Z-10
ISO 45001
OSHA Safety Management Guidelines
Behaviour Based Safety
Fundamentals of Scientific Management
New View of Safety Management
In this blog, we will dive into each of these topics to learn more about these standards. So that you can leverage on them to create a safety management system that meets those requirements and effective at your organization. Before getting into those points, let us break down the term safety management system, what is it?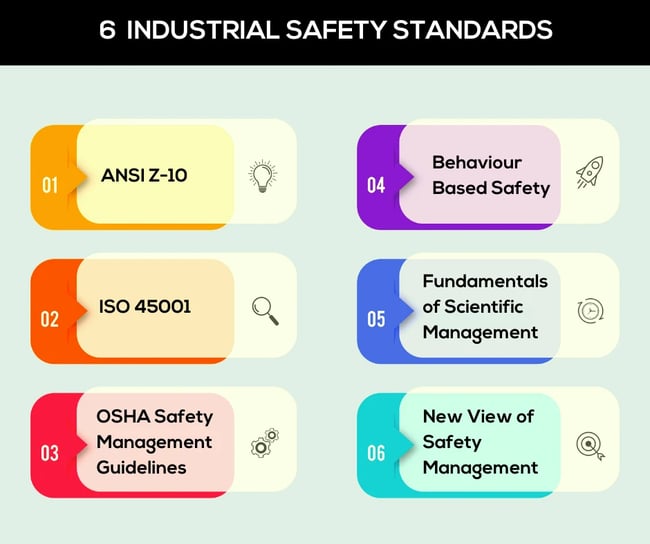 Safety Management System: Defined
A system that is designed solely for the purpose that is, to manage safety risk at the workplace. It should reduce the risk to a level that is as low as is reasonably practical or ALARP, thereby preventing harm to people. The system should be able to identify, assess and control hazards to all people involved, employees and the public. There is a substantial body of evidence that an efficient safety management system can reduce any financial exposure or damage to the reputation of the company by bringing down the number of accidents.
Every employer has a moral obligation placed upon them to ensure that the working conditions and environments are safe. There are also requirements by the law on how this safety is to be achieved.
An ideal safety management system should have the following modules:
Define the risk management strategies of the organization.
Implement suitable measures by identifying workplace risks.
Effective communication across organization.
Strategies to correct non-conformity and non-compliance issues.
A recursive improvement process implemented.
Efficient risk management should be the foundation to your safety management system.
ISO 45001-Occupational Health & Safety
ISO or the International Standard Organization is an independent non-governmental organization that brings together experts from across the world to share knowledge and develop voluntary, consensus based, market relevant international standards. ISO has published industry standards and documents related to every industry, from technology to food safety, to agriculture and healthcare.
International Labour Organization (ILO) estimates that more than 2.3 million people die at work from an occupational injury or disease. ISO 45001 sets minimum standard of practice to ensure the safety of employees at workplace. It is a framework to increase safety, reduce workplace risks and enhance, health and well-being at work. ISO 45001, Occupational Health and Safety Management Systems-Requirements with guidance for use, is the world's first standard International Standard for Occupational Health & Safety.
With the sudden emergence of the corona virus pandemic, ISO has published a new standard for workplace safety management. ISO/PAS 45005 Occupational Health and Safety Management, General guidelines for safe working during the COVID-19 Pandemic. The document puts together international best practices on how to manage the health and safety of employees and stakeholders during the COVID-19 pandemic. ISO 45001 shares a high-level structure (HLS), identical core text and terms and definitions with other recently revised ISO management system standards such as ISO 9001:2015 and ISO 14001:2015. So, it is practically simple to integrate the standards to your already existing management system.
The ISO 45001 website has all the information you need to know about these standards like how to get certified.
OSHA Safety Management Guidelines
The Occupational Safety and Health Administration that comes under the Unites Stated Department of Labour recommends practices for safety and health programs. These non-mandatory safety and health program is more like a step wise approach. And the approach is based around seven core elements, those are-
Management Leadership: Management provides the leadership, vison, and resources needed to implement an effective safety and health program.
Worker Participation: The success of any safety and health program is the active participation of workers and other representatives.
Hazard Identification and Assessment: The failure to identify hazards in workplace is one of the important reasons behind workplace illnesses, injury and ither incidents.
Hazard Prevention and Control: Efficient measures taken to control hazard protects workers from workplace accidents.
Education and Training: Educate and inform employees and managers about the workplace hazards and control measures so that they can work safely.
Program Evaluation and Improvement: The system should be evaluated and validated timely.
Communication and Coordination for Host Employers, Contractors and Staffing Agencies.
Since OSHA Safety Program Management Guidelines are not mandatory OSHA cannot cite a company for not following regulations.
ANSI Z-10
The American National Standards Institute (ANSI) oversees standards and conformity assessment activities in the US. ANSI Z10 is an Occupational Health and Safety Management Systems Standard, that offers a comprehensive strategy for common benefits in the occupational safety and health area for achieving better productivity, service, quality, profit, and other organizational goals.
These are some of the key topics covered in ANSI Z-10:
Management Leadership
Management Review
Roles and Responsibilities
Policy Statements
Employee Participation
Assessment and Prioritization
Planning
Implementation and Operation
Evaluation and Corrective Action
Audit Information
ANSI Z-10 covers minimum requirements for an occupational safety and health management system, it has also included risk assessment components recently.
Behavioural Based Safety
Behavioural based safety leverages on the safety observations to inform management of overall safety of the workplace. In the process of BBS, trained observers conduct reviews on other employees based on their behaviour in the workplace. The observer takes note of safe and unsafe behaviour as well as working conditions, these parameters might not be the same for all companies. These notes are then passed on to management as feedbacks and then management can evaluate these behaviours and take necessary steps to make sure that people do not behave unsafe in the workplace for the sake of their own safety.
Scientific Management & New View of Safety Management
Scientific management is the theory by which you can analyse and synthesize workflows to improve economic efficiency and labour productivity. It was Frederick Taylor that proposed this management style. The principal object of scientific management is to secure the maximum prosperity for the employer.
In the new view of safety management or Safety-II that came about in late 1990's focuses on increasing the effectiveness of the safety effort and to reduce injuries thereby avoiding fatalistic accidents.
Conclusion
Safety of the employees and people involved is and always will be the first priority of organizations. To ensure that safety organizations need to follow strict protocols. Organizations can also get certified by the industry standards and guarantee that their workplaces are secure and working conditions will not produce a threat to any people, be it employees or other civilians. We discussed here various industrial safety standards, along with these adopting the services of an automated safety management system at the company that will ensure proper governance of the safety management procedures at the organization.
It is essential that companies have a quality safety management procedures and certifications in place. These certifications and practices that ensures safety also drives reliability of the brand name of an organization, which will be a great factor to drive businesses at organizations.
Book a
Live demo
Schedule a live demo of Dock 365's Contract Management Software now.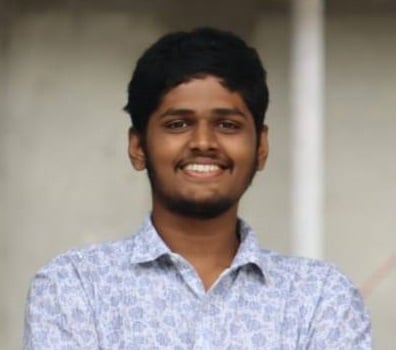 Adarsh is a SharePoint expert with hands-on experience developing various SharePoint and Office 365 solutions.